If you are in the go and into flavors packed in one bite, this is for you.

Thank you for reading this post, don't forget to subscribe!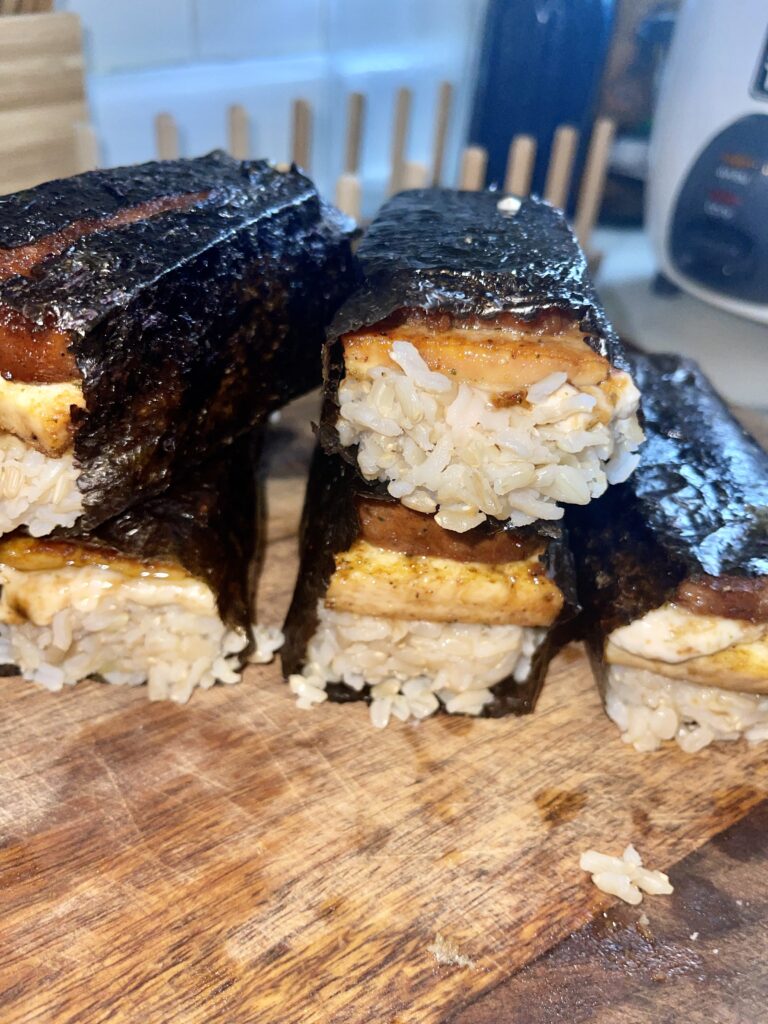 What is Vegan Musubi
Vegan musubi is a plant-based version of the traditional Hawaiian dish, musubi. It typically consists of a block of seasoned and grilled tofu or tempeh, wrapped in a strip of nori (dried seaweed) and a layer of sushi rice. It can also be filled with vegetables such as avocado, cucumber, or pickled carrots. Vegan musubi is a popular snack or lunch option for those following a vegan or vegetarian diet.
History of Musubi
Musubi is a popular snack and lunch food in Hawaii that has its roots in Japanese cuisine. It is believed that musubi was first introduced to Hawaii by Japanese immigrants who came to work on the sugar plantations in the late 19th and early 20th centuries.
Musubi is essentially a rice ball that is typically made with sushi rice and wrapped in a strip of nori (dried seaweed). The filling can vary, but it often includes a slice of grilled Spam, which was also introduced to Hawaii by Japanese immigrants during World War II.
Over time, musubi has become a staple of Hawaiian cuisine and is enjoyed by people of all backgrounds. It is often sold at convenience stores, food trucks, and local markets, and is a popular snack to take on hikes or to the beach. Today, musubi can be found in a variety of flavors and fillings, including vegetarian and vegan options.
How to make vegan musubi
To make vegan musubi, you will need the following ingredients:
Sushi rice
Nori sheets (dried seaweed)
Firm tofu or tempeh
Soy sauce or tamari
Rice vinegar
Sugar
Salt
Water
Optional fillings such as avocado, cucumber, or pickled carrots
You will also need a musubi mold, which is a rectangular-shaped mold that is used to shape the rice into a block. If you don't have a musubi mold, you can use a small rectangular container or shape the rice by hand.
To make vegan musubi, you will need to cook the sushi rice according to the package instructions and season it with a mixture of rice vinegar, sugar, and salt. You will then grill or pan-fry the tofu or tempeh and season it with soy sauce or tamari. Once the rice and tofu/tempeh are ready, you will assemble the musubi by placing a layer of rice in the musubi mold, adding a slice of tofu/tempeh and any optional fillings, and then topping it with another layer of rice. You will then wrap the musubi in a strip of nori and slice it into bite-sized pieces.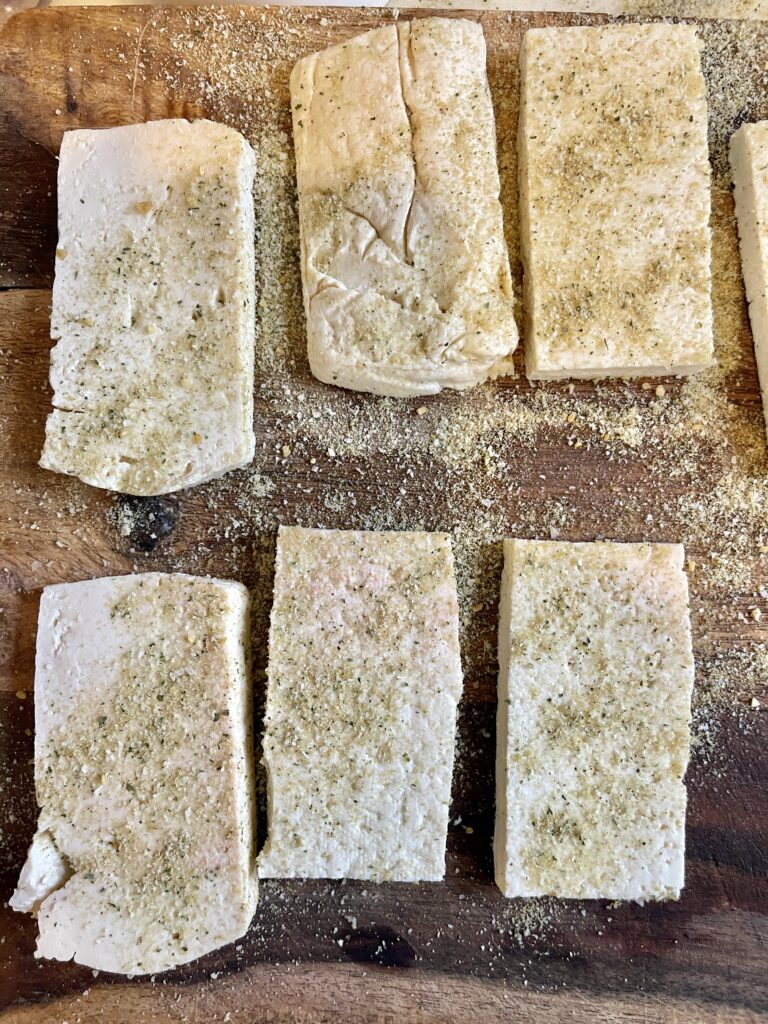 Vegan Musubi
If you want to create something that packs a lot of flavor & nutrition. Musubis never fail to do the trick.
Ingredients
5

Sheets

nori

1

Can

vegan luncheon meat

I used Unmeat

5

tablespoon

vegan Mayo

5

tablespoon

teriyaki

I used bachans

1

Cup

japanese rice

3

tablespoon

seasoning of choice
Instructions
Prep your rice as you would traditional Japanese sushi rice. Feel flexible and open to variations, it can be any grain that holds up. Quinoa, brownrice, barley, stay open to what you have in your pantry.

Slice up tofu, vegan luncheon into preferred thickness. Sear to perfection, deglaze pan with teriyaki. Feel free to get creative too in seasoning them up. Make use of what you have on hand.

Assemble! Lay out nori and shape the blocks of rice into rectangles. I used the can of luncheon to shape them. Stack em up, roll em up maybe lathering some vegan Mayo or cashew cheese in between layers if you must.
Video