It's starting to get cold and what better way to warm up than a big pot of Jiggae. Korean stews have a special place in my kitchen. It truly warms the heart and provides nourishment to your soul.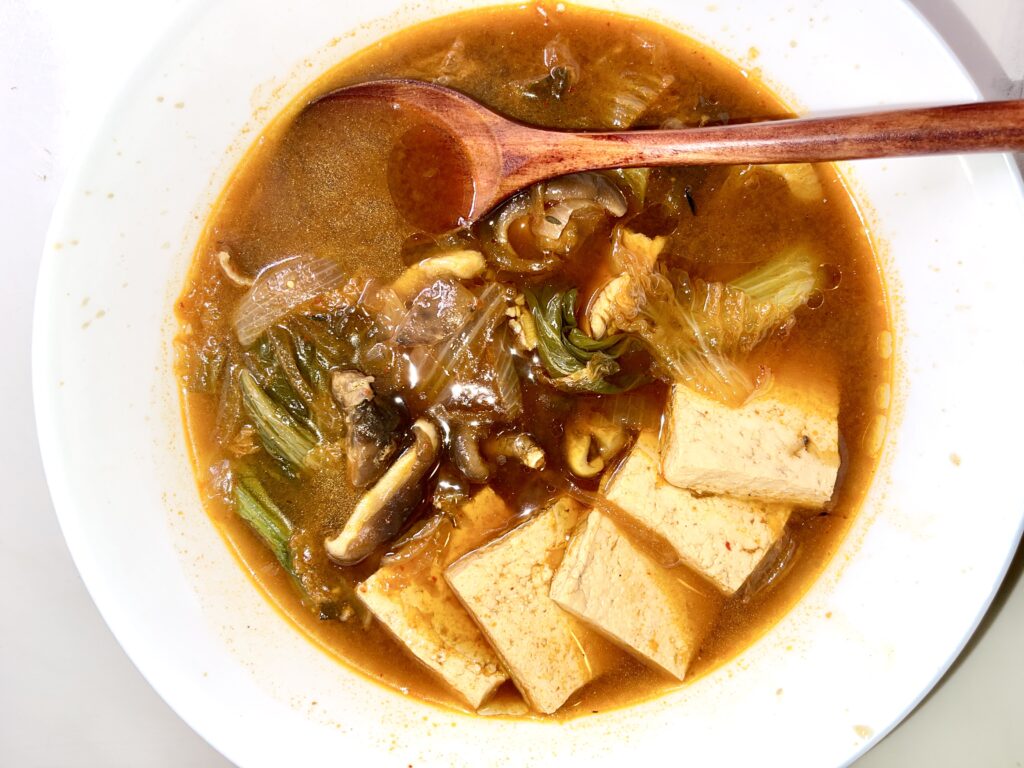 Inspiration
Rainy days, cold outside, feel like staying in and just get extra cozy? This easy Korean stew is for you! Jiggae simply means stew in Korea. Kimchi is rich in nutrients and probiotics, together with tofu and other veggies, this dish will definitely nourish you and your family. We boost the flavor by sautéing some onions and throwing in some gochujang before adding kimchi and vegetable stock. Usually made with pork belly, we will veganize this by using mushrooms.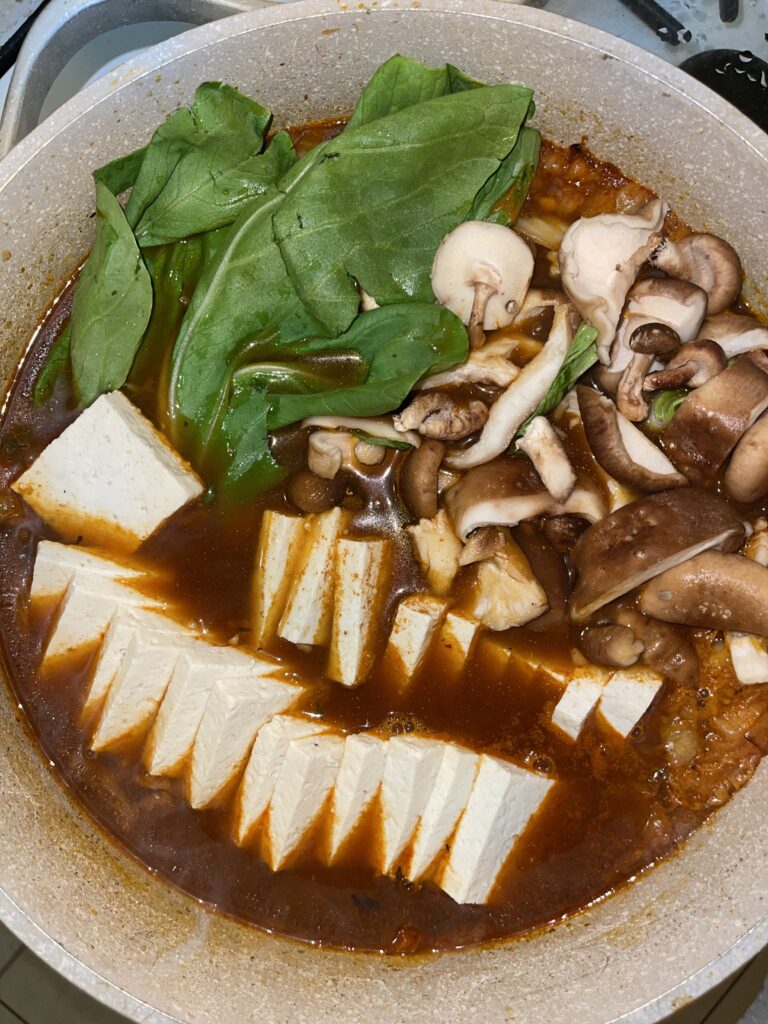 What you need
Kimchi - Extra fermented the better. not all kimchi is vegan so double check the label.
Shiitake - Meaty in texture plus umami when heated, this is the perfect mushroom for this dish.
Firm Tofu - Use extra firm so it won't break.
Scallions - for garnish.
Sesame oil - To finish with more flavor.
Onion
Bock choy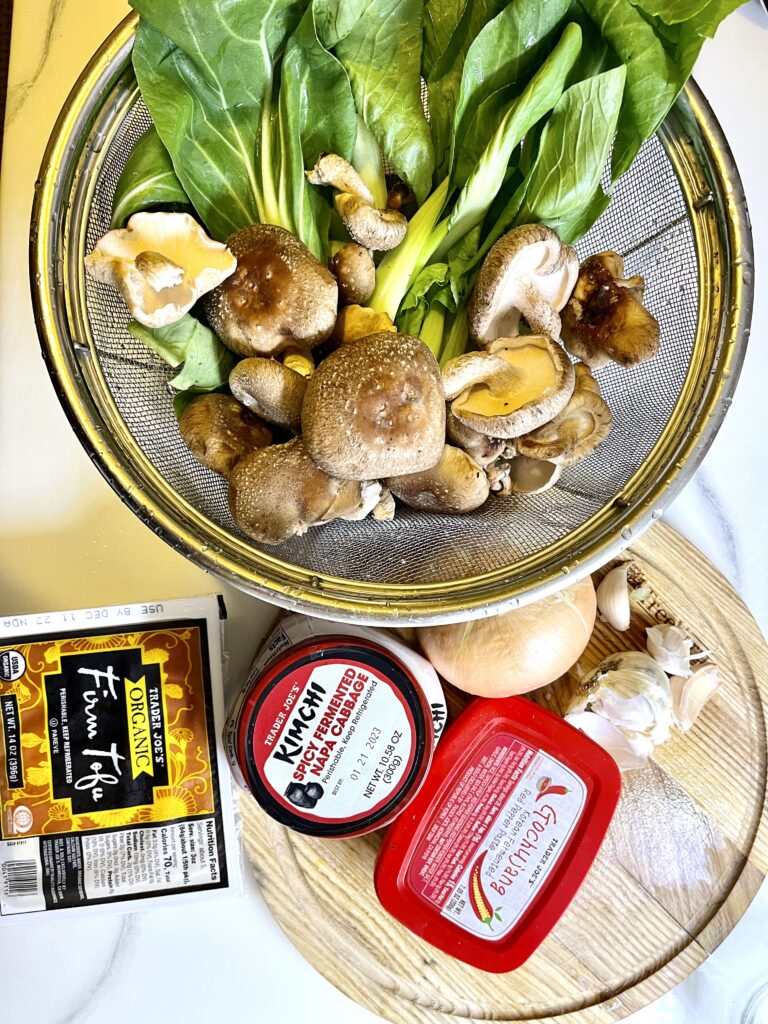 What you do
Saute onions till translucent, add kimchi and gochujang
If available, add gochujaru, a little sweetener and veg stock.
Simmer partially covered for 20 mins for flavors to meld.
Adjust seasoning of broth, add nicely sliced and shingled tofu squares, bock choy and mushrooms.
Garnish with scallions, sesame oil and seeds if you have them.
Easy Vegan Kimchi Jiggae
This vegan stew is perfect for a rainy day, cold outside, stay in cozy up kinda vibe. You only need a handful of ingredients that are almost too easy to put together.
Ingredients
1

Pack

Extra Firm Tofu

1

Pack

Shiitake Mushrooms

1

Piece

Onion

2

tablespoon

Gochujang

2

Drizzle

Olive oil

1

Drizzle

Sesame oil

1

Bunch

Boc choy

Vegetable stock
Instructions
Slice up some onions, sauté em together with Gochujang after the onions have bloomed, this is your opportunity to boost the flavor. Add stock. Season as you go, maybe Gochujaru, some sugar, and vegan poultry seasoning. Go easy on the Gochujang, it is pretty strong. Partially cover, let simmer for 20 minutes to let the flavors meld. Taste and season as you go.

Slice up tofu in nice squares, we will be arranging these along with the mushrooms and boc choy. Make sure your broth is seasoned well, if too strong add some water. Turn down the heat to low and lay your Tofu, mushrooms and boc choy too. Partially cover let simmer till mushrooms and tofu cook. Don't mix, the aesthetic is important, we eat with the eyes first.

Finish it up with some, scallions, sesame oil and sesame seeds. For this on I did not have scallions and sesame seeds but it will definitely add to the depth and flavor of your stew.
Video
Notes
Definitely give this recipe a try. Once you realize how easy it is to put this thing together, it will open up a lot of variations of vegan Jiggaes you can do! Maybe add some vegan meats or legumes. Arranging produce on top of hot red broth can also be so satisfying. Tag me if you make this! @makepurethyheart.com