Your favorite comfort food made vegan! These meaty flavorful pea protein balls is a perfect match for our vibrant tomato sauce.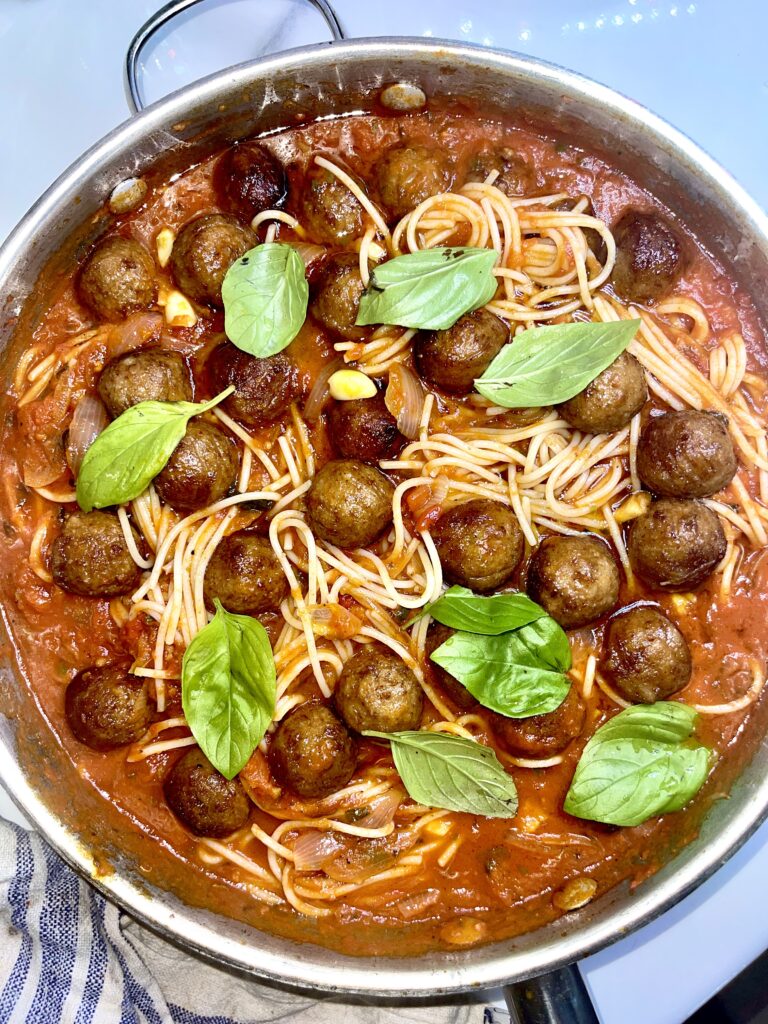 Recipe Inspiration
Before turning vegan, I used to make spaghetti & meatballs inspired by Jaime Oliver's classic book and it never failed to please. It just hits home and every body is happily satisfied.
In this recipe we make it vegan by replacing the beef with Ikea Vegan meatballs.
Meatless Balls
What looks and tastes like meat, but contains no meat? That would be our new plant ball of course. It has the look, taste and juicy bite of its meaty counterpart, but only 4% of the climate footprint. And rumor has it, once you've tasted it, you'll be back for more. - Ikea
Click the link! they actually made a video on how it is made and what is in it. It is mostly made of Pea protein and other natural ingredients. Just a taste of this dish will bring you instant Hygge. Hygge is a word in Danish and Norwegian that describes a mood of coziness and "comfortable conviviality" with feelings of wellness and contentment.
Give this recipe a try and feel free to make it your own. Get curious and creative in the kitchen and help make the world a better place by cooking Vegan.
What Need
Spaghetti Noodles
Plant based Meat balls
Marinara
Onions
Garlic
Maple Syrup
Vegan Butter
Basil
Steps
Prepare noodles as directed in package.
Sauté onions and garlic until aromatic.
Pour in 1 jar of marinara.
Season to taste. Added a little maple and vegan butter on this one.
Sear plant balls.
Assemble and garnish with herbs.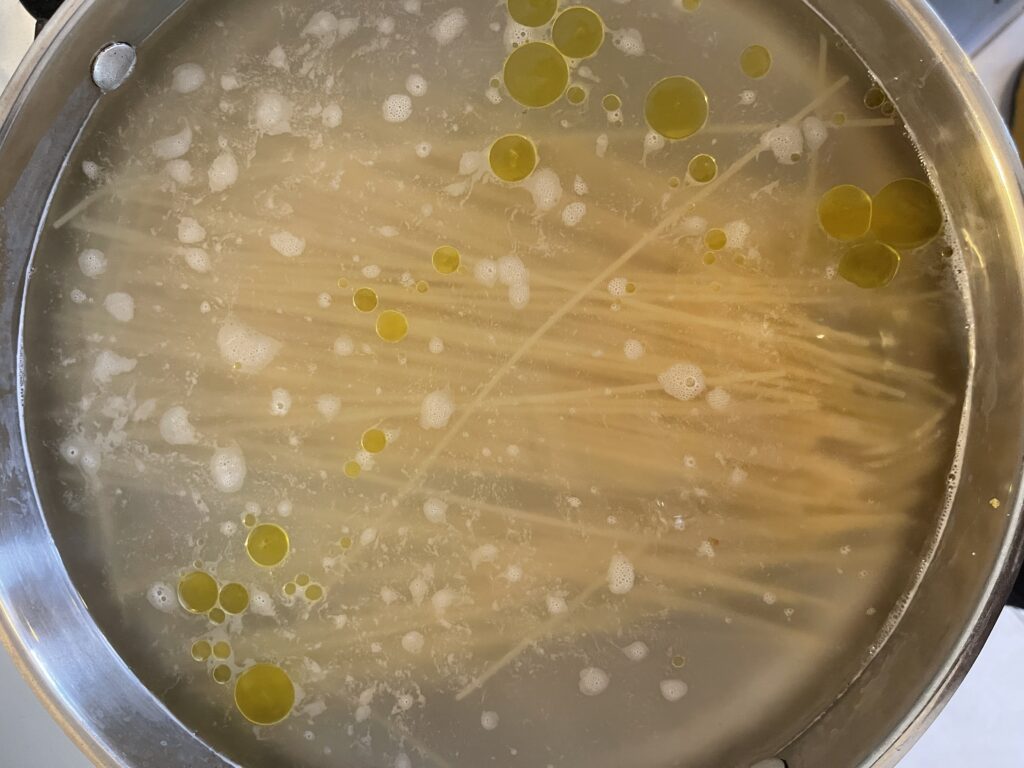 Notes
Vegan Spaghetti Meatballs is sure crowd pleaser
It is easy to master this dish and add your little tweaks like adding mushrooms, other roasted veggies, vegan cheeses.
It is a great canvas for other creative components you might want to introduce to a dish. Truffle oil maybe?
The possibilities are endless.
Feel free to follow the recipe but most importantly follow your intuition.
Variation

To add some variety to this vegan spaghetti recipe, you can try incorporating different vegetables or herbs. Consider adding sautéed mushrooms, bell peppers, or zucchini for extra flavor and texture. You can also experiment with different herbs such as oregano or thyme to enhance the taste of the marinara sauce.
Substitution

If you prefer not to use plant-based meatballs, you can substitute them with other vegan protein options. Try using crumbled tofu, tempeh, or even lentils as a meatball alternative. Simply season and cook them separately before adding them to the marinara sauce.
FAQ
Q: Can I use gluten-free spaghetti noodles?
A: Absolutely! If you have dietary restrictions or preferences, feel free to use gluten-free spaghetti noodles. There are many gluten-free options available in stores or online that work well in this recipe.
Q: Can I make my own marinara sauce?
A: Yes, you can make your own marinara sauce if you prefer. Simply combine crushed tomatoes, garlic, onion, herbs, and spices in a saucepan and simmer until the flavors meld together. Adjust the seasonings to your taste.
Q: How can I make this dish spicier?
A: If you enjoy spicy flavors, you can add red pepper flakes or a pinch of cayenne pepper to the marinara sauce. Adjust the amount according to your desired level of spiciness.
Storage

Leftovers can be stored in an airtight container in the refrigerator for up to 3-4 days. When reheating, you may need to add a splash of water or additional marinara sauce to prevent the spaghetti from drying out. Gently heat the spaghetti in a skillet or microwave until warmed through.
Enjoy your delicious vegan spaghetti with plant-based meatballs and marinara, and don't be afraid to get creative with variations and substitutions to suit your taste preferences!
Spaghetti with Neatballs
Your favorite comfort food made vegan! These meaty flavorful pea protein balls is a perfect match for our vibrant tomato sauce.
Ingredients
- 8 oz

225g spaghetti noodles

- 1 package of plant-based meatballs

- 2 cups marinara sauce

store-bought or homemade

- 1 medium onion

finely chopped

- 3 cloves garlic

minced

- 1 tablespoon maple syrup

- 2 tablespoons vegan butter

- Fresh basil leaves

chopped (for garnish)
Instructions
Cook the spaghetti noodles according to the package instructions until al dente. Drain and set aside.

In a large skillet, heat the vegan butter over medium heat until melted.

Add the chopped onion and minced garlic to the skillet and sauté until the onion becomes translucent and fragrant.

Add the plant-based meatballs to the skillet and cook according to the package instructions until heated through and slightly browned.

Pour the marinara sauce into the skillet with the meatballs and stir to combine. Reduce the heat to low and let the sauce simmer for about 10 minutes to allow the flavors to meld together.

Stir in the maple syrup to add a touch of sweetness to the marinara sauce.

Add the cooked spaghetti noodles to the skillet and toss gently to coat the noodles evenly with the sauce.

Cook for an additional 2-3 minutes until everything is heated through.

Serve the vegan spaghetti with plant-based meatballs and marinara hot, garnished with fresh chopped basil leaves.

Note: You can also sprinkle some vegan Parmesan cheese or nutritional yeast on top for added flavor, if desired.

Enjoy your delicious vegan spaghetti with plant-based meatballs and marinara! This recipe combines the classic flavors of spaghetti and meatballs with a vegan twist. The maple syrup adds a hint of sweetness to balance out the savory marinara sauce. It's a comforting and satisfying dish that will please both vegans and non-vegans alike.