Learn this technique and you will open up doors of possibilities❤️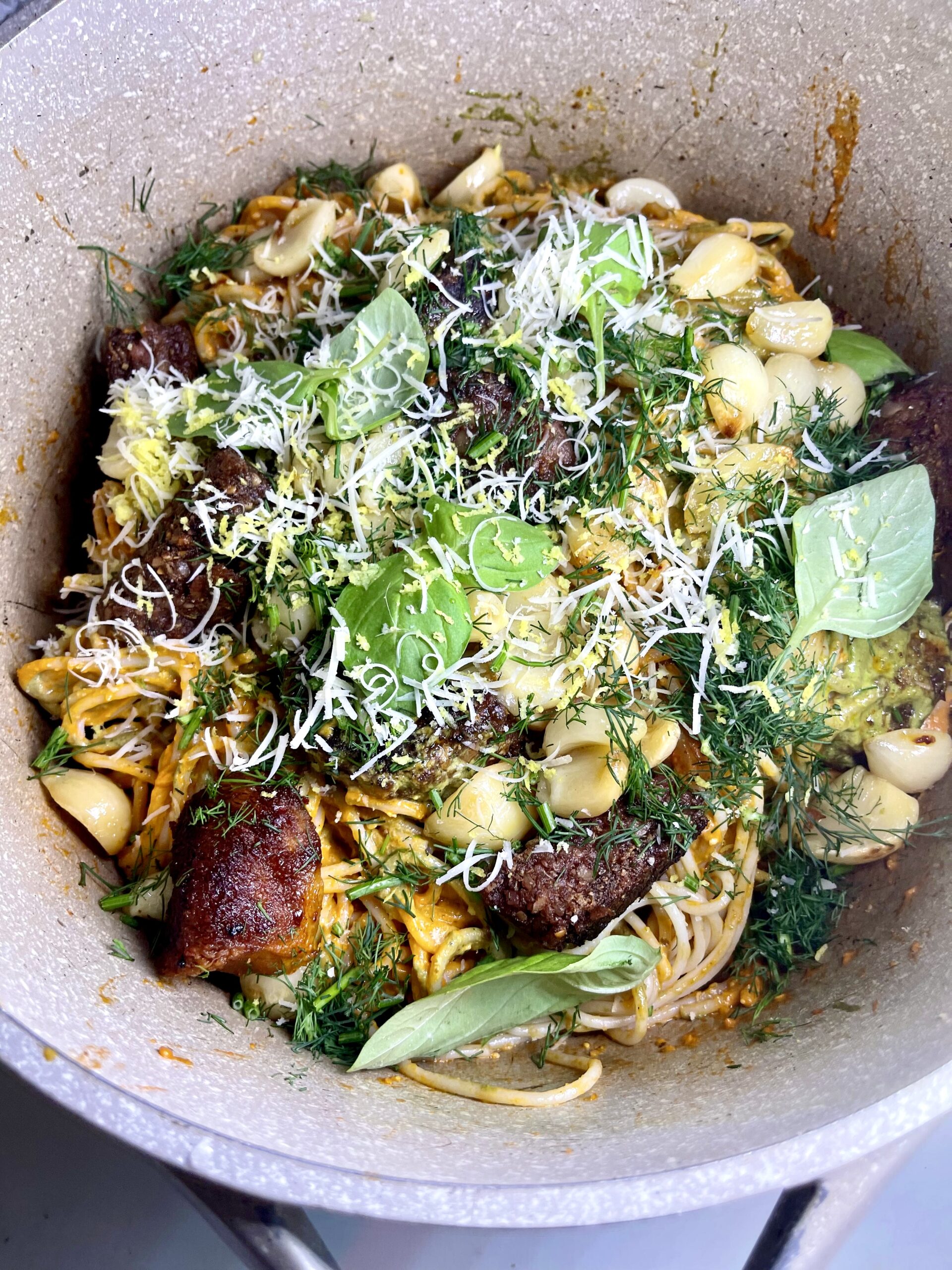 Each time spent in the kitchen is an opportunity to create something new just like this Pasta dish which was originally planned to be just pesto but turned out to have lots of extra elements that ended up all working together.
In this dish we used quinoa noodles, a healthier alternative. We also rehydrated some lions mane which will then be marinated and seared to perfection. To make it even heartier we will be adding some Vegan breakfast sausages courtesy of Nutcase Vegan Meats.
Chop up what ever herb you got handy and mix it in together with the noodles along with pink salt olive oil and lemons. Lastly fresh herbs, grated vegan cheese and lemon rind and final drizzle of olive oil for that final chef kiss blessing.
To summarize here is my 3 step pasta dish
Cook noodles as directed in the package
Sear something; it can be any produce or meat substitute, mushrooms or leafy greens. Blend something; can be roasted peppers, onions, tomatoes, oil and herb etc to be Mixed with noodles.
Make your produce of choice shine even brighter by Squeezing in some lemon juice, drizzling olive oil and hefty amounts of pink salt and pepper.
The endless possibilities of ingredients you can mix and match is at your command. Feel free, learn as you go, this techno is a crowd pleaser and very hard to mess up.
Use this new found skill to nourish your loved ones. Get good at something that would boost self confidence. Find fulfillment and joy in undertaking a simple responsibility. You will be amazed at some profound insights you will come across as you take responsibility in cooking spaghetti.
Thanks for spending time here and make sure to make time to get mindful in the kitchen and everywhere.
Substitution
Feel free to substitute the vegetables in the recipe with your favorites or whatever you have on hand. You can use vegetables like mushrooms, spinach, broccoli, or carrots.
If you don't have vegetable broth, you can use water and adjust the seasoning accordingly. Alternatively, you can use vegetable bouillon cubes or powder to make your own broth.
Instead of plant-based milk, you can use coconut milk or cashew cream for a creamier texture.
Variation
For a protein boost, you can add cooked chickpeas, tofu, or vegan sausage to the one-pot pasta.
To add a touch of heat, you can include red pepper flakes or a dash of hot sauce.
If you prefer a different flavor profile, you can experiment with different herbs and spices, such as thyme, rosemary, or smoked paprika.
FAQ
Can I use gluten-free pasta? Yes, you can use gluten-free pasta in this recipe. Just make sure to adjust the cooking time according to the instructions on the package, as gluten-free pasta may require different cooking times.
Can I make this dish ahead of time? While it's best to enjoy the one-pot pasta immediately after cooking, you can store any leftovers in an airtight container in the refrigerator for up to 3-4 days. Reheat gently on the stovetop or in the microwave before serving.
Can I freeze the one-pot pasta? Due to the nature of pasta, it may not freeze well as the texture can become mushy upon thawing. It's recommended to enjoy this dish fresh or store leftovers in the refrigerator for a few days.
Storage
Leftovers can be stored in an airtight container in the refrigerator for 3-4 days.
To reheat, simply warm the pasta in a pot on the stovetop over low heat or in the microwave until heated through.
Enjoy the simplicity and deliciousness of vegan one-pot pasta, and feel free to customize it to your taste preferences and dietary needs!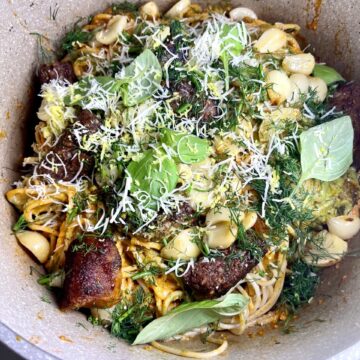 Quinoa Spaghetti with Vegan Meatballs
Each time spent in the kitchen is an opportunity to create something new just like this Pasta dish which was originally planned to be just pesto but turned out to have lots of extra elements that ended up all working together.
Ingredients
For the Vegan Meatballs: use

nutcase vegan meats or make one from scratch

- 1 cup cooked quinoa

- 1 cup cooked lentils

- ½ cup breadcrumbs

ensure they are vegan

-½ cup flour

- ¼ cup finely chopped onion

- 2 cloves garlic

minced

- 2 tablespoons tomato paste

- 1 tablespoon soy sauce or tamari

- 1 teaspoon dried herbs

such as basil, oregano, or Italian seasoning

- Salt and pepper to taste

- Olive oil for frying

For the Blended Red Bell Pepper Sauce:

- 2 red bell peppers

roasted and peeled

- ½ cup tomato sauce

- ¼ cup vegetable broth

- 2 cloves garlic

minced

- 1 tablespoon nutritional yeast

optional, for added flavor

- Salt and pepper to taste

For the Pasta:

- 8 oz

225g quinoa spaghetti (or any other vegan spaghetti of your choice)

- Fresh basil leaves

chopped (for garnish)
Instructions
In a large mixing bowl, combine the cooked quinoa, cooked lentils, breadcrumbs, onion, garlic, tomato paste, soy sauce, dried herbs, salt, and pepper. Mix well until all the ingredients are evenly combined.

Shape the mixture into small meatballs, about 1-2 inches in diameter.

Heat olive oil in a large skillet over medium heat. Add the meatballs and cook until browned on all sides, turning gently to ensure even cooking. Remove from the skillet and set aside.

In a blender or food processor, combine the roasted red bell peppers, tomato sauce, vegetable broth, minced garlic, nutritional yeast (if using), salt, and pepper. Blend until smooth and creamy.

Cook the quinoa spaghetti according to the package instructions until al dente. Drain and set aside.

In the same skillet used for the meatballs, pour in the blended red bell pepper sauce and heat over medium heat until warmed through.

Add the cooked quinoa spaghetti to the skillet with the sauce and toss gently to coat the pasta evenly.

Serve the quinoa spaghetti topped with the vegan meatballs and garnish with fresh chopped basil.

Enjoy your delicious vegan quinoa spaghetti with vegan meatballs and blended red bell pepper sauce! This recipe is packed with protein, flavor, and wholesome ingredients. Feel free to adjust the seasonings and add any additional vegetables or herbs to suit your taste preferences.