Learn this technique and you will open up doors of possibilities❤️
Thank you for reading this post, don't forget to subscribe!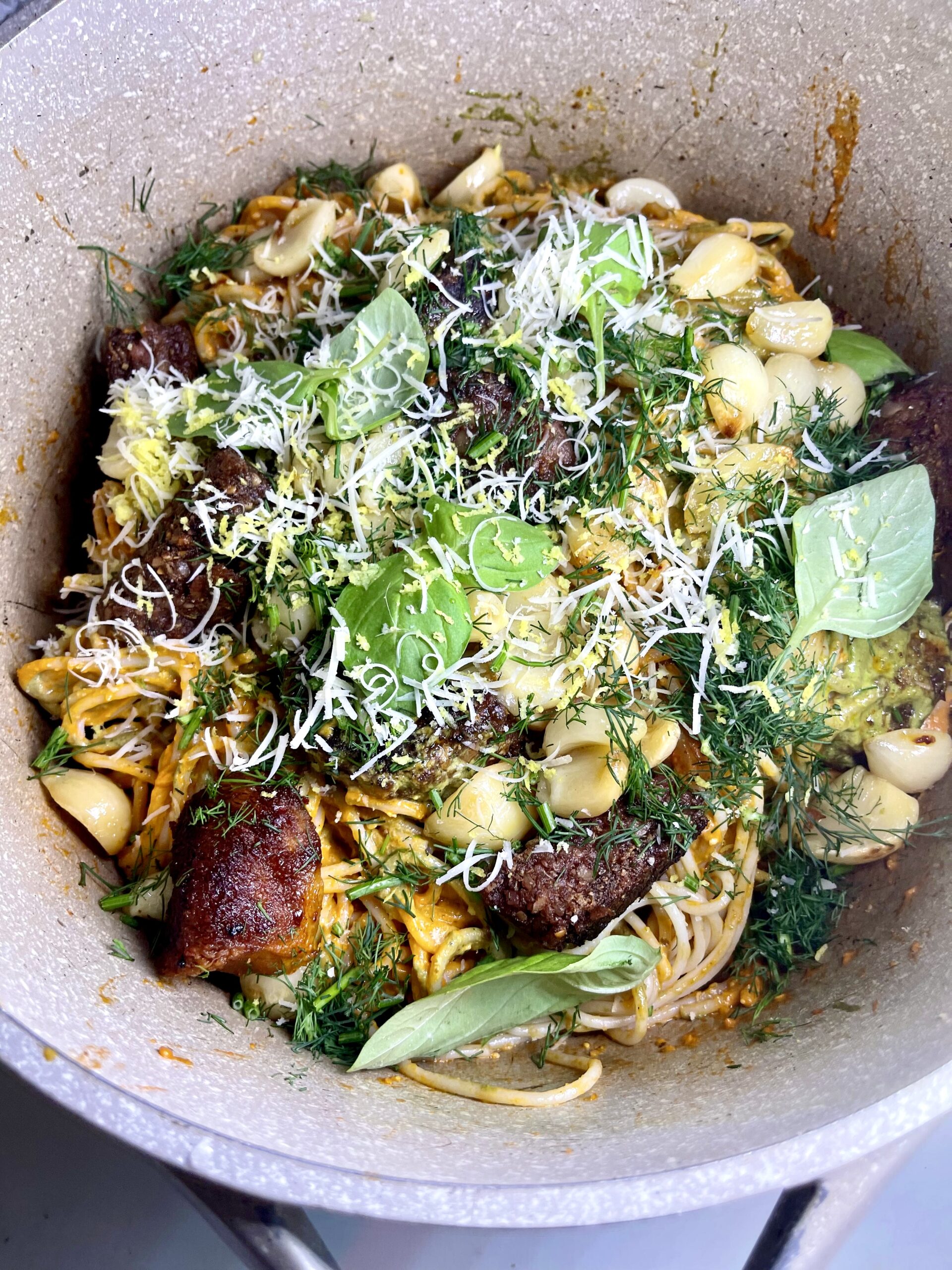 Each time spent in the kitchen is an opportunity to create something new just like this Pasta dish which was originally planned to be just pesto but turned out to have lots of extra elements that ended up all working together.
In this dish we used quinoa noodles, a healthier alternative. We also rehydrated some lions mane which will then be marinated and seared to perfection. To make it even heartier we will be adding some Vegan breakfast sausages courtesy of Nutcase Vegan Meats.
Chop up what ever herb you got handy and mix it in together with the noodles along with pink salt olive oil and lemons. Lastly fresh herbs, grated vegan cheese and lemon rind and final drizzle of olive oil for that final chef kiss blessing.
To summarize here is my 3 step pasta dish
Cook noodles as directed in the package
Sear something; it can be any produce or meat substitute, mushrooms or leafy greens. Blend something; can be roasted peppers, onions, tomatoes, oil and herb etc to be Mixed with noodles.
Make your produce of choice shine even brighter by Squeezing in some lemon juice, drizzling olive oil and hefty amounts of pink salt and pepper.
The endless possibilities of ingredients you can mix and match is at your command. Feel free, learn as you go, this techno is a crowd pleaser and very hard to mess up.
Use this new found skill to nourish your loved ones. Get good at something that would boost self confidence. Find fulfillment and joy in undertaking a simple responsibility. You will be amazed at some profound insights you will come across as you take responsibility in cooking spaghetti.
Thanks for spending time here and make sure to make time to get mindful in the kitchen and everywhere.