This easy gnocchi dish is so easy to prepare, adding pesto brings it to a whole new level. Hearty, scrumptious & customizable, this will definitely be a hit for dinner.

What is gnocchi?
Gnocchi is a type of pasta / dumplings made of lumps of dough of flour & mashed potatoes. Singular is gnoccho, it got its name from the Italian word nocchio meaning knot in wood. Knots in wood are where the base of a tree branch met the tree trunk, interrupting the flow of the grain pattern. Also Pinocchio means (pine + wood). Gnocchi has a really fun texture. Pair it with your favorite sauce and garnish with your favorite herb and you are good to go.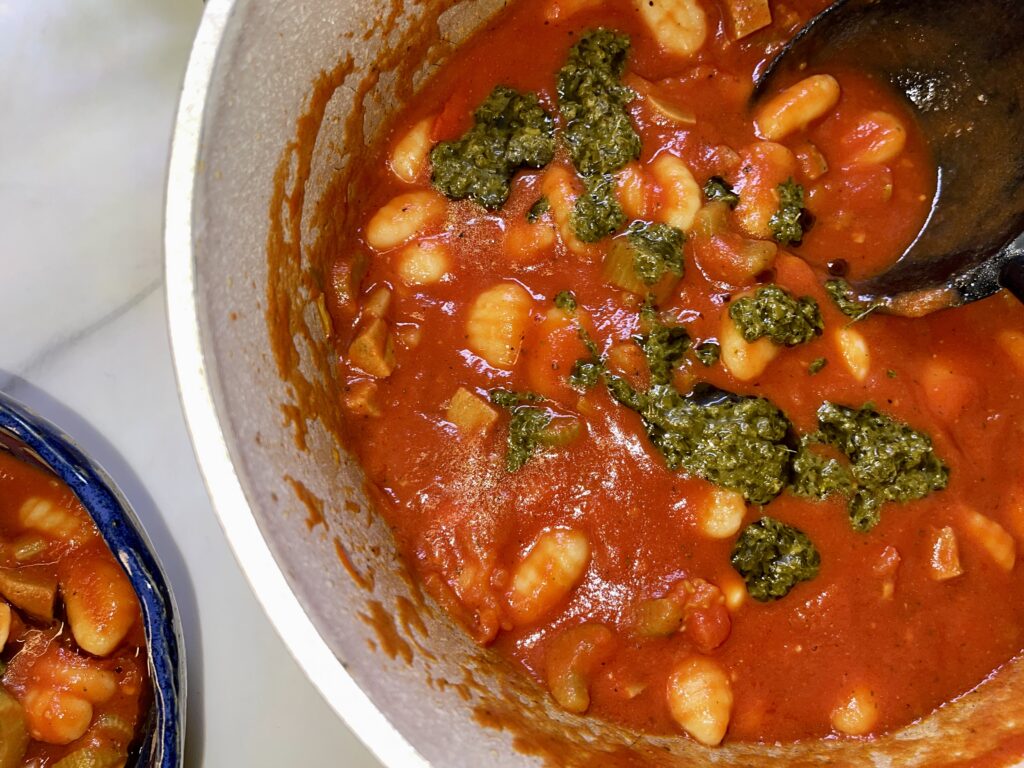 What you need
Store bought gnocchi
Marinara
Pesto
Herbs
Cheese
Tomato, Celery, Vegan sausage
What you do
This is the perfect opportunity for you to practice putting things together and come up with something tasty. Everything is pretty much prepared and all you gotta do is a little sautéing, boiling and mixing. It's something you can whip up in 10 minutes perfect if you want something immediately. Everything is customizable, first you sauté aromatics, this can be any allium + vegan meat. Then add marinara, adjust the flavor of your red sauce by adding tomato paste, seasonings and sweetener if you'd like. Boil gnocchi four a couple of minutes, uou will know they are done if you see them float. Strain and run through cold water, then stir it in the red sauce. Top with pesto, garnish with herb and voila.
Gnocchi with marinara & pesto
Gnocchi are fun fluffy soft lumps of hearty dough, bathed in flavorful marinara, topped with pesto.
Ingredients
1

Pack

gnocchi

make it around 2 cups for 4 servings

1

Drizzle

olive oil

you need olive oil for sauteing, drizzling for flavor and finishing the dish.

1

Pack

vegan pesto

1

Jar

marinara

8

Oz

fresh produce/ aromatics

You can use any alliums you may have, veggie meat, get creative with what you have.

3

tablespoon

seasonings
Instructions
Cook gnocchi according to package directions. Strain, run through cold water and set aside.

Saute sliced aromatics, feel free here, I used tomatoes, celery and tofurkey. This is cosumizable, if you have onions, leeks & brusselsprouts, those are good too. It's an opportunity to clear your pantry or your fridge of some veggies sitting around.

Throw in jar of red sauce, flavor the marinara with pastes you have, it can be tomato sauce, miso, harissa. This is the time you intensify the flavor. Enhance it even more with seasonings. It might be a spics blend, herb mix, lately I've been using lemon garlic salt and smokey mushroom umami seasoning. Make sure your seasonings are all natural though. Sweeten it a bit with agave. Just a tad, but this is optional.

Stir gnocchi in, finish with pesto, vegan cheese and herbs. Again these are you'd components that are customizable. I'm sure you are gonna come up with something great. Trust your gut and taste as you go.
Video
Notes
GNOCCHI + MARINARA + PASTES + SPICES + PESTO + HERBS = HEARTY MEAL 
GET CREATIVE, TRUST YOUR GUT, SEASON & TASTE AS YOU GO
NOURISH AND FLOURISH