Vegan ricotta can be made by blitzing tofu with some nutritional yeast and salt. The texture is surprisingly fluffy soft, stuffed in pasta shells, submerge in marinara then topped with melted vegan mozzarella.
Thank you for reading this post, don't forget to subscribe!
Why this works
Vegan ricotta stuffed pasta shells in marinara sauce are a delightful dish that showcases the versatility and creativity of plant-based cooking. By using simple ingredients and following a few easy steps, you can create a flavorful and satisfying meal that will impress both vegans and non-vegans alike. So, gather the ingredients, roll up your sleeves, and enjoy the process of making and savoring this delicious vegan dish.
This recipe offers a delightful combination of flavors and textures. The jumbo pasta shells provide a satisfying bite, while the creamy and flavorful vegan ricotta filling adds a rich and indulgent element to the dish. The tangy marinara sauce complements the creamy filling perfectly, creating a harmonious balance of flavors.
Each bite of the stuffed pasta shells is a burst of deliciousness, with the creamy ricotta filling melting in your mouth and the marinara sauce adding a zesty kick. The combination of the soft pasta shells, the creamy filling, and the tangy sauce creates a comforting and satisfying heartwarming experience.
Topped with vegan mozzarella, broiled to perfection, the cheese melting along with the stuffed shells and marinara. A classic combination that never fails to comfort one's stomach.
What you need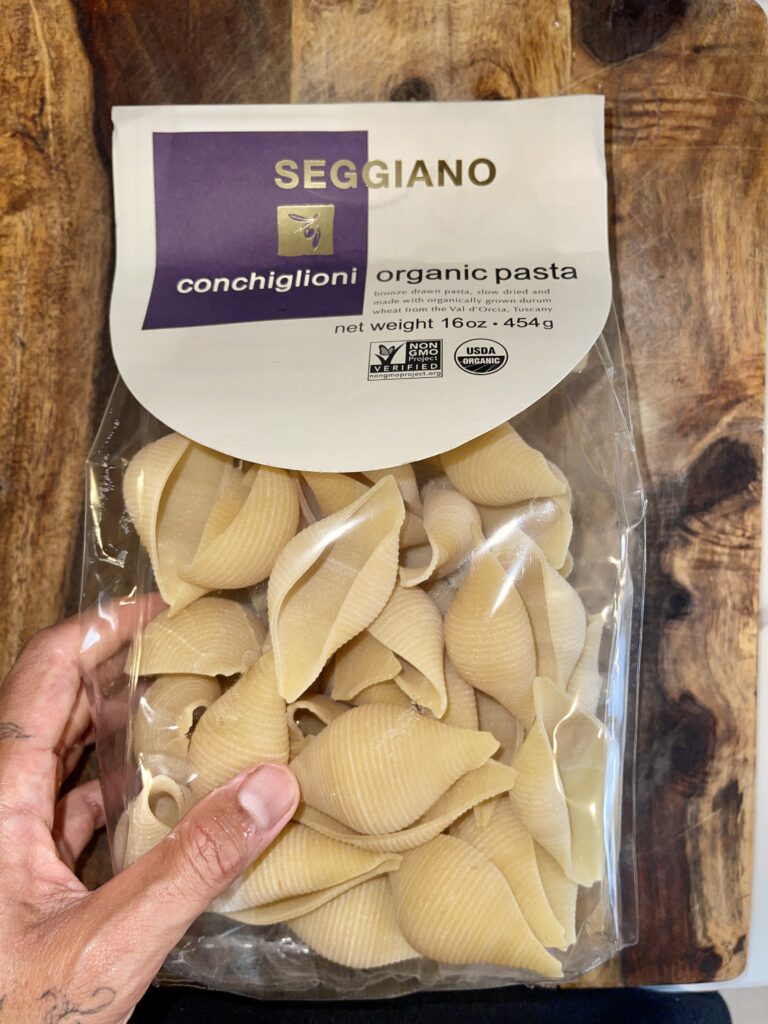 Conchiglioni is a type of pasta that is shaped like large shells or conch shells. The name "conchiglioni" is derived from the Italian word "conchiglia," which means seashell. These pasta shells are typically large and can hold a generous amount of filling, making them a popular choice for stuffed pasta dishes.
Conchiglioni pasta is often boiled until al dente, meaning it is cooked until it is firm to the bite. It can then be used in a variety of recipes, both baked and sautéed. One popular preparation is to stuff the pasta shells with a filling such as ricotta cheese, spinach, or meat, and then bake them in a sauce or with cheese on top.
The large size and unique shape of conchiglioni make them versatile for various types of fillings and sauces. They can be used in dishes like baked pasta casseroles, pasta salads, or even served with a simple tomato sauce.
When cooking conchiglioni, it's important to handle them with care to prevent them from breaking. Boil them in salted water according to the package instructions, and be sure to stir occasionally to prevent sticking.
Conchiglioni pasta is a fun and delicious option to explore in your culinary adventures. Whether you stuff them, bake them, or use them in other creative ways, they can add a delightful twist to your pasta dishes. Enjoy experimenting with different fillings and sauces to create a dish that suits your taste preferences.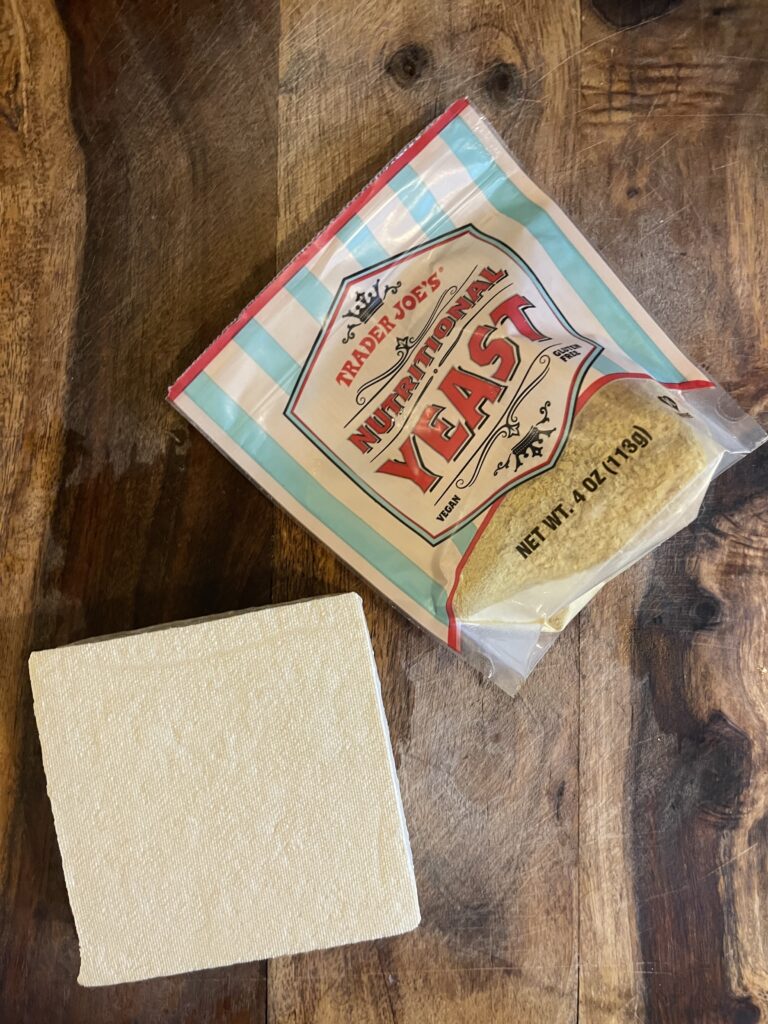 Vegan ricotta
Make vegan ricotta by simply blitzing tofu, nutritional yeast & salt. The texture will be surprisingly like ricotta!
Vegan tofu ricotta is a delicious and versatile dairy-free alternative to traditional ricotta cheese. It can be used in various recipes, such as lasagna, stuffed shells, or as a topping for pizzas and salads.
Feel free to experiment with additional ingredients to customize the flavor of your tofu ricotta. You can add chopped fresh herbs like parsley or basil, sun-dried tomatoes, or even some chopped olives for extra flavor and texture.
Enjoy your vegan tofu ricotta as a dairy-free alternative in your favorite recipes, and savor the creamy and cheesy goodness it brings to your dishes!
Make the sauce
Saute onions and tomatoes in olive oil. I used a lot of olive oil, I think I ended up pan frying than scattering. Add your jar of marinara, I used the generic organic 365 of whole foods which comes already flavored.
Assemble
Stuff vegan ricotta to cooked pasta shells. This is the fun part! This is what makes this dish ideal for vegan cheese lovers. Lay them on top of the simmering sauce, sprinkle with some mozzarella. Pop it in the oven on broil for 5 minutes or until cheese has melted.
I served it with some greens, added some clumps of vegan Boursin.
Variations
Here are a few variations of vegan stuffed shells that you can try:
Spinach and Mushroom Stuffed Shells:
In addition to the tofu ricotta, sauté some chopped mushrooms and spinach until cooked.
Mix the sautéed mushrooms and spinach with the tofu ricotta mixture.
Stuff the shells with the tofu ricotta, mushroom, and spinach mixture.
Top with marinara sauce and bake as directed.
Vegan "Meat" Stuffed Shells:
Use your favorite vegan ground meat substitute (such as crumbled tempeh, textured vegetable protein, or plant-based ground meat) in place of or in addition to the tofu ricotta.
Cook the vegan ground meat according to the package instructions and mix it with the tofu ricotta.
Stuff the shells with the tofu ricotta and vegan ground meat mixture.
Top with marinara sauce and bake as directed.
Roasted Vegetable Stuffed Shells:
Roast a variety of your favorite vegetables, such as zucchini, bell peppers, eggplant, or cherry tomatoes.
Chop the roasted vegetables and mix them with the tofu ricotta.
Stuff the shells with the tofu ricotta and roasted vegetable mixture.
Top with marinara sauce and bake as directed.
Vegan Pesto Stuffed Shells:
Instead of using marinara sauce, use vegan pesto sauce as the base.
Mix the tofu ricotta with some vegan pesto sauce.
Stuff the shells with the tofu ricotta and pesto mixture.
Top with additional pesto sauce and bake as directed.
Feel free to mix and match these variations or come up with your own unique combinations. The key is to experiment with different fillings and sauces to create a stuffed shells recipe that suits your taste preferences. Enjoy the process and savor the deliciousness of vegan stuffed shells!
Vegan Ricotta Stuffed Shells
This vegan ricotta dish will surely hit the spot. A classic dish that you have to experience making!
Ingredients
1

Bulb

onion

1

Handful

grape tomatoes

1

Jar 16oz

Marinara

5

tablespoon

olive oil

1

Pack

conchiglioni shell pasta

1

Block

firm tofu

5

tablespoon

nutritional yeast

½

Cup

vegan mozzarella
Instructions
Cook conchiglioni in a pot of salted boiling water for 16 minutes. Strain and set aside.

While pasta is cooking, make the sauce by scattering onions and tomatoes. If you'd like a richer sauce add in tomato paste. Season to your liking, add in marinara and rinse out the jar with water and add it to the pan of sauteed onions. Put lid on and turn the heat down to simmer.

Make vegan ricotta by blitzing tofu & nutritional yeast. Food processor will provide good results. After making this vegan ricotta. Stuff them into the cooked shells, lay on top of the simmering sauce, top with vegan cheese and broil till cheese has melted.
Video