What is Vegan Pad Thai and How is it Different from Regular Pad Thai? Our vegan version comprises of bell peppers, tofu, carrots and scallions.


Thank you for reading this post, don't forget to subscribe!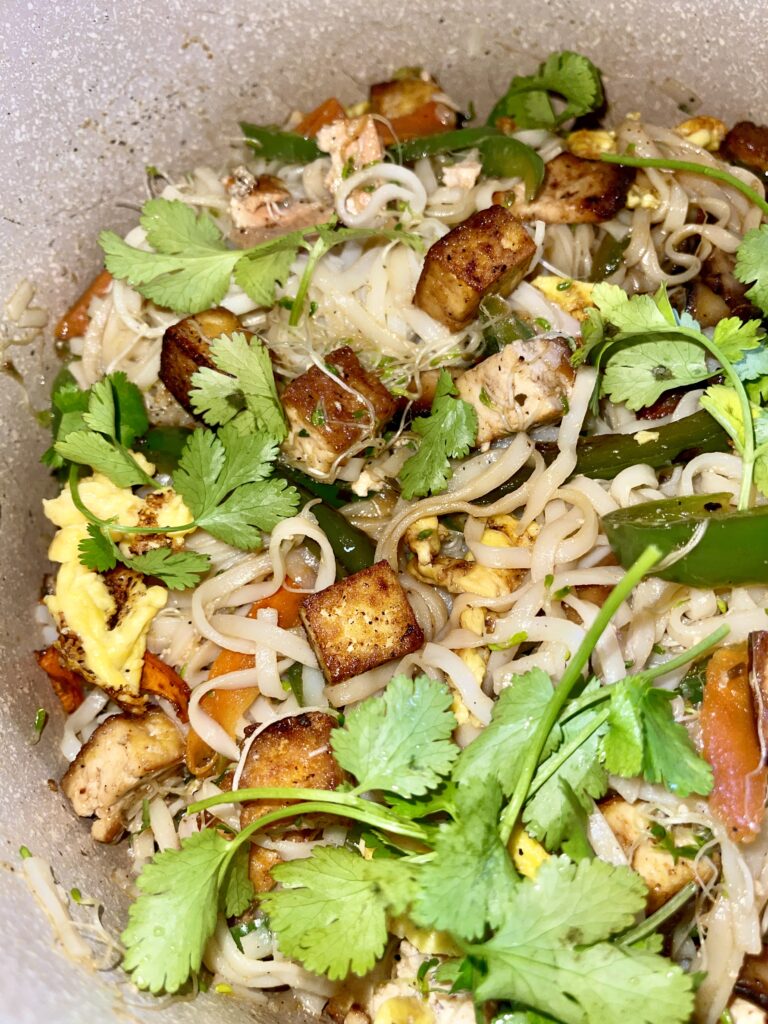 What is Pad Thai?
Pad Thai is a popular Thai dish that consists of stir-fried rice noodles, eggs, peanuts, and other ingredients. It is one of the most popular dishes in Thailand and has become a global favorite. The dish is served with fresh vegetables, herbs, and spices to give it a unique flavor. Pad Thai can also be served with seafood or meat for added flavor. It is an easy-to-make dish that can be enjoyed as a main course or as part of a larger meal.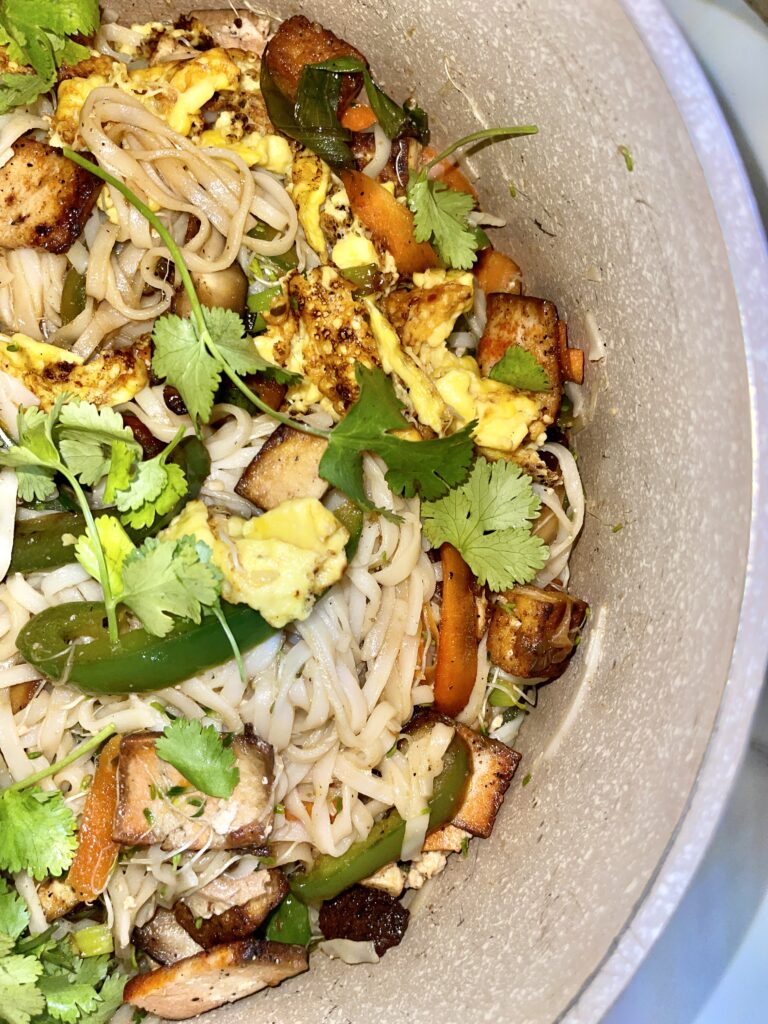 How to make vegan Pad Thai
Veganize by substituting "Just egg" (vegan egg alternative) using tamari instead of fish sauce, and use tofu or mushrooms instead of seafood and fish. Make sure you got lots of herbs like scallions and cilantro to add some refreshing feel to the dish. Soak rice noodles for 10 minutes before cooking in boiling water. For the sauce I used bachans, vinegar and sugar. Used alfalfa sprouts instead of bean sprouts. Feel free to modify and get creative.

Steps
Soak noodles for 10 minutes, cook in boiling water for 5 minutes. Run through cold water.
Sauté, veggies and tofu searing and seasoning along the way.Add mixture of soy, sugar, vinegar & sesame oil to the sauté.
Toss in noodles. Mix thoroughly.
Make vegan egg, slice em up into strips and top it over the noodles along with some extra sprouts. We used alfalfa sprouts for this one.

Vegan Pad Thai
Make this Thai noodle dish vegan! Perfect as a side or by itself. Pad Thai is a sure crowd pleaser.
Ingredients
1

Piece

carrot

3

Stalks

scallions

1

block

tofu

1

Piece

bell pepper

1

Bag

sprouts

I used alfalfa, worked out ok too

1

Bunch

cilantro

1/2

Cup

vegan egg

just egg is the best out there

5

Tbsp

sesame oil

1

Tbsp

sugar

3

Tpsp

soysauce

1

Tbsp

vinegar
Instructions
Soak rice noodles for 10 minutes. Cook for 5 minutes in boiling water. Rinse and run through cold water. Toss in sesame oil and season if you please.

Sauté cut up veggies, feel free to use whatever you have on hand. Drizzle a little sesame oil too. In a separate non stick pan; Pan fry tofu, turning ever so carefully, seasoning as you go, set aside then cook vegan egg in non stick pan and cut up into strips. Set aside

Make sauce by mixing sugar, soy and vinegar. Stir it in your sautéed veg.

Toss in noodles. Mix thoroughly. Top with sliced vegan egg, tofu, sprouts and herbs (cilantro).
Video
Notes
Make sure to season as you go, don't be afraid to substitute and once you get a hang on how sauté sauces work, you'll be quick on your feet in the kitchen. Build the skill of finding the sweet spot when seasoning and cooking different types of noodles. 
Thanks for being here and have fun!