Vegan Chorizo is a good way to flavor rice as it combines its flavors with each grain. Add your pantry staples like seasonings, spices, peas, bayleaf. Paired with perfectly seared produce like fennel adds to this wonderful dish!
Popular all year long, but since it is the end of summer, I still have lots of tomatoes from our farm trip.
This was inspired by my Vegan Paella on this site, and pairs well with some Greek Potatoes. Feel free to mix and match components that would make sense to you.
Jump to:
Ingredients
Rice
Leeks
Fennel
Peas
Bayleaf
Vegan Chorizo
Tomatoes
Vegan Yogurt
See recipe card for quantities.
Instructions
Sauté aromatics, leeks, onion and garlic if you have some.
Add Vegan Chorizo, cook and stir constantly.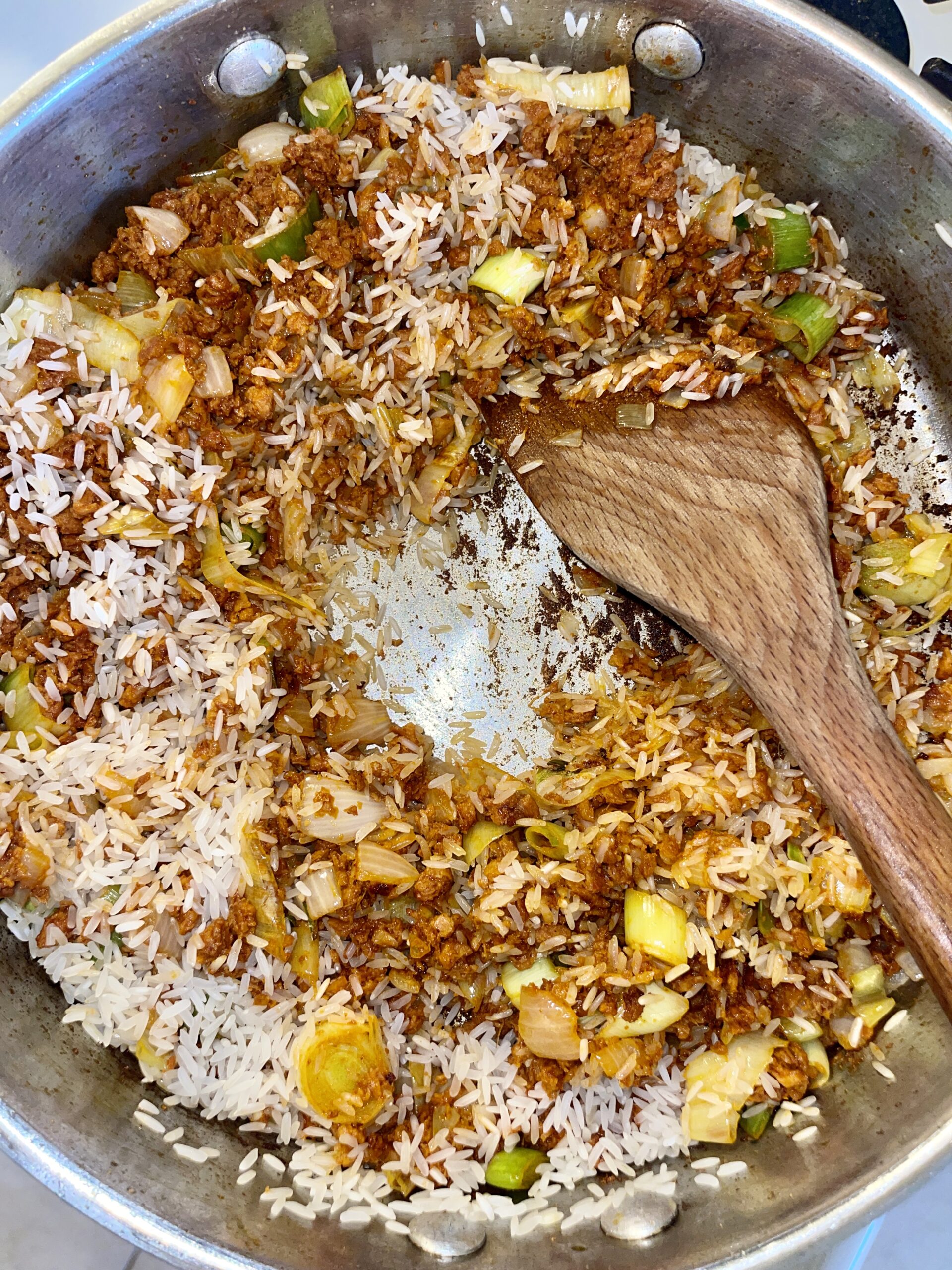 Add rice and mix evenly. Season as you go.
Add your liquids, water or stock, I put some bay leaves and green peas as well.

Check every once in a while to avoid the rice from sucking to the bottom of the pan.
In a separate pot, sear sliced up fennel with seasoning and olive oil.
Hint: Stirring every once in awhile avoids the rice from burning and sticking to the pan, keep the fire on low for even cooking. Feel free to add liquid when searing fennel to avoid burning.
Substitutions
1. Instead of using vegan chorizo, you can use vegan alternatives such as soy chorizo, seitan chorizo, or even crumbled tofu seasoned with smoky spices like paprika, cumin, and chili powder.
2. Rice: If you want to switch up the grain, you can use quinoa, bulgur wheat, or even cauliflower rice for a low-carb option.
3. Fennel: If you're not a fan of fennel's anise-like flavor, you can substitute it with other vegetables like bell peppers, zucchini, or even mushrooms for added texture and flavor.
4. Spices: To mimic the smoky and spicy flavors of chorizo, you can use a combination of smoked paprika, cumin, chili powder, garlic powder, and onion powder. Adjust the quantities to your taste preference.
5. Herbs: Instead of fennel's herbal notes, you can add fresh herbs like cilantro, parsley, or basil to brighten up the dish.
and methods accordingly based on the substitutions you choose.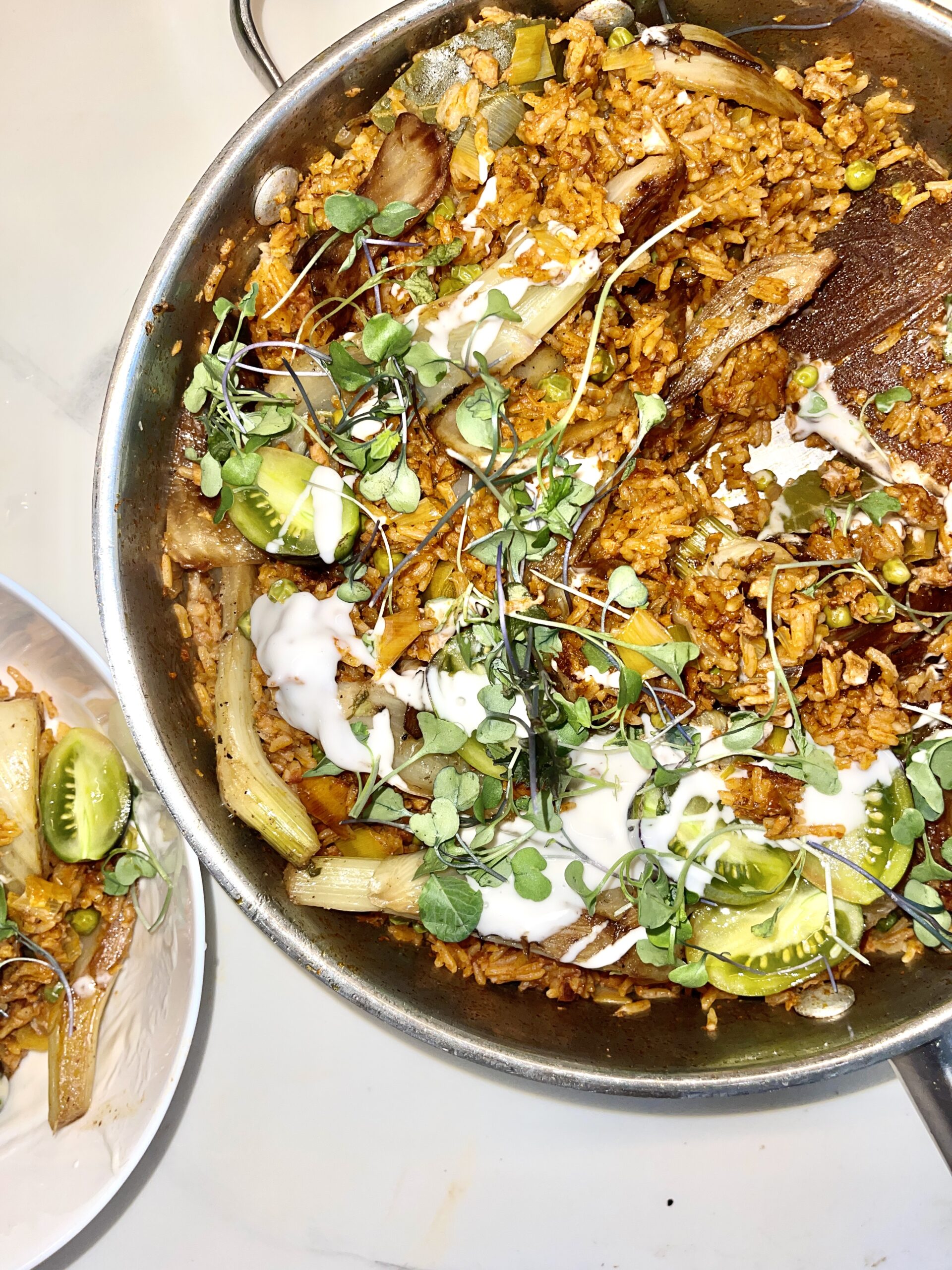 Variations
Feel free to make some variations to cater to your needs.
1. Kids Variation: To make it more kid-friendly, you can use a milder vegan chorizo alternative or substitute it with crumbled tofu seasoned with mild spices. You can also add some diced carrots, peas, and corn for added color and nutrition. Serve it with a side of avocado slices or guacamole for a creamy element.
2. Deluxe Variation: For a more indulgent version, you can add some vegan cheese shreds or a creamy vegan cheese sauce to the rice and chorizo mixture. You can also top it with sliced avocado, pickled jalapenos, and a drizzle of vegan sour cream or cashew cream for added richness.
3. Spicy Variation: If you prefer a spicier kick, you can use a spicier vegan chorizo alternative or add extra chili powder, cayenne pepper, or hot sauce to the dish. You can also garnish it with sliced fresh chili peppers or sprinkle some crushed red pepper flakes for an extra spicy touch.
Giving the visitor ideas on how they can change this recipe to better suit their dinner guests, or their cultural cuisine, is a great way to increase the chances they make the recipe.
Equipment
I personally use my ever reliable all clad pan! Even distribution of heat and will last you a lifetime. Equipment can have a big impact on how a recipe turns out. Stone bakeware takes longer to heat up than metal pans, and also retain heat for longer.
Storage
1. Refrigeration: If you have leftovers, store them in an airtight container in the refrigerator. Make sure the dish has cooled down completely before storing. It can be refrigerated for up to 3-4 days.
2. Freezing: If you want to store it for a longer period, you can freeze the vegan chorizo fennel. Transfer it to a freezer-safe container or freezer bags, making sure to remove any excess air. It can be frozen for up to 3 months.
3. Thawing and Reheating: When you're ready to enjoy the stored vegan chorizo fennel, thaw it overnight in the refrigerator. Once thawed, you can reheat it on the stovetop or in the microwave until heated through. Add a splash of water or vegetable broth if needed to prevent it from drying out.
Note: Fennel tends to lose its texture and flavor when frozen and thawed, so it may not be as crisp or vibrant after storage. However, the overall taste and quality of the dish should still be good.
Top tip
Stir once in a while to avoid burning.
Garnish with fresh tomatoes, microgreens, vegan yogurt.
FAQ
Q: What is vegan chorizo made of?
A: Vegan chorizo is typically made from plant-based ingredients such as soy protein, seitan (wheat gluten), tofu, or a combination of vegetables and spices. It is seasoned with various spices and herbs to mimic the flavors of traditional chorizo.

Q: Is vegan chorizo spicy?
A: The spiciness of vegan chorizo can vary depending on the brand or recipe. Some vegan chorizo options are mild, while others can be quite spicy. It's always a good idea to check the label or recipe to determine the level of spiciness.

Q: Can I use vegan chorizo as a substitute for regular chorizo in recipes?
A: Yes, you can use vegan chorizo as a substitute for regular chorizo in recipes. It can be used in dishes like tacos, burritos, pasta sauces, rice dishes, and more. Just keep in mind that the flavors and textures may differ slightly from traditional chorizo.

Q: Where can I buy vegan chorizo?
A: Vegan chorizo can be found at many grocery stores, health food stores, or specialty vegan/vegetarian markets. It may also be available online through various retailers.

Q: Is vegan chorizo healthier than regular chorizo?
A: Vegan chorizo is generally considered to be healthier than regular chorizo because it is typically lower in saturated fat and cholesterol. However, it's still important to check the specific brand or recipe for nutritional information and ingredients.

Q: Can I make my own vegan chorizo at home?
A: Yes, you can make your own vegan chorizo at home using various recipes available online or in vegan cookbooks. Homemade vegan chorizo allows you to customize the flavors and ingredients to your liking.
Related
Looking for other recipes like this? Try these:
Chorizo Rice
The combination of the savory vegan chorizo, the aromatic fennel, and the fluffy rice creates a well-balanced and satisfying meal. It can be enjoyed as a main course or served as a side dish alongside other vegan dishes.
Ingredients
1

whole

onion

1

stalk

leek

4

tablespoon

olive oil

3

Pcs

bayleaf

½

cup

peas

1

cup

rice

2

cups

stock or water

3

tablespoon

seasoning of choice

1

pieces

fennel
We sometimes take for a granted that we have years (or decades) of cooking experience, that the average visitor may not. Add to, or remove from, the list below with health and safety tips.
Cook to a minimum temperature of 165 °F (74 °C)
Don't leave food sitting out at room temperature for extended periods
Never leave cooking food unattended
Use oils with high smoking point to avoid harmful compounds
Always have good ventilation when using a gas stove