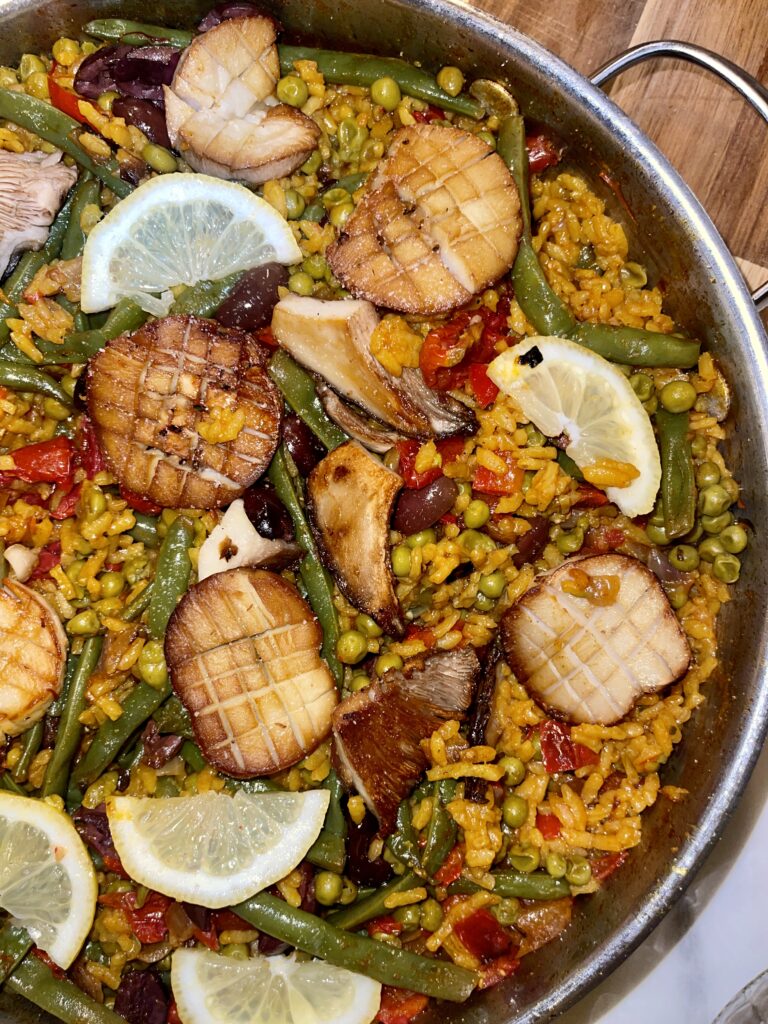 If you're looking for an easy vegan dinner recipe, then look no further than this delicious Vegan Paella with lots of Saffron topped with King Trumpet Mushrooms. This vibrant one-pot meal is packed with flavor and nutrition, making it the perfect weeknight dinner. The saffron and king trumpet mushrooms add a depth of flavor to the paella that will have your family and friends begging for more. With just a few simple ingredients, you can whip up this tasty vegan dish in no time!

Paella is a traditional Spanish dish that is known for its vibrant colors, rich flavors, and diverse ingredients. However, the traditional version of paella often includes animal-based ingredients such as meat, seafood, and dairy products. In order to cater to the growing demand for plant-based options, vegan paella has emerged as a delicious and cruelty-free alternative. In this essay, we will explore the key components of vegan paella, providing examples and arguments to support the importance of these substitutions.

Vegan paella is a plant-based version of the classic Spanish dish, which typically includes meat, seafood, and dairy products. To create a vegan-friendly version, these components are replaced with suitable alternatives. This essay will discuss the three main components of vegan paella: rice, vegetables, and seasonings.
Elements
Rice:
Rice is the foundation of any paella dish, and in the vegan version, it remains a crucial component. Traditional paella often includes meat or seafood, but in vegan paella, these ingredients are replaced with a variety of vegetables. Some popular choices include bell peppers, tomatoes, peas, and artichokes. These vegetables not only add vibrant colors to the dish but also provide a range of flavors and textures, making the vegan paella just as satisfying and visually appealing as the original.
Vegetables:
In vegan paella, the focus is on using a diverse range of vegetables to create a flavorful and nutritious dish. Along with the traditional vegetables mentioned above, other options such as mushrooms, zucchini, and eggplant can be added to enhance the taste and texture. These vegetables not only provide essential nutrients but also contribute to the overall complexity and depth of flavors in the dish.
Seasonings:
The seasonings used in vegan paella play a crucial role in replicating the authentic taste of the traditional dish. While the original paella often includes saffron, which is derived from flowers, vegan paella can achieve a similar flavor profile by using turmeric as a substitute. Turmeric not only adds a vibrant yellow color to the dish but also provides a subtle earthy flavor. Other seasonings such as paprika, garlic, and onion are also commonly used to enhance the taste and aroma of the vegan paella.

Vegan paella is a delightful and satisfying dish that showcases the versatility and creativity of plant-based cuisine. By making simple substitutions, such as using a variety of vegetables instead of meat or seafood, and incorporating flavorful seasonings like turmeric, the essence of paella can be preserved while adhering to a vegan lifestyle. These modifications not only make the dish accessible to a wider audience but also highlight the abundance of flavors and textures that can be achieved without the use of animal products. So, whether you are a vegan or simply looking to explore new culinary experiences, vegan paella is a must-try dish that will surely leave you craving for more.
What is Paella?
Paella is a traditional Spanish dish that originated in Valencia, Spain. It is a combination of rice, vegetables and meat or seafood cooked in a flavorful broth. The most common ingredients used to make paella are saffron, king trumpet mushrooms, and various spices. Vegan paella is also becoming increasingly popular these days as it offers a delicious alternative to the traditional dish. With its unique blend of flavors and textures, paella is sure to be an unforgettable experience for any food lover!
Why is it called Paella?
Paella is a traditional Spanish dish that has been around for centuries. Its etymology is fascinating, as it has its roots in the Latin word for pan - 'patella'. The name paella was first used in the mid-19th century to refer to a type of shallow pan used to cook the dish.
The history of paella is closely linked with the Valencian region of Spain, where it was traditionally made with rabbit, chicken and snails. However, over time it has evolved and now includes many different ingredients such as seafood, vegetables and even chorizo.
And now the best version! Vegan.
This delicious dish is now enjoyed all over the world and its etymology provides us with an interesting insight into its origins.
How to make it vegan?
We make it vegan by using kingtrumpet mushrooms instead of seafood. Cutting up these large king trumpets and scoring them really emulates large scallops. Also feel free to use vegan sausage or chorizo.
What you need
Arborio rice
Onion
Bell pepper
Olive oil
Green beans
Saffron
Smoked paprika, other seasonings you might have
Peas
Olives
Sun dried tomatoes
What you do?
Saute aromatics.
Throw in green beans or any produce you might have on hand.
Add the rice and seasonings, stir until the arborio rice is a bit translucent.
Add 4 cups of veg stock every 1.5 cup of arborio, throw in the canned peas as well.
Cover, boil and turn the heat down to simmer.
Sear scored king trumpet on a separate pan.
Top the cooked rice with sliced lemons.
Vegan Paella
Traditional paella made vegan with King trumpet mushrooms. The secret to this dish is generous saffron.
Ingredients
½

Piece

onion

1

Piece

bell pepper

1

Handful

green beans

1

teaspoon

saffron

5

tablespoon

olive oil

1

Can

peas

1

Big

king trumpet mushroom

1

tablespoon

seasoning

⅓

Cup

olives
Instructions
In a wide pan, saute onions and bell peppers with lots of olive oil. season as you go until fragrant.

Add 1.5 cup of arborio rice. Keep stirring till ricevtirns a bit translucent. Add 4 cups of veg stock and throw in the saffron, olives and peas too. Season even more, I used garlic powder, smoked paprika and pink salt.

Bring to boil then lower the heat to simmer. Put the lid on and let cook for around 30 mins. Stir once to check if the bottom part gets burned. Be mindful that the fire is on low.

Slice King trumpet mushrooms, score them cross cross style and then sear on both sides, season as you go. Always.

Top the cooked rice with the mushroom scallops and some sliced lemons.
Video
Notes
Don't skimp on the saffron
Season as you go
Feel free to use a variety of produce
Keep the fire on low to cook evenly