Better than traditional french onion soup is its vegan counterpart. Made flavorful and fragrant with bay leaves, fresh thyme and seasonings. Topped with vegan cheese broiled French bread. This vegan version is a great recipe, rich in flavor that brings out the natural sweetness of onions. Simple ingredients with layers of flavor.
This classic recipe is the ultimate comfort food using onions as the key ingredient. The combination of rich caramelized onions, vegan gooey cheese, full of umami flavor, this is a great addition your collection of vegan soup recipes.
Jump to:
Ingredients
Onions - Best to use, white sweet onions. They really turn sweet if you caramelize it properly.
Olive oil - Provides depth of flavor.
Vegan butter - Adds to the velvety richness of the soup
Flour
Veg Broth
Bay leaves
Thyme
Rosemary
Vegan Cheese
Sourdough bread
See recipe card for quantities.
Instructions
In a dutch oven, Saute Onions with olive oil and some salt & black pepper. Keep saiteeing to achieve a deep golden brown color.
Add in herbs, bayleaf, fresh thyme, rosemary if you have some.
A tablespoon of flour and coconut sugar is added. I had some dried mushrooms so I threw them in there for some umami flavor. Make sure to scrape the bottom of the pot. Deepen the flavor with a splash of soy sauce, red wine and balsamic vinegar (optional)
Toast sourdough bread topped with vegan cheese.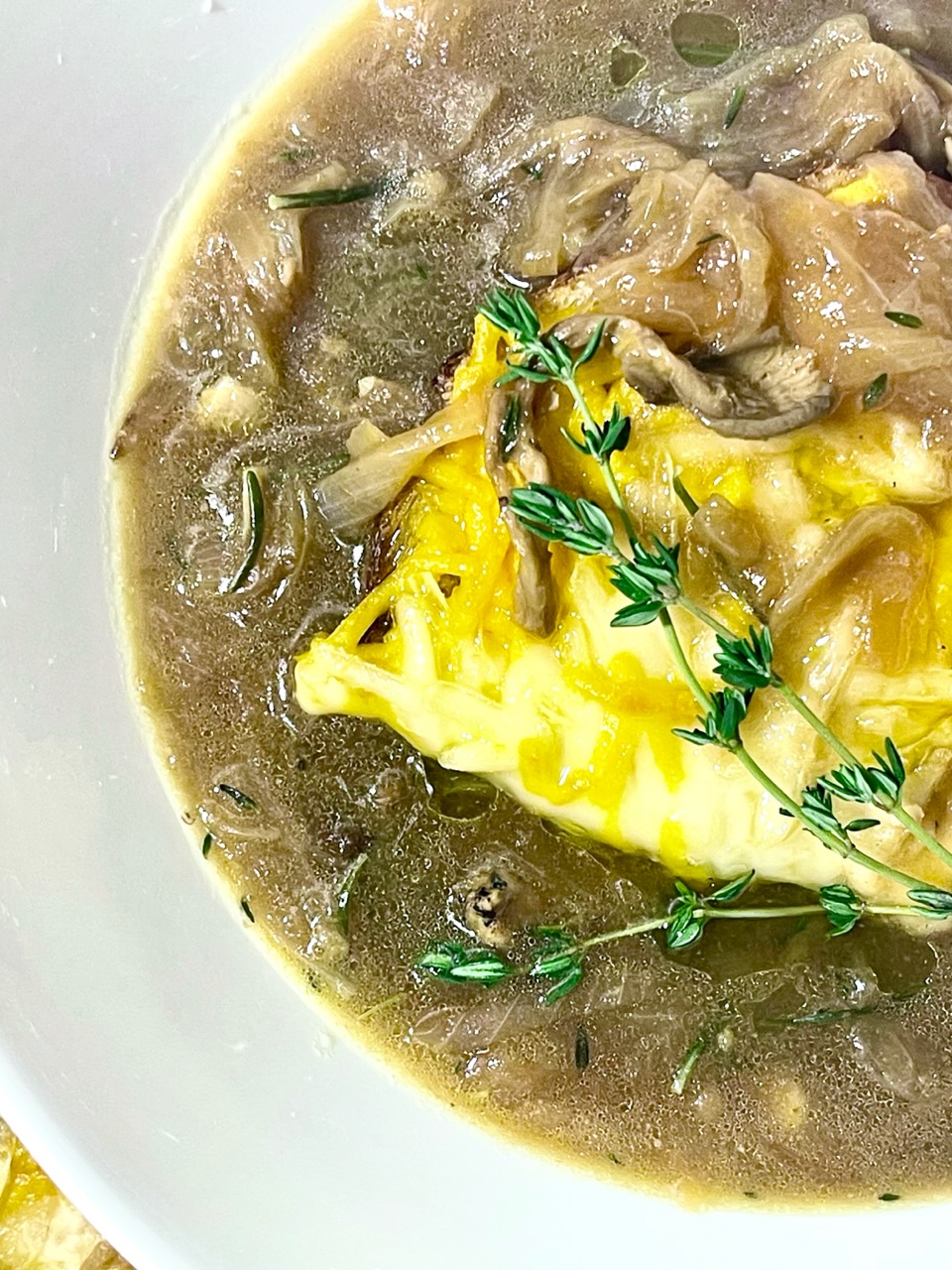 Hint: Patience with Onions: The key to a great French onion soup is the caramelization of the onions. This process can take some time, but it's worth it for the depth of flavor it provides. Don't rush this step; let the onions slowly transform into a rich, golden brown.
Substitutions
Onions: If you don't have yellow onions, you can use white onions or even red onions. The flavor will be slightly different, but still delicious.
Vegan Butter: If you don't have vegan butter, you can use extra olive oil or another type of plant-based oil like avocado oil or coconut oil.
Sugar: If you want to avoid refined sugar, you can use a natural sweetener like maple syrup or agave nectar to help caramelize the onions.
Vegan Red Wine: If you don't have red wine, you can substitute it with extra vegetable broth, grape juice, or non-alcoholic red wine. You can also use a splash of balsamic vinegar to add some acidity.
Thyme: If you don't have fresh thyme, you can use dried thyme. The general rule of thumb is to use one-third of the amount of dried herbs as you would fresh.
Baguette: If you don't have a baguette, you can use any type of crusty bread. You could also use gluten-free bread if you're avoiding gluten.
Vegan Mozzarella Cheese: If you can't find vegan mozzarella, you can use any type of vegan cheese that melts well. You could also use a homemade vegan cheese sauce.
Variations
Gluten-Free: To make this soup gluten-free, use a gluten-free baguette or bread for the topping. Also, ensure that your vegetable broth and vegan wine are gluten-free.
Herbed French Onion Soup: Add additional herbs like rosemary or sage for a different flavor profile.
Spicy French Onion Soup: Add a pinch of red pepper flakes to the onions while they're caramelizing to give the soup a bit of heat.
Cheesy Crouton Topping: Instead of using slices of baguette, you can make cheesy croutons. Toss cubed bread with olive oil and vegan cheese, bake until crispy, and use these to top your soup.
White Wine French Onion Soup: For a lighter flavor, you can use a dry white wine instead of red.
Creamy French Onion Soup: For a creamier soup, stir in a splash of vegan cream or unsweetened plant-based milk at the end of cooking.
Storage
To store leftover Vegan French Onion Soup, follow these steps:
Allow the soup to cool completely. It's important not to put hot soup directly into your fridge as it can raise the overall temperature of the refrigerator and potentially cause other foods to enter the danger zone of food safety.
Once cooled, transfer the soup into airtight containers. If you've already added the bread and cheese topping, it's best to store this separately to prevent it from becoming too soggy.
Store the soup in the refrigerator. It should last for about 3-4 days.
To reheat, you can do so on the stove over medium heat until warmed through. If you've stored the bread and cheese separately, you can add it back on top and broil in the oven for a few minutes to get the cheese nice and melty again.
For longer storage, you can also freeze this soup:
Cool the soup completely and transfer it to freezer-safe containers or heavy-duty freezer bags. Do not freeze the bread and cheese topping; it's best to add this when you're ready to serve the soup.
You can store the soup in the freezer for up to 3 months.
To reheat, thaw the soup overnight in the refrigerator or using the defrost function on your microwave. Then, reheat on the stove or in the microwave, add the bread and cheese topping, and broil in the oven.
Top tip
Feel free to adjust the seasonings to your taste. If you prefer a more herbaceous soup, add more thyme. If you like a sweeter soup, you could add a bit more sugar during the caramelization process.
FAQ
What makes this French onion soup vegan?
This French onion soup is vegan because it does not contain any animal products. Traditional French onion soup often contains beef broth and is topped with cheese, but this version uses vegetable broth and vegan cheese.
Can I use any type of onions for this soup?
Yes, you can use any type of onions, but yellow or white onions are typically used for their sweet flavor. Red onions can also be used for a more robust flavor.
What can I use instead of vegan cheese?
If you don't have vegan cheese, you can use nutritional yeast to give the soup a cheesy flavor. You can also use a vegan cheese sauce made from cashews or other nuts.
Can I make this soup gluten-free?
Yes, you can make this soup gluten-free by using a gluten-free bread for the croutons and ensuring your vegetable broth is gluten-free.
How long does this soup last in the fridge?
This soup can last in the fridge for up to a week. Make sure to store it in an airtight container.
Can I freeze this soup?
Yes, this soup freezes well. You can freeze it in individual portions for easy reheating. However, it's best to add the bread and cheese after reheating.
What can I serve with this soup?
This soup can be served with a side salad or a crusty bread for a complete meal. It also pairs well with a glass of vegan wine.
Can I use store-bought vegetable broth?
Yes, you can use store-bought vegetable broth. However, homemade broth often has a richer flavor.
Can I add other vegetables to this soup?
While French onion soup traditionally only contains onions, you can certainly add other vegetables if you wish. Some good options might be carrots, celery, or mushrooms.
What kind of wine should I use for this soup?
A dry white wine is typically used in French onion soup. However, if you prefer not to use alcohol, you can simply use more vegetable broth.
Related
Looking for other recipes like this? Try these:
Pairing
These are my favorite dishes to serve with [this recipe]:
Easy Vegan French Onion Soup
Ingredients
- 6 large yellow onions

thinly sliced

- 3 cloves of garlic

minced

- 2 tablespoons of olive oil

- 2 tablespoons of vegan butter

- 1 teaspoon of sugar

- 1.5 liters of vegetable broth

- 1 cup of vegan red wine

- 2 bay leaves

- 4 sprigs of fresh thyme

- Salt and pepper to taste

- 1 baguette

- 1.5 cups of vegan mozzarella cheese

shredded
Instructions
In a large pot, heat the olive oil and vegan butter over medium heat. Add the sliced onions and stir until they are fully coated in the oil and butter. Cover the pot and let the onions cook for about 15 minutes.

Uncover the pot, raise the heat to medium-high, and add the sugar and a pinch of salt. Continue to cook the onions, stirring frequently, until they are caramelized and golden brown. This process may take up to 30 minutes.

Add the minced garlic to the pot and cook for another 2 minutes, or until the garlic is fragrant.

Deglaze the pot with the vegan red wine, scraping the bottom of the pot to loosen any bits that have stuck to it. Let the wine reduce for about 5 minutes.

Add the vegetable broth, bay leaves, and thyme sprigs to the pot. Bring the soup to a simmer and let it cook for about 30 minutes. Season with salt and pepper to taste.

While the soup is simmering, preheat your oven to 180°C (350°F) and slice the baguette into rounds. Place the rounds on a baking sheet and toast them in the oven until they are golden and crispy.

Ladle the soup into oven-safe bowls. Place a few toasted baguette slices on top of each bowl of soup, and sprinkle a generous amount of vegan mozzarella cheese over the bread.

Place the bowls on a baking sheet and put them in the oven. Bake the soup for about 10 minutes, or until the cheese is melted and bubbly. If you'd like the cheese to be a bit browned, you can broil the soup for an additional 2-3 minutes.

Let the soup cool for a few minutes before serving. Enjoy your delicious vegan French onion soup!