Have you tried cooking Fonio? It is the healthiest of all grains! Much like couscous, fluffy and tasty only more nutritious. Paired with flavorfully glazed Cauliflower, you can't go wrong with this combo.
Main ingredients
Cauliflower is a vegetable that can be eaten raw, or cooked and served with a variety of sauces. It is a great source of vitamin C, potassium, and folate.

What is Fonio?
To the Dogon People of Mali, fonio is known as, "the Seed of the Universe," the grain at the root of all existence.
In fonio-growing regions of West Africa today, fonio is served to guests as a sign of honor. It even has a nickname, ñamu buur, "food for royalty."
Before the agricultural colonization of Africa, fonio had a long and celebrated history on the continent. Fonio has been grown for over 5,000 years, making the oldest cultivated grain in Africa. It has even been found entombed in Ancient Egyptian pyramids, so valued that people believed it should be brought with them to the afterlife.
In West Africa, fonio is good luck charm, and moms are known to put some fonio in children's bags on the first day of school.
Fonio has been a treasured source of nutrition across West Africa for generations.
In West Africa, fonio is prized by pregnant women + nursing mothers, and often fed as a first solid food to babies. It's light yet satiating, and chock-full of important micronutrients.
Fonio is a source of complex carbohydrates that are digested slowly and sustain the body with energy throughout the day. It is low-glycemic, making fonio a great alternative to white rice, pasta, or couscous for those watching their blood sugar levels (including people living with diabetes). Fonio is gluten-free, ideal for people with celiac and gluten intolerances. It is also a low calorie-density food. One cup of cooked fonio contains ~140 calories. (One cup cooked brown rice has 210 calories; pasta: 220 calories, quinoa: 222 calories.)
Fonio is a good source of fiber, iron, B-vitamins, zinc, and magnesium as well as antioxidant flavonoids. And fonio is particularly high in two amino acids— methionine and cysteine— which promote hair, skin, and nail growth, and are deficient in all other grains.
Academic research on the nutritional profile of fonio is still in its early days, but we understand that its nutritional composition varies based on variety, soil, and growing conditions.
Fonio has a similar amino acid composition to that of an egg: considered to be the perfect protein.
Source: Yolele
Yolele has been kind enough to let me work with their amazing line of products. Cant wait to create with all the Fonio they sent.
For this one we created a Ssamjang glazed Cauliflower to pair with their chili lime Fonio Pilaf. Garnished with endive and alfalfa sprouts. This one is really tasty and nutritious. Make sure to check out Yolele
Fonio is a whole grain that is native to West Africa. It has been cultivated for centuries in the region and has been used as the main staple food for many communities. This grain can grow with minimal water and provides nutrients easily absorbed by the body.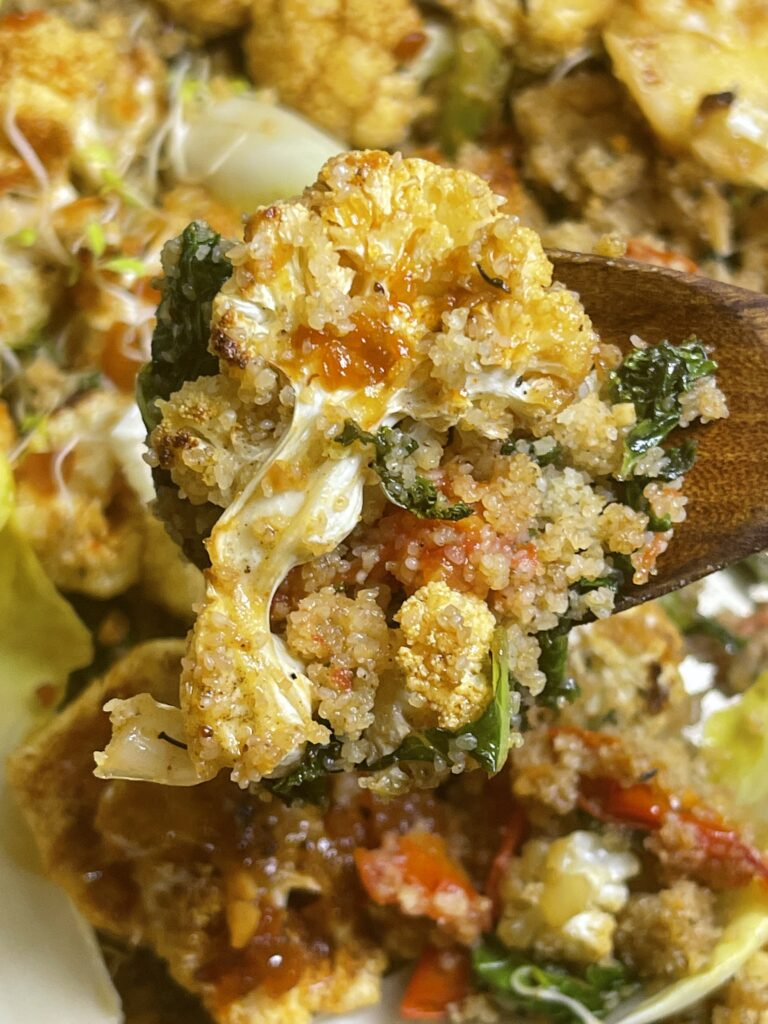 What is deglazing?
Deglazing is a cooking technique that is used to make the most of the flavor and juices left in a pan. The process involves adding liquid like wine, broth or water to the hot pan and scraping up any bits of food on its surface. These bits are then mixed with the liquid and heated until they start to break down, releasing their flavors. You can deglaze with vinegar, wine, stock or even just water. Don't take the power of reduction for granted. In this recipe, I made my glaze with Ssamjang, a Korean paste that is packed with umami!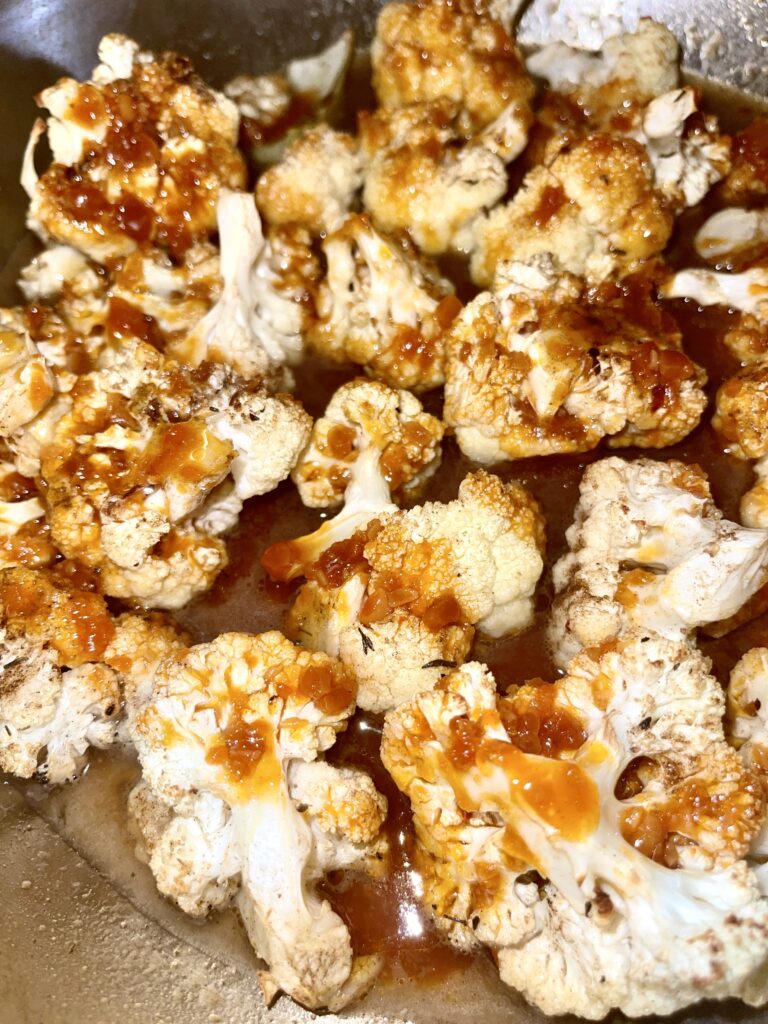 Boost the flavor!
now that you know how to deglaze, open up more possibilities by using this technique in cooking veggies, use a variety of combinations of liquids, vinegars and wines. If you have a wine lying around for a while, why not enliven your dish by using it for deglazing.
May you be inspired and use this recipe as an inspiration, catch some techniques and apply your own flair and creativity!
Happy cooking and Namaste, detailed recipe in card below.