This healthy version of your favorite risotto uses Chickpea rice, vegan butter, and flavorful hearty and meaty combination of Lions Mane and King Trumpet Mushrooms.

Thank you for reading this post, don't forget to subscribe!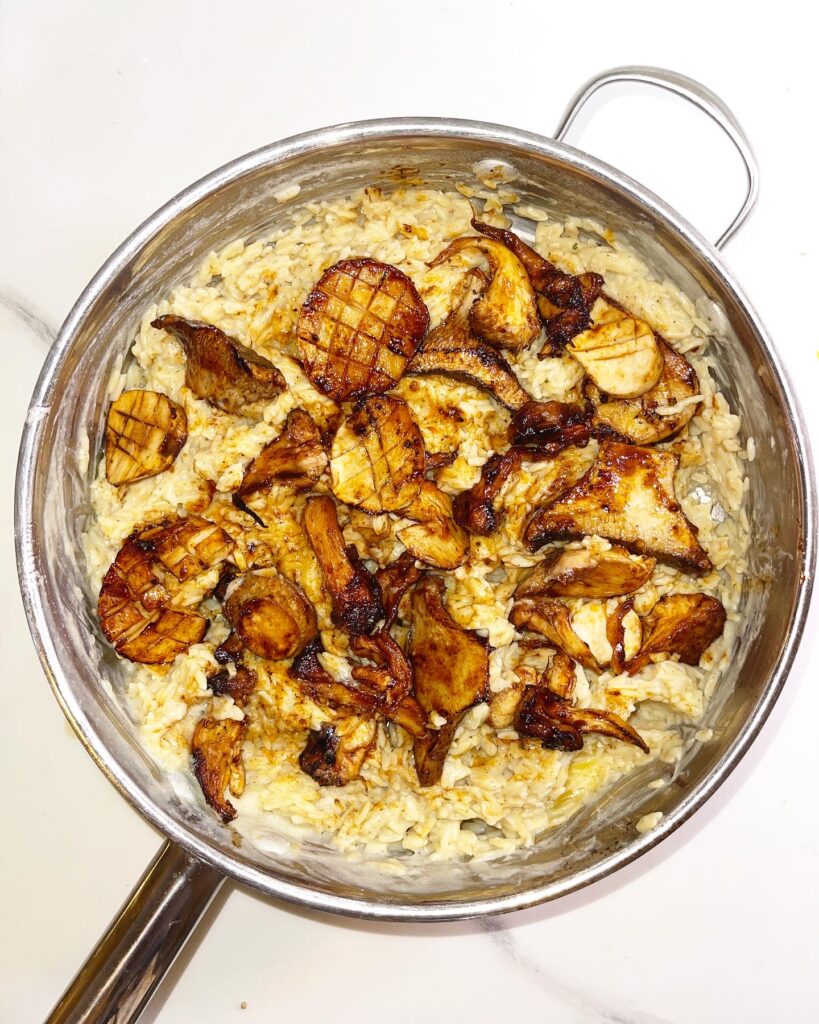 What is risotto
Risotto is a classical Italian dish where in a starchy Arborio (short grain rice) is cooked slowly by consistently stirring and gradually adding stock and then made velvety and cheese by incorporating cheese and butter. Mushrooms are traditionally used too. Dried porcini stock is used for that deep complex umami that pairs really well with the creaminess of the rice's texture and all the cheese that is being incorporated.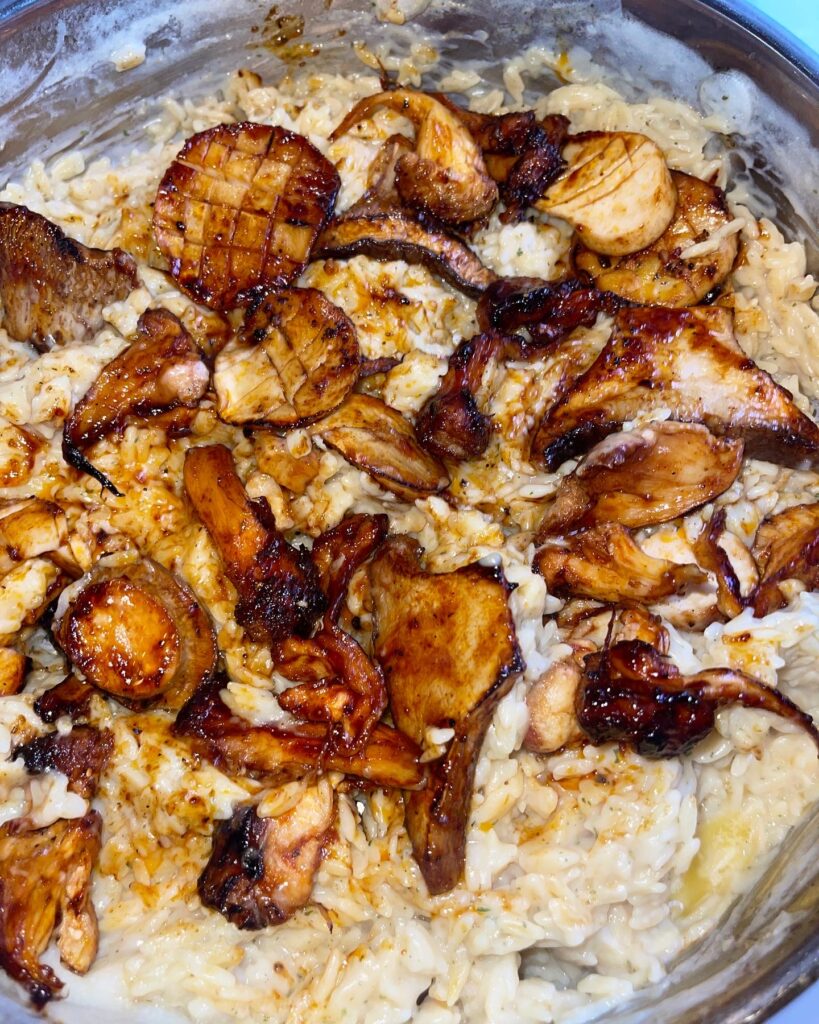 How do we veganize?
This version uses vegan butter, vegan cheese and we make it even healthier by using Banza Chickpea rice. It has less carbs and more protein plus it comes with a flavor packet that boosts flavor even more. We pair it with Lion's mane and King trumpet mushrooms which are high in nutrients and also has great flavor. This pairing will surely delight and nourish! Feel free to give it s try! Here are some photos on how I did it. You can develop your own method as well. There will be a video below and a recipe card as well but they are just guides. The important thing is to get in the kitchen and get cooking.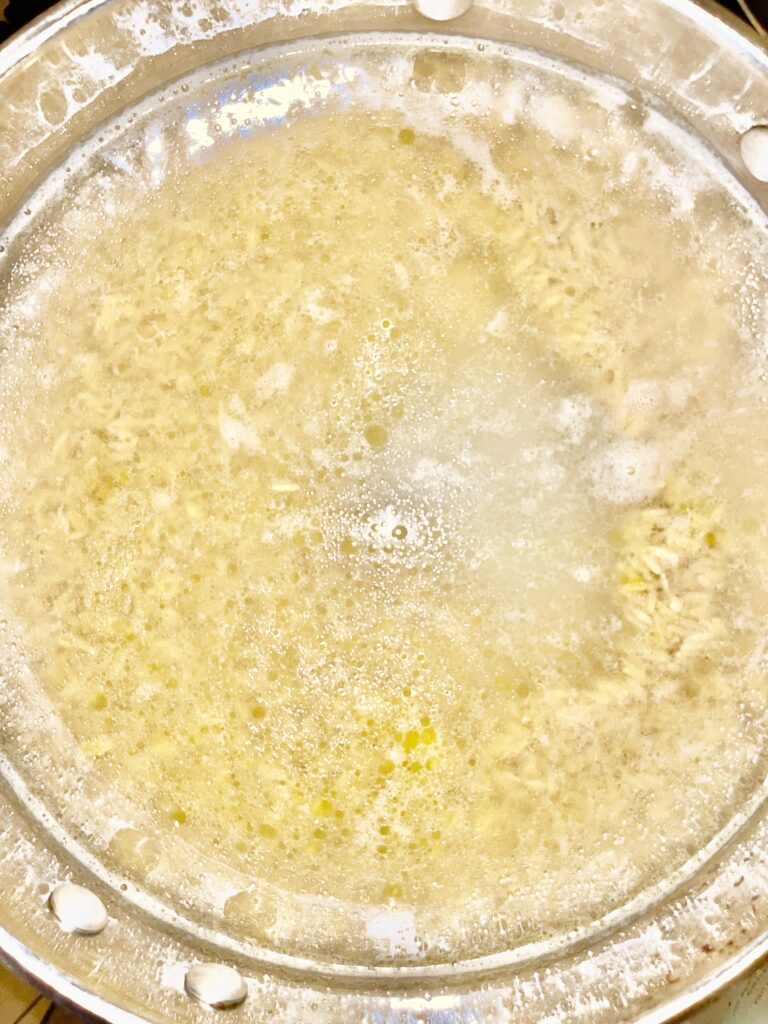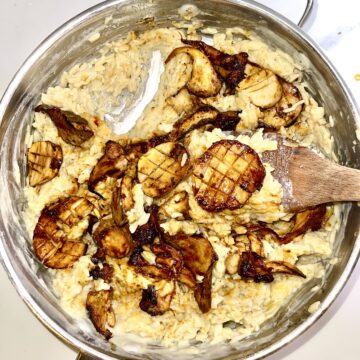 Vegan Mushroom Risotto
Heartwarming dish made vegan using chickpea rice, topped with deglazed Lions Mane and King Trumpet mushrooms. The chickpea rice is mounted with vegan butter and made more rich by vegan cheese.
Ingredients
16

oz

mushrooms

Lion's Mane & Trumpet

16

Oz

chickpea rice

banza is a good brand

3

tablespoon

miso

3

tablespoon

vinegar

4

tablespoon

olive oil

2

tablespoon

seasoning

feel free to use what you have on hand

4

tablespoon

vegan butter

8

Oz

vegan cheese

5

tablespoon

vinegar

4

tablespoon

maple
Instructions
Make risotto by cooking the pack of banza n a pan with water, stirring constantly, adding water as needed like you would a traditional risotto. Mount with butter and add vegan cheese to make it even velvety.

Prep and cook your mushrooms by slicing it in smaller pieces. I scored them, for the flavor to penetrate the insides. In a hot pan sauté them with no oil first. After you see some browning happen add the fat which is our vegan butter and olive oil. Give it a good sauté then deglaze with your mixture of miso, maple and vinegar.

Top your risotto with glazed mushrooms and voila. You just made a dish that will truly delight and nourish.
Video
Notes
Get creative and feel free to substitute whatever veggies you may have and what type of rice you have. The key techniques here is glazing and cooking the rice risotto method. Have fun and stay mindful in the kitchen! ❤️