Give this Vegan mapo tofu a try and impress the crowd with simple, satisfying and hearty classic asian dish.
Thank you for reading this post, don't forget to subscribe!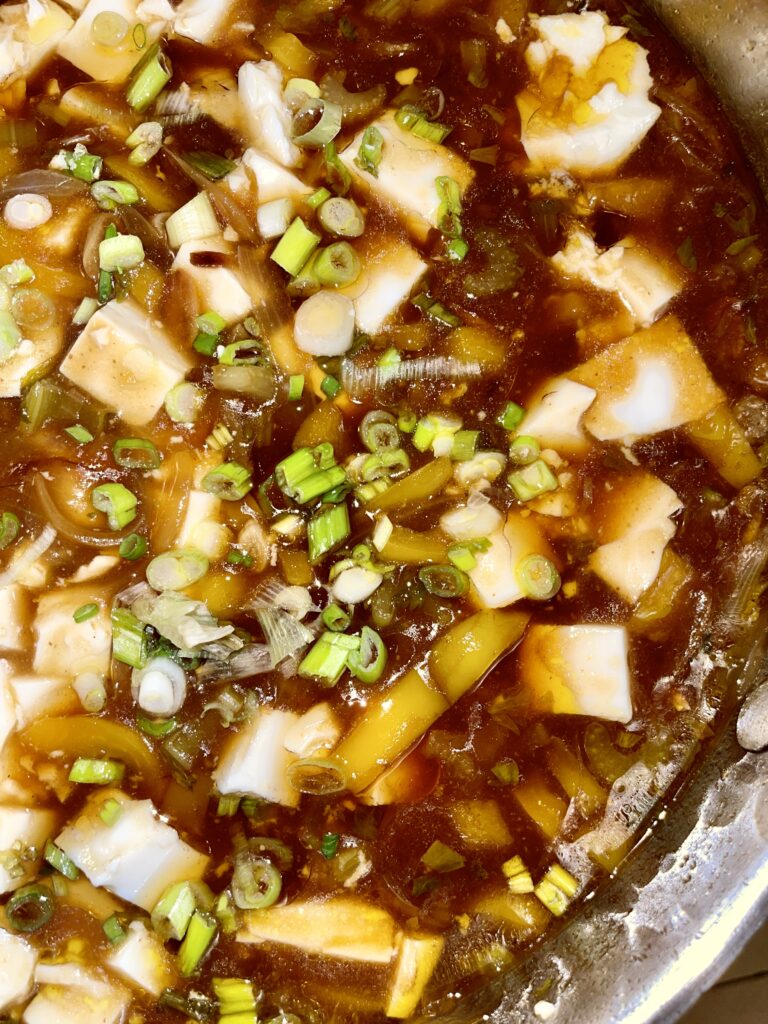 What is Mapo Tofu
Vegan mapo tofu is a plant-based version of the popular Chinese dish that is traditionally made with ground pork. Instead of pork, vegan mapo tofu uses crumbled tofu or textured vegetable protein (TVP) as a protein source. The dish is flavored with a spicy and savory sauce made with fermented black beans, chili bean paste, soy sauce, and Sichuan peppercorns. The sauce is then simmered with the tofu and vegetables such as mushrooms, bell peppers, and green onions. Vegan mapo tofu is typically served over rice and garnished with chopped cilantro or green onions. It is a flavorful and satisfying dish that is perfect for vegans and vegetarians.
Why is it called Mapo?
Mapo tofu is a popular Chinese dish that originated in the Sichuan province of China. The name "mapo" comes from the name of the woman who is said to have created the dish, a pockmarked old woman (ma po) who ran a small restaurant in Chengdu, the capital of Sichuan province. The dish is known for its spicy and numbing flavor, which comes from the use of Sichuan peppercorns and chili bean paste. The tofu used in the dish is soft and silky, and it is believed that the dish was created as a way to use up leftover tofu. Today, mapo tofu is enjoyed throughout China and around the world, and it is a popular dish in Sichuan cuisine.
Variations
This particular version of Mapo Tofu didn't have Dobanjang. I just used hoisin, soy sauce and a little vinegar for the sauce. So don't feel inhibited if you do not have exotic and rare ingredients such as dobanjang or sze chuan peppercorns. Just be aware of the flavor and texture you are going for and feel free to whip up something with what you got.
What you need
Silken tofu
Onions
Bell pepper
Spring onions
Hoisin
Soysauce
Sugar
Vinegar
Cornstarch
Veg stock or water
Sesame oil
What to do
Saute aromatics, onions & garlic
Add in bell peppers and season with salt
Add in stock, soy sauce, vinegar & hoisin
Adjust flavor of sauce, thicken with slurry
Add in cubed silken tofu
Drizzle sesame oil
Vegan Mapo Tofu
Easy & simple version of our favorite Chinese comfort food
Ingredients
1

Block

silken tofu

1

Bulb

onion

1

Piece

bell pepper

2

tablespoon

sesame oil

2

tablespoon

hoisin

3

tablespoon

soysauce

1

tablespoon

vinegar

1

Stalk

spring onion
Instructions
Make sauce by sauteiing aromatics. In a pan with olive oil throw in onions, garlic and bell peppers. I think we have celery in here too. Feel free to saute other veggies you might have. Season as you go.

Add in liquid. Approximately 3 cups of veg stock and your soy, vinegar, hoisin combo. Adjust the taste. These are just ballparks and a mere guide. Trust your intuition and pay attention to what you are making. When the taste is perfect to your liking, thicken it up with slurry, (cornstarch & water).

Adjust to desired consistency and add in cubed silken tofu. Avoid mixing too much after the tofu has been added. Garnish with sliced spring onions and serve over rice or noodles.