Have you always been curious in making vegan pizzas at home? If so this recipe is for you!
Thank you for reading this post, don't forget to subscribe!
Why you will love this
Ingredients are easily accessible.
Ready in under 30 mins.
Will bring your family and friends together.
A fusion of bbq, truffle and your favorite food of all time. The pizza 🍕
it is Vegan and it will inspire who ever you share it with that vegan food can be tasty.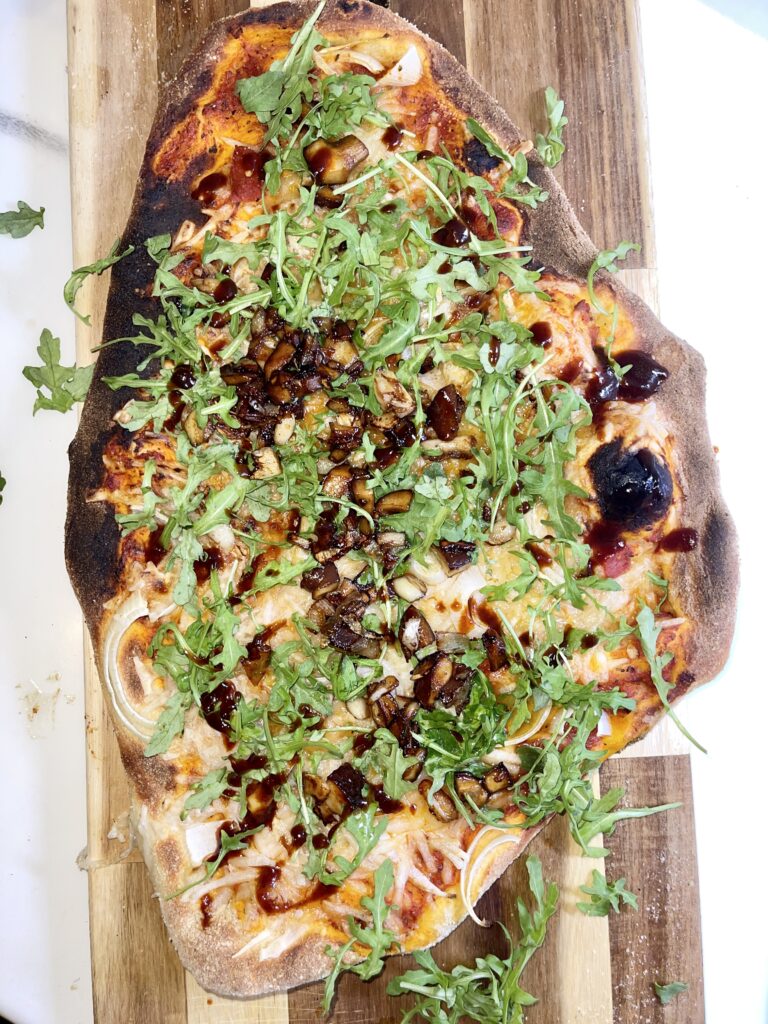 What you need
Trader Joes Vegan Plain dough – Skip all the meticulous processes of pizza doughery. For now just get the pre made one from Trader Joe's just to get your self a head start on making your own pizza.
Trader Joe's Truffled BBQ Sauce – Always keep an eye out for some new TJ products like this one!
Marinara – A good pizza always has marinara
Shiitake Mushrooms – shiitakes are flavorful and hearty in texture that will go perfectly with our bbq sauce.
Onions – Our staple aromatic. The start of a good dish always starts with sautéing some of these.
Arugula – also called rocket will add a refreshing peppery zing to this very special pizza.
Steps
Dust your workstation with flour and lay out your dough. Stretch by hand or rolling pin. Be mindful and relaxed. Be one with the dough.
Spread Marinara evenly all across your rustic pie, sprinkle with vegan cheese of your choice. We will get into making our own vegan cheese in future posts.
Pop it in your preheated oven. If you got an Ooni or Gozney that's fantastic. But for starters, we will be using our conventional home oven. Whack it up to hi, preheat including the baking tray.
Take the preheated baking tray out of the oven using your mittens or pot holder. Transfer your pie from the work station to the hot tray and bake on high for 10 mins watching and turning if necessary.
Prepare topping by sautéing garlic and shiitakes in a hot pan with olive oil. Deglaze as you please with balsamic or wine.
If the sides of pizza is browned enough, take it out of the oven. Transfer to your serving platter. Scatter deglazed Shiitake & Garlic. Garnish with Arugula and finish with Truffled BBQ sauce. Cut it up and enjoy.
Variations
Once you get comfortable working on pre-made doughs, you have just opened a world of possibilities with regards to pizza making. substitute roasted vegetable puree instead of marinara. Topping it with home made cheeses, a variety of greens, maybe dill or parsley. Some vegan pesto perhaps, or Chili garlic oil if your feeling extra adventurous. Stay tuned for more vegan tips and tricks! Don't forget to have fun along the way and always season and clean up as you go.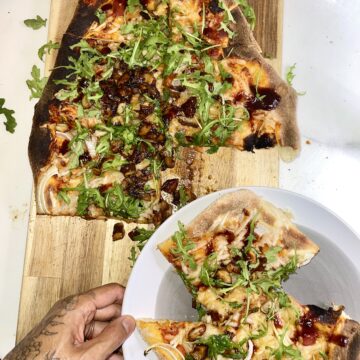 Vegan Truffled Bbq Garlic Shiitake Pizza
Ingredients
1

Pack

Trader joes vegan pizza dough

2

tablespoon

Trader Joe's Vegan Truffled BBQ sauce

1

Handful

Arugula you

½

Cup

Shiitake

8

Oz

Vegan cheese

8

Oz

Marinara

1

tablespoon

Olive oil

3

tablespoon

Flour for dusting
Instructions
Dust your workstation with flour and lay out your dough. Stretch by hand or rolling pin. Be mindful and relaxed. Be one with the dough. 

1 Pack Trader joes vegan pizza dough,

3 tablespoon Flour for dusting

Spread Marinara evenly all across your rustic pie, sprinkle with vegan cheese of your choice. We will get into making our own vegan cheese in future posts. 

8 Oz Marinara,

8 Oz Vegan cheese

Pop it in your preheated oven. If you got an Ooni or Gozney that's fantastic. But for starters, we will be using our conventional home oven. Whack it up to hi, preheat including the baking tray. 

Take the preheated baking tray out of the oven using your mittens or pot holder. Transfer your pie from the work station to the hot tray and bake on high for 10 mins watching and turning if necessary.

Prepare topping by sautéing garlic and shiitakes in a hot pan with olive oil. Deglaze as you please with balsamic or wine. 

If the sides of pizza is browned enough, take it out of the oven. Transfer to your serving platter. Scatter deglazed Shiitake & Garlic. Garnish with Arugula and finish with Truffled BBQ sauce. Cut it up and enjoy. 

1 Handful Arugula you,

2 tablespoon Trader Joe's Vegan Truffled BBQ sauce
Notes
Get your hands moving and get cooking. You will just be surprised at what you can come up with♥️