Picture this: perfectly cooked rigatoni pasta tossed in a rich and hearty marinara & vegan ground beef, chunks of vegan ricotta, made from a blend of tofu, and nutritional yeast & melted vegan mozzarella.
Thank you for reading this post, don't forget to subscribe!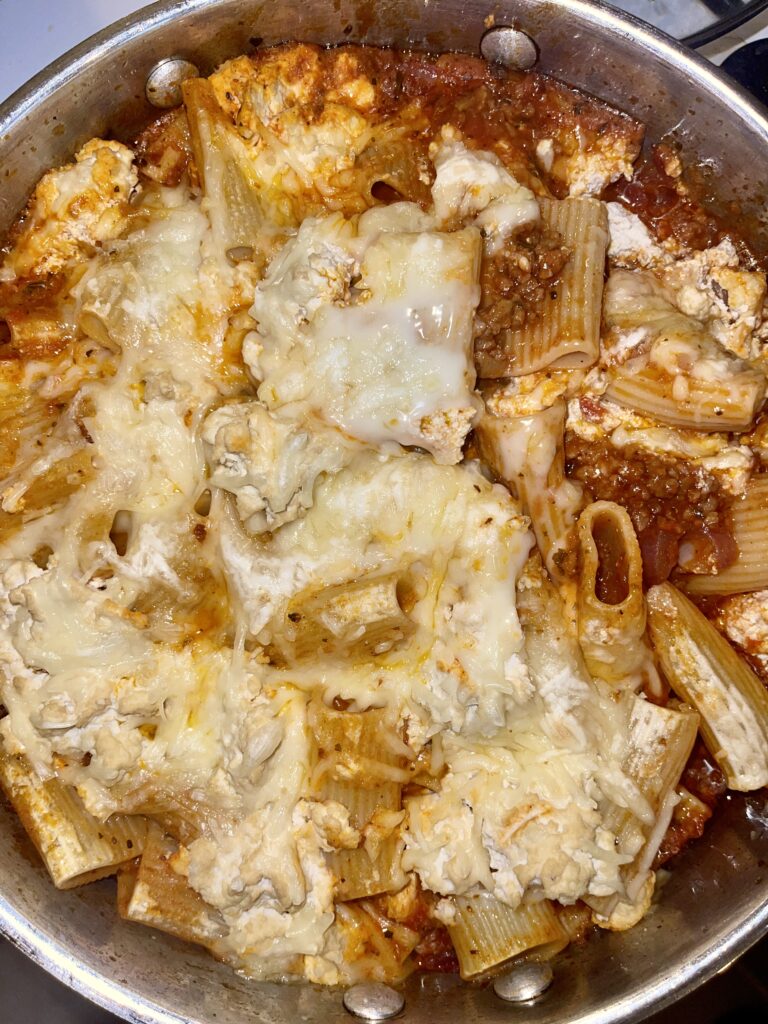 Rigatoni with vegan ricotta is a delicious and satisfying pasta dish that caters to those following a vegan or plant-based diet. The dish features rigatoni pasta, which is cooked until al dente and then tossed in a flavorful tomato sauce. The star of the dish is the vegan ricotta, which is made from a combination of tofu, nutritional yeast, lemon juice, and herbs. The vegan ricotta adds a creamy and cheesy texture to the pasta, making it a perfect substitute for traditional ricotta cheese. The dish is typically garnished with fresh basil or parsley for added freshness and served hot. Rigatoni with vegan ricotta is a wholesome and flavorful meal that showcases the versatility of plant-based ingredients.
Rigatoni
Rigatoni is a type of pasta that is characterized by its large, tube-like shape. It is similar to penne pasta but has larger and wider tubes. The name "rigatoni" comes from the Italian word "rigato," which means "ridged" or "lined." The ridges on the surface of rigatoni help to hold onto sauces, making it a popular choice for dishes with thick or chunky sauces. Rigatoni is typically made from durum wheat semolina and water, giving it a firm and chewy texture when cooked. It is a versatile pasta shape that can be used in a variety of dishes, from baked pasta casseroles to pasta salads.
How to cook rigatoni
To cook rigatoni, follow these steps:
Bring a large pot of salted water to a boil. Use about 4-6 quarts of water and add 1-2 tablespoons of salt.
Once the water is boiling, add the rigatoni pasta to the pot. Stir gently to prevent the pasta from sticking together.
Cook the rigatoni according to the package instructions or until it is al dente, which means it is cooked but still slightly firm to the bite. This usually takes around 10-12 minutes, but cooking times may vary, so check the package instructions for guidance.
While the pasta is cooking, prepare a colander or strainer in the sink to drain the cooked pasta.
Once the rigatoni is cooked to your desired texture, carefully pour the pasta into the colander to drain the water. Shake the colander gently to remove any excess water.
Rinse the rigatoni with cold water to stop the cooking process and cool it down if you're using it in a cold pasta salad. If you're using it in a hot dish, skip this step.
Serve the cooked rigatoni immediately with your desired sauce or toppings. It pairs well with tomato-based sauces, creamy sauces, or even simple olive oil and garlic.
Remember to adjust the cooking time based on your preference for pasta texture, as some people prefer it more al dente while others prefer it softer.
How to make vegan tofu
To make a simple vegan ricotta using just tofu and salt, follow these steps:
Start by pressing the tofu to remove excess moisture. Place the tofu block on a plate lined with paper towels or a clean kitchen towel. Place another layer of paper towels or a kitchen towel on top of the tofu, followed by a heavy object like a plate or a book. Let it sit for about 15-20 minutes to press out the moisture.
Once the tofu is pressed, crumble it into a mixing bowl using your hands or a fork.
Add salt to the crumbled tofu. Start with a small amount, such as ½ teaspoon, and adjust to taste. You can always add more salt later if needed.
Mix the tofu and salt together until well combined. You can use a fork or your hands to mash and mix the tofu, creating a ric 5. Taste the mixture and adjust the salt if necessary. Add more salt in small increments until you achieve the desired flavor.
At this point, you can use the vegan ricotta immediately or let it sit in the refrigerator for a couple of hours to allow the flavors to meld together.
If you prefer a smoother texture, you can blend the tofu and salt mixture in a food processor or blender until it reaches the desired consistency. This will create a creamier ricotta-like texture.
Once the vegan ricotta is ready, you can use it in various dishes. It works well as a filling for stuffed pasta shells, as a topping for pizzas, or as a layer in lasagna. You can also use it as a spread on toast or as a filling for sandwiches.
Note: This basic tofu and salt ricotta is a simple and versatile recipe. However, if you want to enhance the flavor, you can add additional ingredients such as nutritional yeast, lemon juice, garlic powder, or herbs like basil or parsley. These additions will give the vegan ricotta a more complex and flavorful taste.
Make the sauce & assemble
Cook rigatoni
Make vegan ricotta by blitzing tofu & salt
Make sauce by scattering onions and vegan ground beef, add marinara and season with what you have on hand.
Add rigatoni to sauce top with dallops of vegan ricotta and vegan mozzarella.
Broil on high for 5 minutes to melt the cheese.
Maybe top with herbs or infused oil and voila!
Rigatoni With Vegan Ricotta
Say goodbye to traditional ricotta and hello to a plant-based twist that will blow your taste buds away! 
Ingredients
1

Piece

onion

1

Pack

ground meatless beef

1

Jar

Marinara

1

Block

tofu

5

tablespoon

olive oil

1

Pack

vegan mozzarella

1

Pack

rigatoni
Instructions
Cook rigatoni as directed in package. Rigatoni takes 10-12 minutes. A bit longer than your usual. Strain, run through water and set aside.

Make vegan ricotta by blitzing tofu and salt. Set aside.

Make sauce by scattering aromatics. Add vegan ground meat. Add jar of marinara, I love to rinse the jar with water add my seasonings, give it a good shake and add this water to the pan. We need liquid because we will be popping this in the oven.

Assemble by tossing the ricotta in the sauce, too with vegan mozzarella and vegan ricotta. Broil on high for 5 minutes or more. Up until the cheese melted or browned. Oh another tip is to drizzle oil on the vegan mozzarella for optimal browning.

let it rest and maybe too with some herbs or infused oil or reduced balsamic. Enjoy!
Video