Creamy coconut milk infused with pesto. Chewy udon noodles and health benefits of kale. This dish is quick and easy you should definitely try!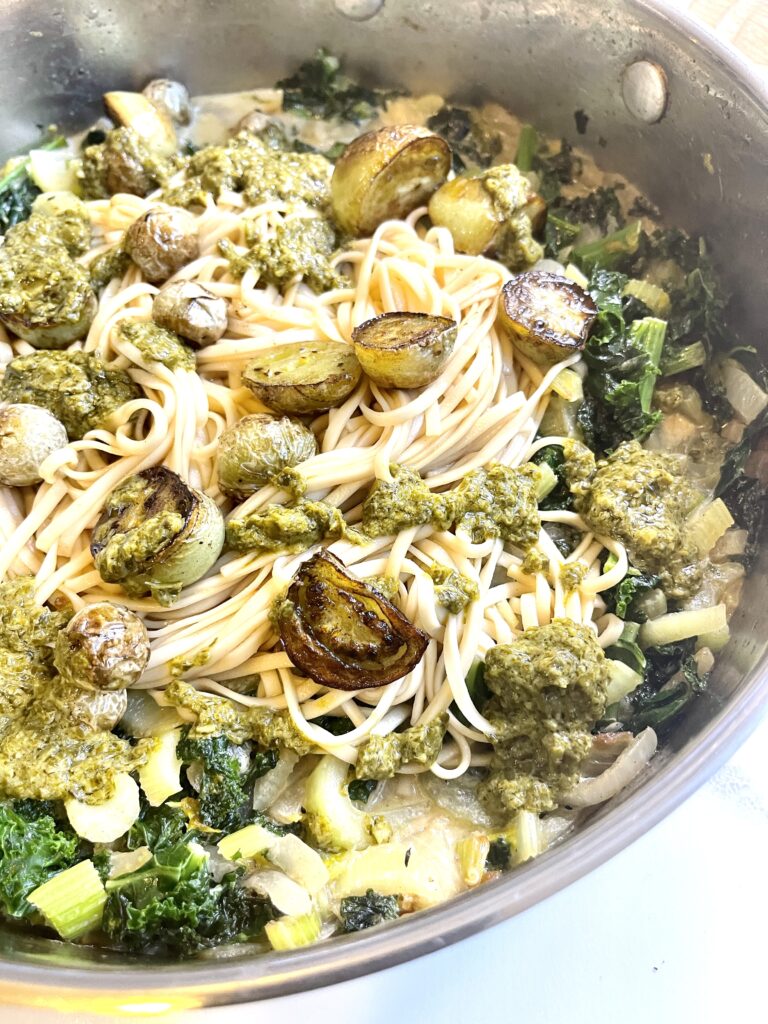 Why you will love this
Coconut milk is already creamy and a good liquid addition to any stewed dish you might cook. The flavor of pesto combined with coconut cream is irresistible. Sautéing Kale softens it and makes it more pleasurable to consume. Using udon instead of spaghetti provides a unique texture. Topped with some seared garden fresh tomatoes and you end up with an exquisite experience guaranteed to delight and surprise.
Ingredients
Udon - A new way of cooking udon! break out of the traditional way of cooking this Japanese noodle and lets start fusing some flavors.
Onion - Your pantry staple and you must be used to starting most of your dishes with these beautiful alliums.
Celery - Sauté together with onions and garlic for that refreshing component.
Kale - Sautéed together with aromatics brings more nutritional value to this dish.
Coconut Milk - Rich and creamy, a velvety choice as a base for your soups and stews.
Pesto - Use vegan pre-made if you are in the go!
Cherry tomatoes - We will be searing this in high heat and flambéed with bourbon.

Steps
Complete steps are in the recipe card. Here sre photos of how i cooked it.

Cook Udon.
Make sauce by prepping sauteeing aromatics, add kale and coconut milk.
season to taste, you may use mushroom powder or vegan poultry seasoning. Pink salt too!
Toss cooked udon and drizzle dome pesto
in a separate pan sear tomatoes in high heat and flambé with bourbon. lay on top of the dish
Variations
You may use spinach, collard greens or Boc Choy.
You may use buckwheat soba instead of udon.
You may saute mirepoix as aromatics, or sofrito as well.
Add mushrooms for meatiness instead of the charred tomatoes.
These are merely guidelines and feel free to use your own creativity to come up with something new.

Substitutions
- If you don't have udon noodles, you can use other types of noodles like spaghetti, linguine, or rice noodles.
- Instead of traditional basil pesto, you can use other types of pesto like spinach pesto, kale pesto, or sun-dried tomato pesto.
- If you don't have coconut milk, you can substitute it with almond milk, cashew milk, or any other non-dairy milk of your choice.
- Feel free to add or substitute vegetables based on your preferences and what you have available. Some options include broccoli, bell peppers, mushrooms, or snap peas.
FAQ
Q: Can I make this dish gluten-free?
A: Yes, you can make this dish gluten-free by using gluten-free udon noodles or substituting them with gluten-free rice noodles or other gluten-free pasta options.
Q: Can I make this dish nut-free?
A: Yes, you can make this dish nut-free by using a nut-free pesto option like spinach or kale pesto. You can also omit the nuts from the pesto recipe if needed.
Storage
Leftover pesto coconut udon can be stored in an airtight container in the refrigerator for up to 3-4 days. The noodles may absorb some of the sauce, so you can add a little bit of coconut milk or water when reheating to loosen it up. Reheat in a pot or microwave until heated through before serving.
Pro Tips
- To enhance the flavor of the dish, you can add some sautéed garlic and ginger to the coconut milk before mixing it with the pesto.
- Feel free to add protein to the dish by including tofu, tempeh, or cooked chickpeas. You can sauté or bake the protein before adding it to the udon noodles and sauce.
Enjoy your delicious Pesto Coconut Udon! This dish combines the creaminess of coconut milk with the flavors of pesto for a unique and tasty meal. Customize it with your favorite vegetables and protein options to make it a complete and satisfying dish.
Pesto Coconut Udon
Kale and Celery simmers in combination of Pesto and Coconut milk. Udon tossed in light teriyaki, flambéd green tomatoes.
Ingredients
1

Onion

16

oz

Udon

8

oz

Kale

½

cup

Celery

drizzle

Olive Oil

1

can

Coconut Milk

¼

cup

Pesto

drizzle

Teriyaki Sauce

Bachans

½

cup

Green Tomatoes
Instructions
Make Coconut simmered Vegetables. Slice up Kale, onions Celery. Sauté till soft. Season with salt and mushroom powder. Keep stirring till produce softens. Pour coconut milk, cover and turn the heat to low. Let it reduce and let the vegetables cook thoroughly. 

Cook Udon. This is a pack of 3 bundles, I used them all, cook in boiling water for 4 minutes and run through cold water. Toss and flavor your udon. 

Sear Tomatoes. These green tomatoes I got from the garden. Sautéing them in high heat and flambé with vinegar. We get some wok Hei flavor on this one. This will go on top of our dish. 

Assemble & Present. Check the fineness of your simmering vegetables. Adjust the seasoning, maybe some lemons, more salt? Olive oil? If it tastes right, lay your teriyaki tossed noodles, arrange seared tomatoes and dollop some pesto. 
Video
Notes
Open yourself to using different types of noodles. The Japanese Udon has a distinct chewiness that really worked with pesto. We will dive in to creating our own pesto in upcoming posts! For this one I just used pre made vegan pesto. The flavor was nice, it had a little tang that complemented the drizzle of teriyaki.