This traditional Korean dish is so easy to make and can be stylized according to what you have on hand. Glass noodles made from sweet potato are chewy and tasty!
Thank you for reading this post, don't forget to subscribe!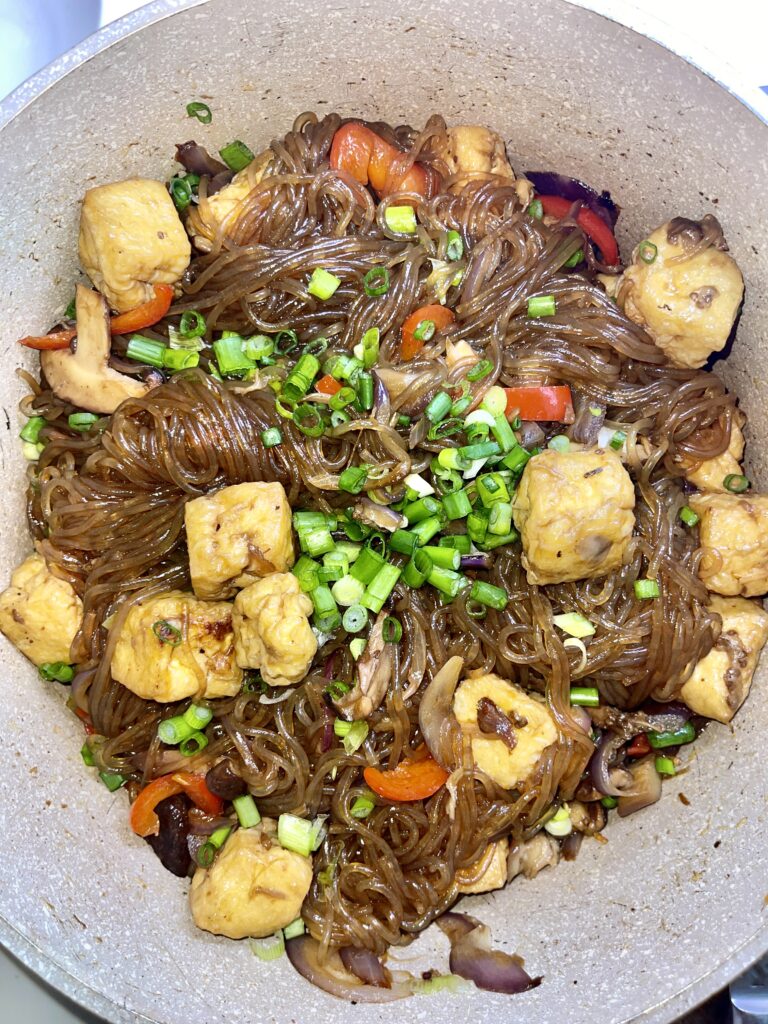 What is Japchae
It's a Korean stir fried noodle dish using sweet potato glass noodles. Commonly stir fried with mushrooms, julienned vegetables and spinach flavored with sugar and soy sauce. What was once a royal dish is now common all over the world. It got its name from Jap meaning mixed and chae meaning vegetables. Can be served warm or cold, popular during 1st birthdays, 16th birthdays and pot lucks due to ease of bulk preparation. Also tastes good after a day or two in the fridge. So what are you waiting for! Head on to the kitchen and give it a try!
Our Variation
I found these puffed tofu and decided to give it a try. I also used shiitakes, bell peppers and onions. I used oyster mushroom sauce instead of soy & sugar. Feel free julienne any vegetables you have on hand and mix it with your glass noodles. Make sure to season it up good and drizzle sesame oil on it too for extra flavor. The tricky part here is mixing the noodles, it is best to use hands to really get into the nitty gritty and get every noodle flavored.
What you need
Sweet potato noodles
Oyster mushroom sauce
Onion
Bell Pepper
Mushrooms
Sesame oil
Puffed Tofu
Eggplant
What you do
Boil Sweet Potato noodles
Sauté julienned vegetables, mushrooms, eggplant with aromatics
Toss noodles puffed tofu and oyster mushroom sauce in
Mix thoroughly using hands or tongs
Finish with sesame oil and scallions
Japchae
A traditional Korean stir fried noodle dish that will surely satisfy your craving for heartiness and flavor.
Ingredients
1

Pack

sweet potato noodles

1/2

Cup

mushrooms

thinly sliced

1

Pc

eggplant

small diced

1

Pc

onion

thinly sliced

1

Pc

bell pepper

julienned

5

Tbsp

olive oil

1

Pack

puffed tofu

5

Tbsp

Oyster mushrooms sauce

you can use soy and sugar

5

Tbsp

sesame oil
Instructions
Cook sweet potato for 5-10 minutes or until fully cooked. Strain, run through cold water and set aside.

Sauté aromatics, add in vegetables and tofu, keep stirring till vegetables soften up a bit. Add mushroom sauce and maybe some water to avoid charring.

Throw in noodles and mix thoroughly. You may mix it in a large bowl or pot. Using the hand will help a lot in getting the flavors thoroughly integrated.

Garnish with sesame seeds if you have. I just use scallions and sesame oil and it turned out pretty good.
Video
Notes
Japchae is a sure pleaser. The texture of a properly cooked vermicelli really hits the spot. Subtle seasoning of soy or vegan oyster sauce does the trick. The main skill you are going to develop here is the mixing of noodles by hand. So get your Japchae game on and bring some on your next pot luck!