This creamy velvety cashew cream spaghetti is paired with some tomatoes and Lion's Mane mushrooms. Add some fresh herbs and you are good to go.
What is cashew cream?
Cashew cream is a vegan alternative to traditional dairy cream. It is made from raw cashews that have been soaked overnight and blended until smooth and creamy. Cashew cream has a rich, nutty flavor and can be used in a variety of dishes, both sweet and savory. It can be used as a topping for desserts such as pies and cakes, or as a base for sauces and soups. Cashew cream can also be used in baking recipes to add richness without the use of dairy products.
What you need and how to make cashew cream
Cashew cream will be your go to in creating creamy vegan dishes. All you need is some cashews, blitzed with water and some salt. This will be your mother sauce, like the béchamel. You can then infuse it with truffle oil, a little bbq, lemons, curry powder, the possibilities are endless. So learn and practice the habit of blitzing cashews, it can totally level up your vegan cooking at home.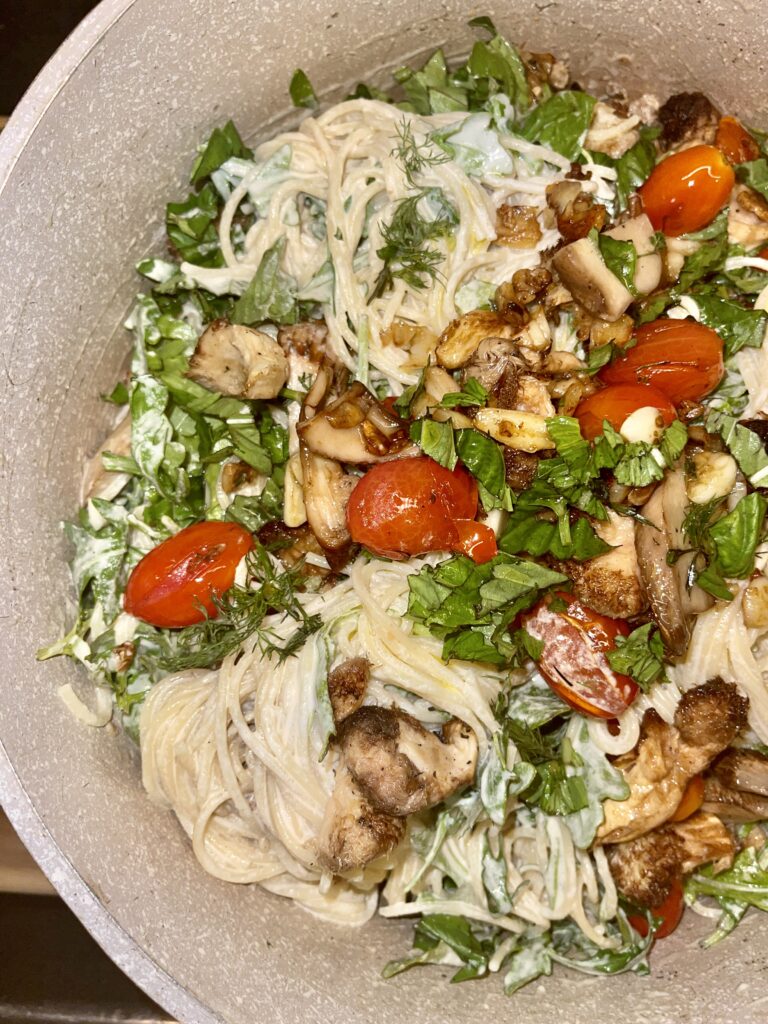 What is in this pasta?
Cashew cream
Arugula
Grape Tomatoes
Basil
Garlic
Mushrooms
How to make this?
Cook pasta noodles as directed in package
Make cashew cream by blending cashews, water and salt
Sauté mushrooms
Throw in garlic and tomatoes
Toss them all together in the pot with arugula and some herbs
Cashew Cream Mushroom Spaghetti
The velvety creaminess of cashews is the backdrop for the freshness of hearty tomorrows and mushrooms
Ingredients
2

Cups

mushrooms

king trumpet & lions mane

¼

Cup

olive oil

1

Handful

arugula

1

Pack

Spaghetti Noodles

1

Cup

cashews

2

tablespoon

nutritional yeast

2

Cups

water

1

Cup

tomatoes

1

Bulb

garlic

1

Bunch

basil
Instructions
In a pot of boiling salted water, cook spaghetti for 9 minutes. Strain then run through cold water and then toss in some salt and olive oil.

Make cashew cream by blending cashews, a bit of olive oil, water, nutritional yeast & salt. Feel free to adjust the consistency of your sauce, if it appears too thick add more water.

Sauté mushrooms in a hot pan, season and set aside. Then sauté your tomatoes and garlic, deglaze with white wine. Then top it over the noodles, arugula and cashew cream.

Make sure everything is thoroughly mixed and seasoned well. A squeeze of lemon would be nice too if you want a lively zest to cut the richness. Top and finish with fresh cut herbs and enjoy.
Video