This silky umami broth, is perfect for a rainy day. Slurp some noodles and get cozy with this heartwarming bowl.

Thank you for reading this post, don't forget to subscribe!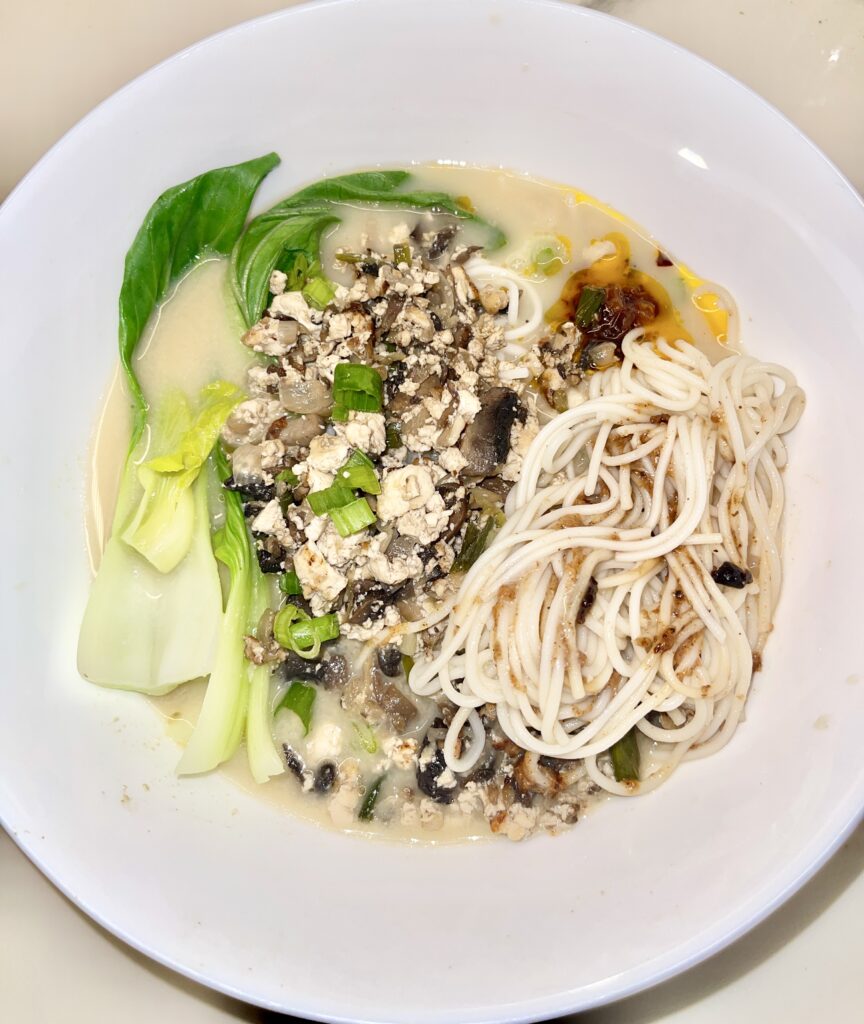 Why you'll love this
Ramen, a traditional Japanese dish, has gained immense popularity worldwide for its ability to provide comfort. This humble bowl of noodles, broth, and toppings has transcended cultural boundaries and has become a symbol of solace and contentment. In this essay, we will explore how ramen provides comfort through its warm and nourishing qualities, its ability to evoke nostalgia, and its versatility in catering to individual preferences.
Provides comfort
Ramen, a beloved dish originating from Japan, has become a global phenomenon due to its ability to provide comfort. This essay will delve into the reasons behind ramen's comforting nature, including its warm and nourishing qualities, its ability to evoke nostalgia, and its versatility in catering to individual preferences.
Warm and Nourishing Qualities:
Ramen's warm and nourishing qualities are a significant factor in providing comfort. The steaming bowl of broth, combined with the tender noodles, creates a soothing sensation that warms both the body and the soul. The rich umami flavors of the broth, often derived from slow-cooked bones or vegetables, provide a sense of nourishment and satisfaction. This warmth and nourishment can be particularly comforting during cold or challenging times, offering a respite from the outside world.
For example, imagine a rainy day when you feel down and exhausted. A bowl of ramen, with its comforting warmth, can instantly uplift your spirits and provide a sense of well-being. The act of savoring each spoonful, feeling the warmth spread through your body, can create a moment of tranquility and comfort.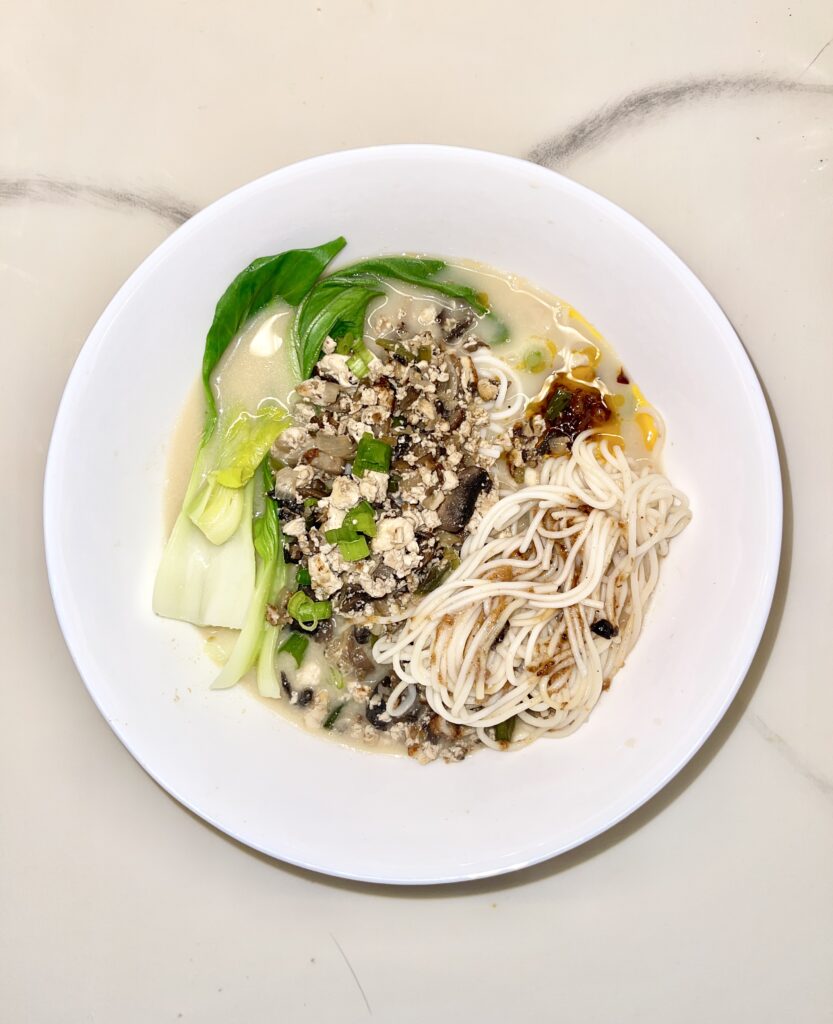 Ramen has the remarkable ability to evoke nostalgia, reminding individuals of cherished memories and experiences. Whether it's the aroma of the broth, the texture of the noodles, or the familiarity of the toppings, ramen can transport people back to moments of joy and comfort from their past. This nostalgic connection can provide a sense of emotional comfort and security.
For instance, a person who grew up eating ramen with their family may find solace in a bowl of ramen during times of homesickness or loneliness. The flavors and textures can evoke memories of shared meals and laughter, creating a comforting connection to their roots.
Tips & Tricks
Stock up on flavor enhancing pastes such as miso, fermented black bean, sesame paste, Gochujang etc.
Use fresh noodles instead of dry. It's texture is a lot better. But for this one we used dry noodles for that's what we have on hand.

Get creative with your toppings. Any stir fried veggies will do, steamed is a way to go also.

Always have chili garlic, sesame oil or any infused oil you might have.

Noodles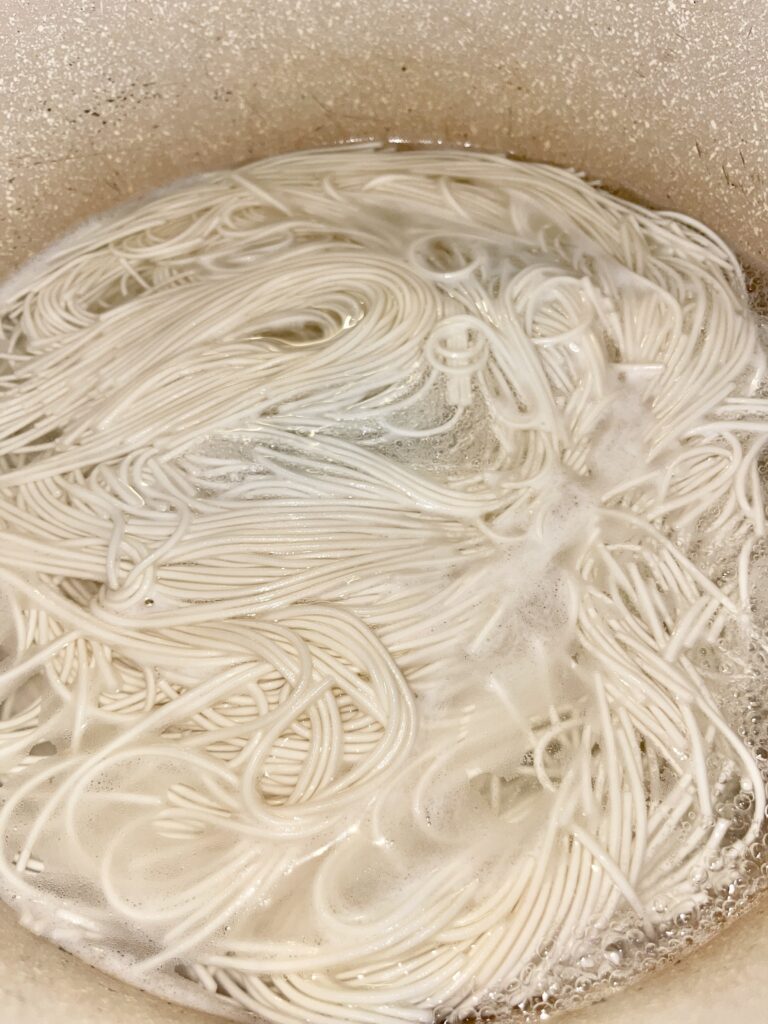 I used dried noodles but fresh is always good. If you are up for the dedication, fresh from scratch can be made as well!

Just cook till desired doneness, strain and run through cold water. Toss in oil and season, it's optional but I do it when I feel like it.
Toppings
I was going for the Japanese Dan Dan topping which is supposed to be ground meat in texture but this tofu contained a lot of water. So a cool tip would be is to use firm tofu and really pat it dry so you won't have to spend a lot of time evaporating the liquid.

The topping is some sautéed ginger onions & sliced scallions, mushrooms and tofu, feel free to season it up with whatever you might have on hand. I also blanched some Boc Choys.

Broth
We used Oatmilk, miso and a little fermented black bean paste, a little aminos and some sesame oil. Feel free to adjust and make up your own twists and flavors using some flavorful pastes and plant based milks. Mushroom broths are wonderful too!
Vegan Tofu Ramen
Light miso with oatmilk is the savory broth for this hearty ramen, topped with crumbled tofu & mushrooms.
Ingredients
1

Cup

mushrooms

1

Block

tofu

1

Bunch

scallions

1

tablespoon

ginger

1

Piece

onion

16

Oz

Veg stock

1

Cup

oat milk

1

Pack

ramen noodles

3

tablespoon

miso

1

tablespoon

chili garlic
Instructions
Cook ramen noodles in a pot of boiling water. Strain and run in cold water to avoid over cooking.

Make broth by heating up stock, miso and oatmilk. Feel free to adjust ratios to your preference and season it up as you please, maybe some aminos, vinegar or other pastes like Asian sesame paste & sesame oil.

Make topping by sautéing ginger, scallions and onions. Add crumbled tofu & mushrooms. Sauté & season to your liking.

Give your Boc Choy a quick blanch and set aside.

Assemble by putting noodles, broth and toppings together. Drizzle with some chili garlic and or sesame oil. Extra scallions is always a good idea.
Video