This classic Chinese take away is even better when prepared at home. You just need some staple asian pantry ingredients and you are good to go.
What is Szechuan Tofu
Szechuan tofu is a popular Chinese dish made with tofu that is typically stir-fried with a spicy and flavorful sauce. It originates from the Sichuan province in China, which is known for its bold and spicy cuisine. The dish usually includes ingredients such as garlic, ginger, soy sauce, chili garlic sauce, and Szechuan peppercorns, which give it a unique and complex flavor. Szechuan tofu is often served with rice or noodles and can be made with a variety of vegetables, such as bell peppers, onions, and mushrooms. It is a popular dish among vegetarians and vegans as it is a great source of protein and can be made without any meat or animal products.
What is Szechuan
Szechuan, also spelled Sichuan, is a province in southwestern China known for its unique cuisine, culture, and natural beauty. The name "Szechuan" is derived from the Sichuan Basin, which is surrounded by mountains and is known for its fertile land and abundant natural resources. Szechuan cuisine is one of the most popular and well-known styles of Chinese cuisine, known for its bold and spicy flavors, use of Sichuan peppercorns, and unique cooking techniques. The province is also home to many natural wonders, including the Jiuzhaigou Valley, Mount Emei, and the Giant Buddha of Leshan. Szechuan is a popular destination for tourists and is known for its rich history, vibrant culture, and stunning landscapes.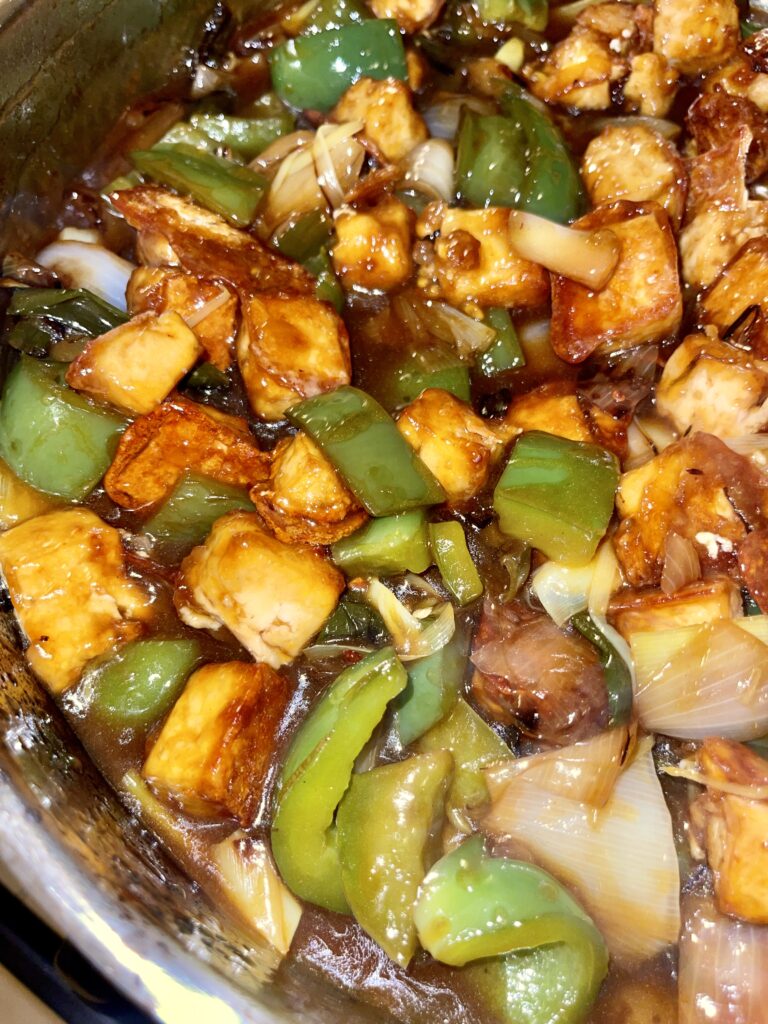 Who invented this dish?
It is not clear who invented Szechuan tofu, as tofu has been a staple food in China for thousands of years and Szechuan cuisine has a long history of incorporating tofu into its dishes. However, Szechuan tofu is believed to have originated in the Sichuan province of China, where it is a popular dish among vegetarians and vegans. Szechuan tofu has become a popular dish in Chinese restaurants around the world and is enjoyed by many people for its delicious flavor and health benefits.
What you need
Firm tofu
Sesame oil
Vinegar
Soy Sauce
Sugar
Olive oil
Cornstarch
Onions
Leeks
Bell Pepper
What to do
Cut up firm tofu into medium sized cubes
Toss in a bowl with soy sauce, olive oil and cornstarch
Lay in a baking sheet and bake at 400F for 20 minutes turning over halfway through
Saute sliced onions, leeks, bell pepper
Add in veg stock, soy, vinegar, sugar

Thicken sauce with slurry (cornstarch & water)

Add in baked crispy tofu

Garnish with spring onion or chives

Serve with rice or noodles
Vegan Szechuan Tofu
Oven baked crispy tofu in bold and robust Szechuan Sauce
Ingredients
5

tablespoon

cornstarch

2

tablespoon

sugar

3

tablespoon

vinegar

1

Bulb

onion

1

Stalk

leek

1

Piece

bell pepper

5

tablespoon

sesame oil

2

Cups

veg stock or water
Instructions
Toss cubed tofu in cornstarch, oil and soy sauce.

Lay on a baking sheet and bake for 20-30 my it's at 400F. Turning halfway through.

Make sauce by sauteing cut up bell pepper, leeks and onions. Season with salt as you go. Add Szechuan pepper if you have any.

Add 2 cups of veg stock, your soy sauce, sugar and vinegar. Adjust taste and seasonings before thickening sauce with slurry. Create desired sauce consistency.

Throw in perfectly crisp tofu in your sauce and voila!

Serve on rice, noodles or salad!
Video
Notes
Once you learn this, you are going to be able to create many variations. Kung Pao, sweet & sour, Gen two, Sesame and many more. Keep practicing and have a good grasp on the fundamentals of using slurry and making asian sauces. And always remember to add your own flair!