If you are into ultimate comfort foods, you should definitely try this new recipe! Vegan French mashed potatoes. Way better than regular mashed potatoes, This French style mashed potatoes made vegan by using vegan butter and cheese, ommitting the use of whole milk & heavy cream. Silky, rich and with a stretchy consistency, it is the perfect side dish or can be satisfying on its own.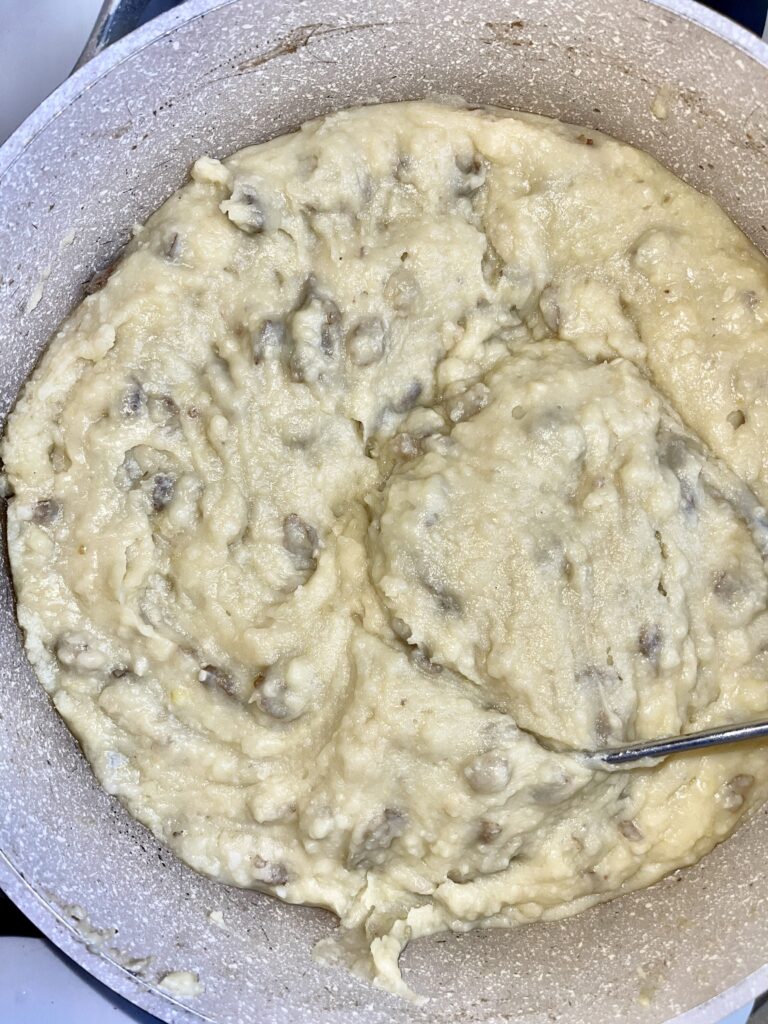 What is Pommes Aligot?
Pommes Aligot is a dish originally from Aubrac France. A volcanic region in the south of France where potatoes and gooey cheeses are prevalent. Cheese and potatoes are so good together, there is the tartiflettte, potato gratin, dauphinois, casseroles and so much more. As for Pommes Aligot, imagine combining mashed starchy overworked potatoes and stretchy fondue. We are going to try our best to emulate this dish using vegan cheese and butter.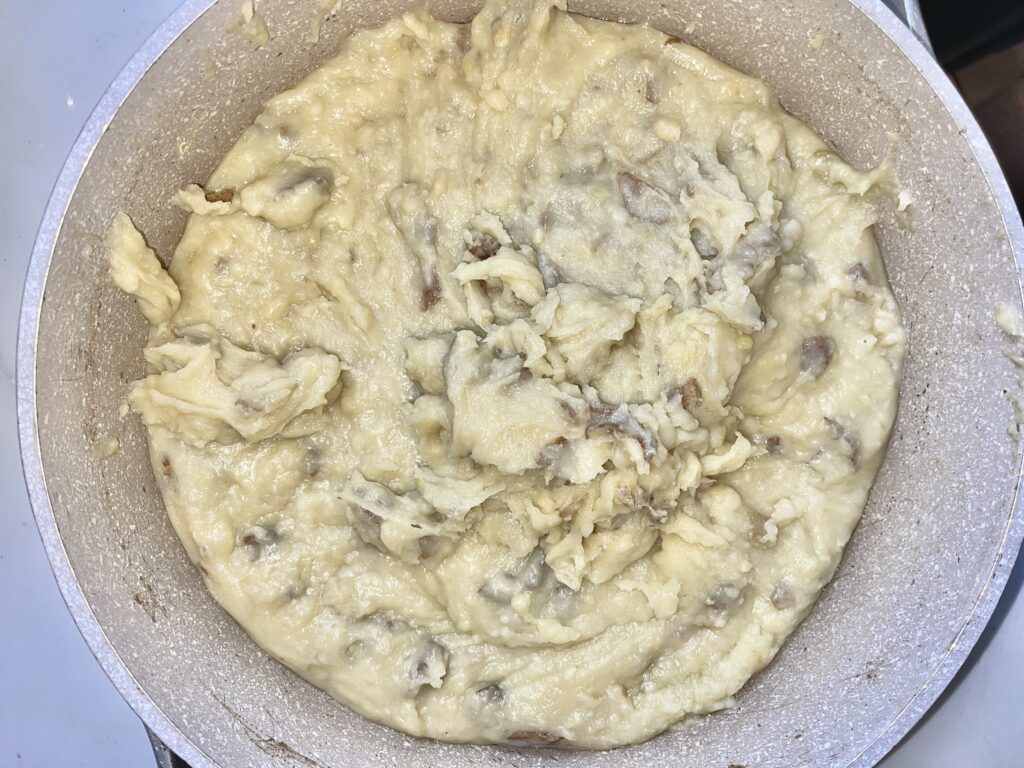 Things to consider
Skip the rinsing after cooking the potatoes, we do not want to wash off that extra starch.

Use vegan stretchy melted cheese. Make it with a lot of cheese if you can! I used vegan mozzarella and added a bit of nutritional yeast for extra cheesy taste.
Leave the peel on for extra texture.

Use a combination of garlic and garlic powder.

Pair it with your favorite vegan meatballs, loaf, sausages or patties.

Adjust consistency by adding unsweetened plant milk.

What you need
Potatoes - Best to use starchy potatoes, they are high in starch, low in moisture and have a floury texture with creamy white flesh. Starchy Potatoes release a milky, starchy liquid if pricked or cut. They also tend to be long and have a coarser skin. Starchy potatoes are King Edward and russets & Yukon gold potatoes.
Vegan butter - There are many varieties of vegan butters out there! Or make your own too!
Vegan cheese - make it stretchy by using vegan mozzarella and to achieve that creamy consistency.
How to make Pommes Aligot
First thing is to boil cut up Yukon golds in a pot of boiling salted water in medium high heat for 15-20 minutes. Strain.
Heat up some garlic in vegan butter.
Mash and mix the potato chunks using a potato ricer, potato masher, food mill or a food processor along with vegan cheese and choice of seasoning.
I used garlic powder salt & black pepper.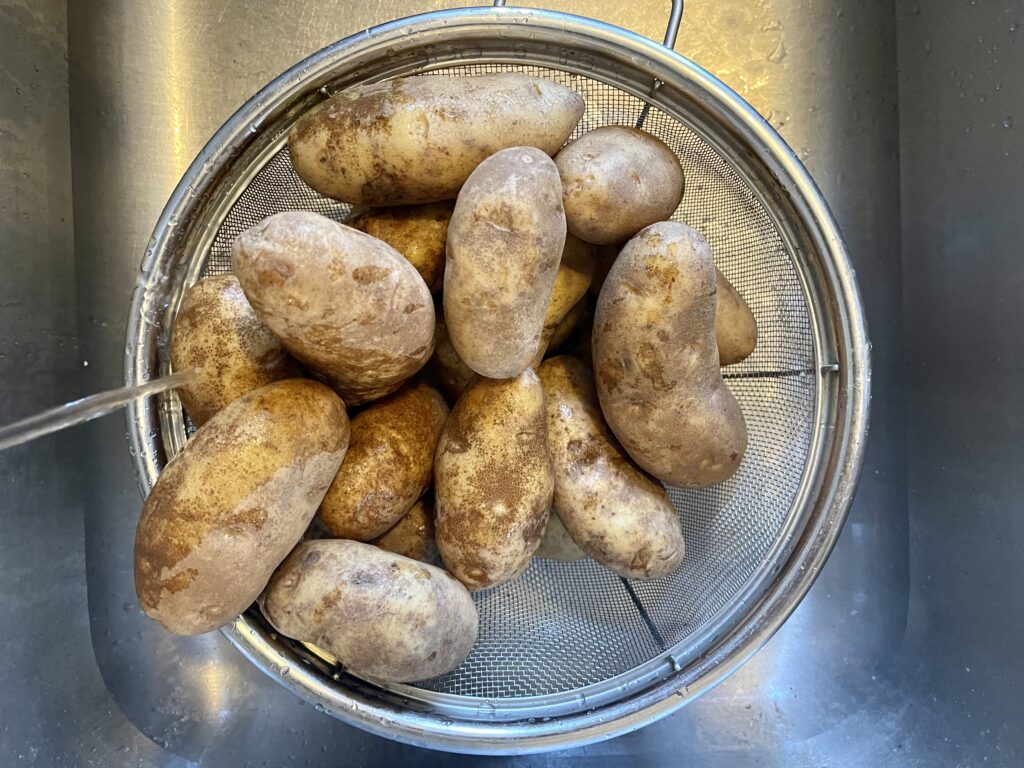 Substitutions
1. Potatoes: Use starchy potatoes like Russet or Yukon Gold for the best texture. Sweet potatoes can also be used for a unique twist.
2. Cheese: Instead of traditional cheese, opt for vegan cheese alternatives like vegan cheddar, mozzarella, or a combination of both. Nutritional yeast can also be used to add a cheesy flavor but to achieve that elastic texture, make sure you use, vegan mozzarella.
3. Garlic: Use fresh garlic cloves for the best flavor. If desired, roasted garlic can be used for a milder taste.
Variation
1. Vegetable Additions: Enhance the flavor and nutritional profile of your Vegan Aligot by adding sautéed mushrooms, caramelized onions, or cooked spinach or even fresh herbs.
2. Herb Infusion: Experiment with different herbs like rosemary, thyme, or parsley to add a fresh and aromatic touch to your dish. Adding some garlic oil is also great.
3. Spices: For a spicier twist, consider adding a little bit of cayenne pepper or paprika to the mashed potatoes.
Faq
1. Can I make Vegan Aligot ahead of time? Yes, you can prepare Vegan Aligot in advance. Store it in an airtight container in the refrigerator for up to 3 days. Reheat gently on the stovetop, adding a splash of plant-based milk to maintain a creamy consistency.
2. Can I freeze Vegan Aligot? While it is possible to freeze Vegan Aligot, the texture may slightly change upon thawing. It is recommended to consume it fresh for the best taste and texture.
3. Can I use other types of plant-based milk? Yes, you can use any unsweetened plant-based milk of your choice, such as almond, soy, oat, or cashew milk. Choose a milk that complements the flavors of the dish.
Storage
1. Leftovers: Store any leftover Vegan Aligot in an airtight container in the refrigerator for up to 3 days.
2. Reheating: To reheat, gently warm the Vegan Aligot on the stovetop over low heat, stirring occasionally. Add a splash of plant-based milk to maintain a creamy consistency if needed.
Remember to adjust the quantities and cooking times according to your preferences and dietary needs. Enjoy your delicious Vegan Aligot!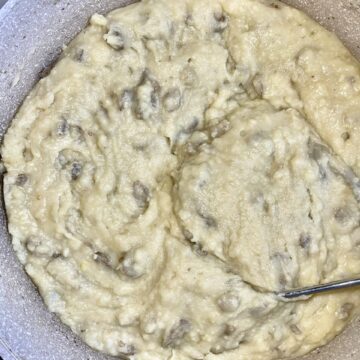 Vegan Pommes Aligot
Silky stretchy traditional French Aligot made vegan
Ingredients
16

Oz

Potatoes

1

Stick

Vegan Butter

1

Bulb

Garlic

8

Oz

Vegan cheese

4

tablespoon

Olive oil

4

tablespoon

garlic powder

4

tablespoon

Nutritional Yeast

1

Cup

Plant milk

preferably unsweetened oat milk
Instructions
Scrub potatoes clean since we are not gonna peel them. Cut em up for speedy cooking. Throw in a pot of salted boiling water. Let cook till fork tender.

Make Garlic butter cooking sliced garlic in a small pot of melted vegan butter. Watch out, you do not want brown butter and burnt garlic. Watch and control the fire. You may avoid browning the butter by adding some olive oil, it neutralizes the butters smoking point.

Strain with out rinsing the potatoes. Put it back in a pot where you will mash them. Mash vigorously releasing the potatoes starch, then add your garlic butter, plant milk, vegan cheese, and seasonings of choice. Mix it really good.

Serve in a warm bowl and enjoy with your favorite roasted vegetables or vegan meat.
Video