This is Vegan Aubergine Orzo Paella. It's a vegan version of the Spanish classic, and it's very easy to make. The best thing about this recipe is that you can use whatever vegetables you have in the fridge, in this case I have some Aubergine in the fridge so we will be using that.
Thank you for reading this post, don't forget to subscribe!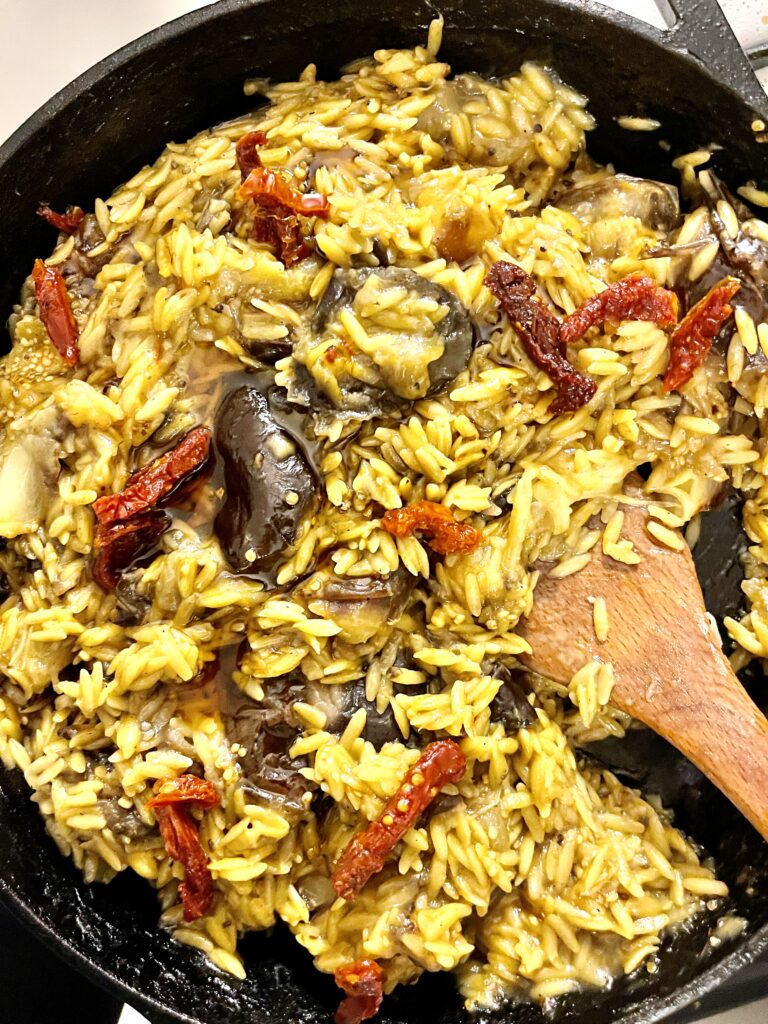 What is Paella?
Paella is a Spanish dish that is traditionally cooked in a large pan or pot. It is a dish with origins in the Mediterranean area and has an extensive history of cultivation.
The name "paella" comes from the Latin word "patella" which means "pan" or "cauldron". The dish is also called by different names in various countries, including: paella Valenciana, paella de marisco, arròs de pollastres, arroz con pollo and arroz con chorizo.
Saffron is what makes it unique and rare. It is a spice that is worth more than its weight in gold. Over the past three decades there has been renewed global interest in saffron cultivation for use in cosmetics, the food industry and for its health benefits, which is why this spice has been coined "Red Gold".
This dish is the perfect opportunity for my saffron to be used. I just poured hot water and turned it to tea to be used in cooking the orzo.
I also have Aubergine from the garden and we will be using instead of rabbits and chickens keeping the animals unharmed.
In Spain, it is customary to eat paella on Christmas Eve dinner and on New Year's Eve dinner. In addition to rice, typical ingredients for the dish include green beans, white beans (in Valencia), artichokes (in Alicante) Tomato sauce (in Catalonia) and a whole lot more variations depending on the region. I encourage you to create your own vegan paella version!
What is Orzo?
Orzo is a type of pasta also known as risoni is rice like in shape made of semolina flour. Mostly used in soups and salad, we will take advantage of its rice-like shape to be the grain if our paella. Together with perfectly seared Aubergine, this dish will truly satisfy your paella cravings.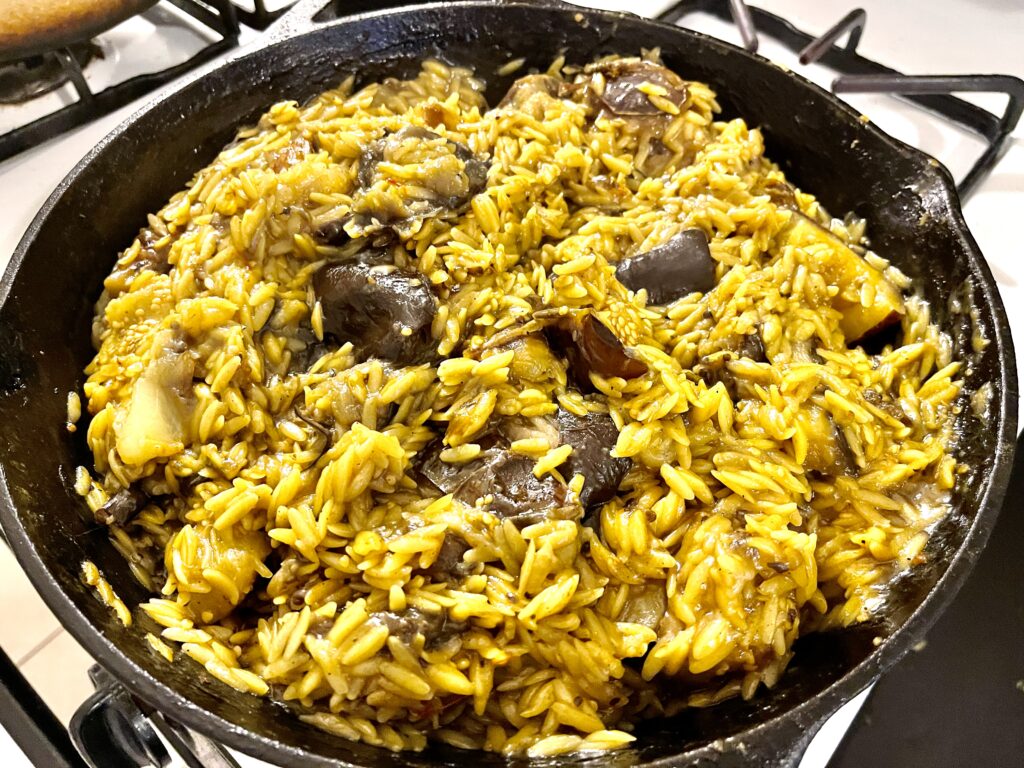 What you need
Orzo ounces 16
Aubergine cups 2
Olive oil Drizzle
Saffron milligrams 8 (Make saffron tea by steeping saffron in hot water)
Sun dried tomato jars ⅛ (Just for garnidh and the oil from the sundried tomato also adds a nice flavor)
Vegan Cheese ounces 5 (I used Trader Joe's Vegan Parmesan to add flavor and to make the texture velvety)
What you do
Steam and Sear Aubergine. Steaming large cuts of eggplants ensures that it is going to be cooked all throughout. Subsequently searing it seals in the deal. Seasoning as you go for optimal flavor
Throw in Orzo, Veg stock and saffron tea. You may use Turmeric or paprika for color if you don't have saffron on hand. Remember that this is just a guide and your kitchen is your workshop. Try things out and learn.
Stir every once in a while.
Final seasoning, garnish and serve.

Recipe Card