An Indo-Chinese dish that will definitely spruce up your table. A fusion of Indian and Chinese, invented in the 70s by a Chinese chef in India.

Thank you for reading this post, don't forget to subscribe!
What is Manchurian?
Manchurian is made by roughly chopping ingredients, binding them with flour and molding them into balls much like what you would do in making a fritter. Either deep fried or baked, it is then sautéed in a sauce flavored with soy sauce. Manchurian is the adaptation of Chinese cooking and seasoning techniques to suit Indian tastes. It has become a staple Indian cuisine.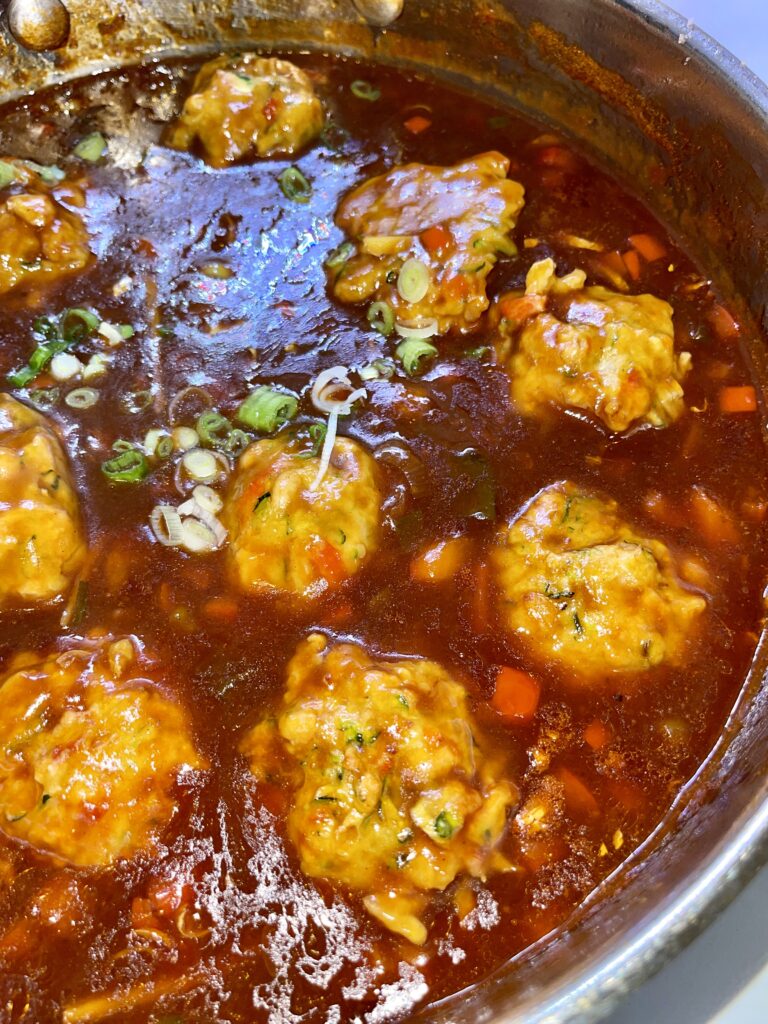 Who Invented Manchurian?
Nelson Wang Is the man responsible for this dish. In 1975 a customer asked him to create something that is not on the menu. Want them started a dish as you would a traditional Indian food, sautéing garlic, ginger and chillies abut instead of adding garamasala, he added soy sauce and the rest is history. This happened at the Cricket club of India.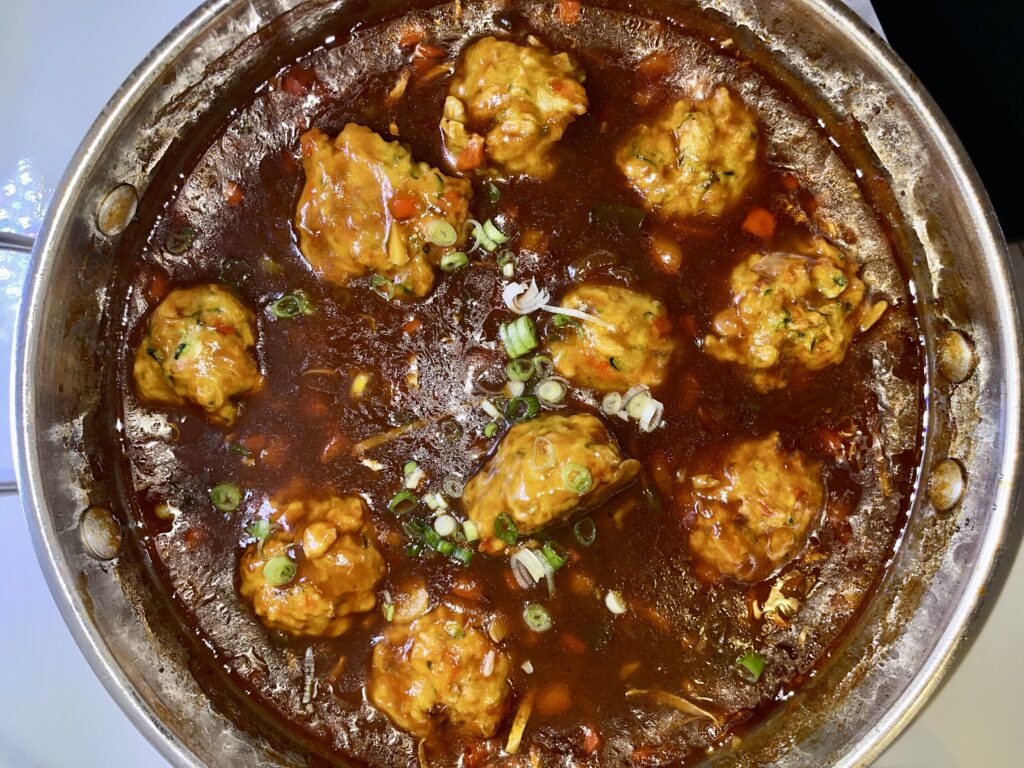 How to veganize
We veganize this dish by using beans, shredded zuchinni and peppers and skipping the egg when making the fritters. Feel free to use whatever you have on hand. Maybe grating some eggplants and carrots? Adding onions is good too!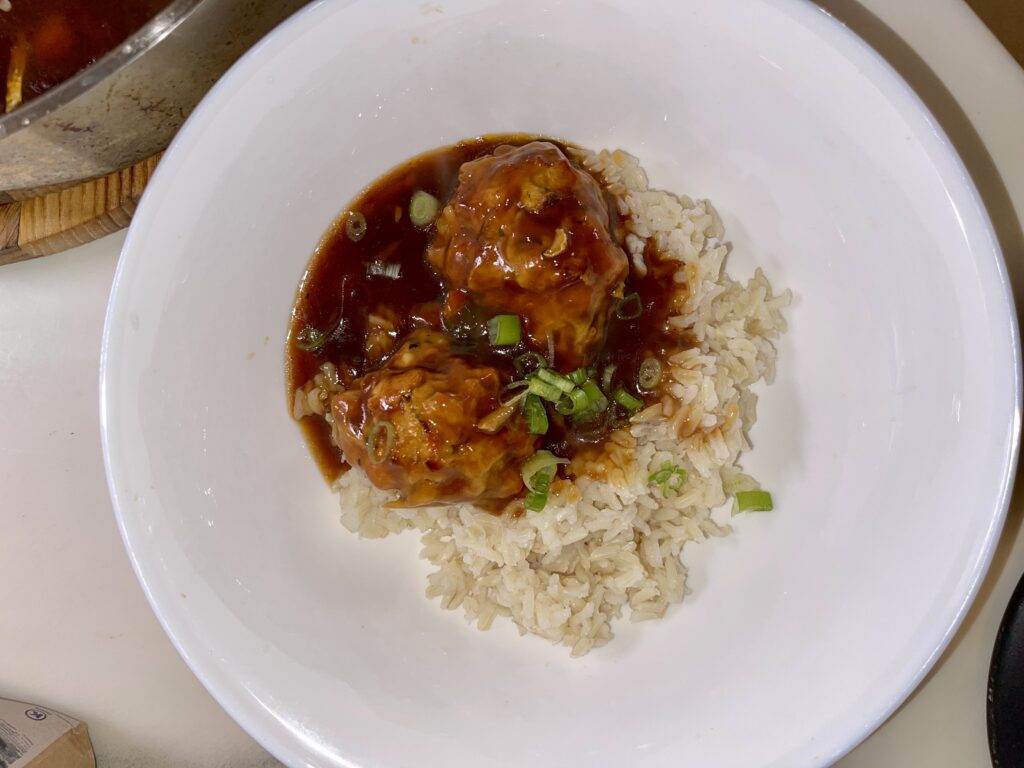 Variations
Top it on quinoa, wildrice or even noodles. These hearty fritters sops up the flavorful Asian gravy that will turn any grain or noodle into a delicious elevated dish. As for the fritters, feel free to shred any produce you have, mushrooms, zuchinnis, mash em with beans, maybe potatoes too! This is an opportunity for you to get creative and let the produce shine, just a little salt will do the trick.

What you need
Beans
Zuchinni
Peppers
Flour
Olive Oil
Ginger
Garlic
Scallions
Ketchup
Vinegar
Potato Starch
Water
What you do
Make fritters by shredding veggies using a grater. Mixing it with flour seasoning as you go, I only used pink salt because our sauce will be flavorful and we are maintaining balance.
Ball the mixture and you can bake them at 350 for 20 mins, pan fry them or Airfry. I used bless my food by Payal suggestion of 350 for 20 mins in an air fryer.
Make sauce by sautéing ginger, scallions and garlic and adding liquids, (water/veg stock, soy sauce, ketchup, vinegar, and)
Thicken the sauce by adding slurry. A mixture of cornstarch/potato starch and water.
Arrange balls on simmering gravy and voila.

Vegan Manchurian
An Indo-Chinese staple that is so flavorful it will surely satisfy your tastebuds. Vegetable fritters simmering in an Asian infused gravy will definitely hit the spot and fulfill your cravings.
Ingredients
1

Can

Beans

1

Piece

Pepper

1

Piece

Zuchinni

1

Cup

Flour

3

tablespoon

ginger

3

Cloves

garlic

8

Oz

Scallions

2

tablespoon

vinegar

5

tablespoon

ketchup

3

tablespoon

Soy sauce

3

tablespoon

potato starch

water
Instructions
Make fritters; In a big bowl, mix beans, grated zuchinni, peppers and whatever produce you have on hand. Add flour and keep on working it seasoning as you go until you have a texture of a moldable patty. Ball em up and Airfry for 20 mins at 350 degrees F. You may also pan fry them or bake but I used the Airfry method for ease.

Make Sauce; in a pan, sauté finely sliced or julienned ginger, scallions and garlic. Sauté till aromatic. Add your liquids, ketchup, vinegar, soy and water. Adjust the taste by adding pink salt and or sweetener (agave) before thickening with slurry (potato starch/cornstarch + water).

Assemble; Lay air fried balls onto the gravy, let simmer for a while. Let the dumplings/fritters absorb the aromatic sauce. Serve on top of brown rice or noodles or eat on its own. Garnish with sliced scallions.
Video
Notes
There will be many variations of this. It reminds me of sweet and sour but this one is way better. More depth in flavor and heartier with the dumplings. Feel free to do variations and stay mindful as you cook. Thanks for being here. Namaste. 🙏