Healthy grain farro tossed in olive oil and spices & lemon, roasted squash & garlic & kale, accompanied by vegan "Bakon Strips".

Thank you for reading this post, don't forget to subscribe!
What is Farro
You can make any dish by starting with a grain. You might be familiar with rice and quinoa but have you tried farro? It is very easy to cook and is chewy in texture. High in protein and fiber you should give this ancient grain a try. Farro is closely linked to its brother grain Barley. They are pretty much the same, the only difference is farro being more thin and oblong in shape. But in most recipes, they can interchangeably be used. It is popular in Mediterranean dishes. Make cooking farro more exciting buy using stock as cooking liquid or seasoning the cooking liquid with your blend of spices.
Easily make farro good on their own by tossing it in olive oil, lemon and garlic salt.

What's in the pot?
We got a nice hearty pot of barley tossed in garlic salt, olive oil and lemons. Feel free to dress up your grains with flavor that they are good to consume on their own. Pan roasted vegetables drizzled with olive oil pairs well with any grain or noodle you may have on hand. Throw in some greens as well for some crunch and fiber. Top with vegan meats or protein too! In this case we used Thrilling foods "vegan bacon". Main components in this pot:
Grains
Greens
Vegetable
Vegan meat
Having this format, you'll be able to mix and match endless combinations of flavors, textures, cuisines and experiences.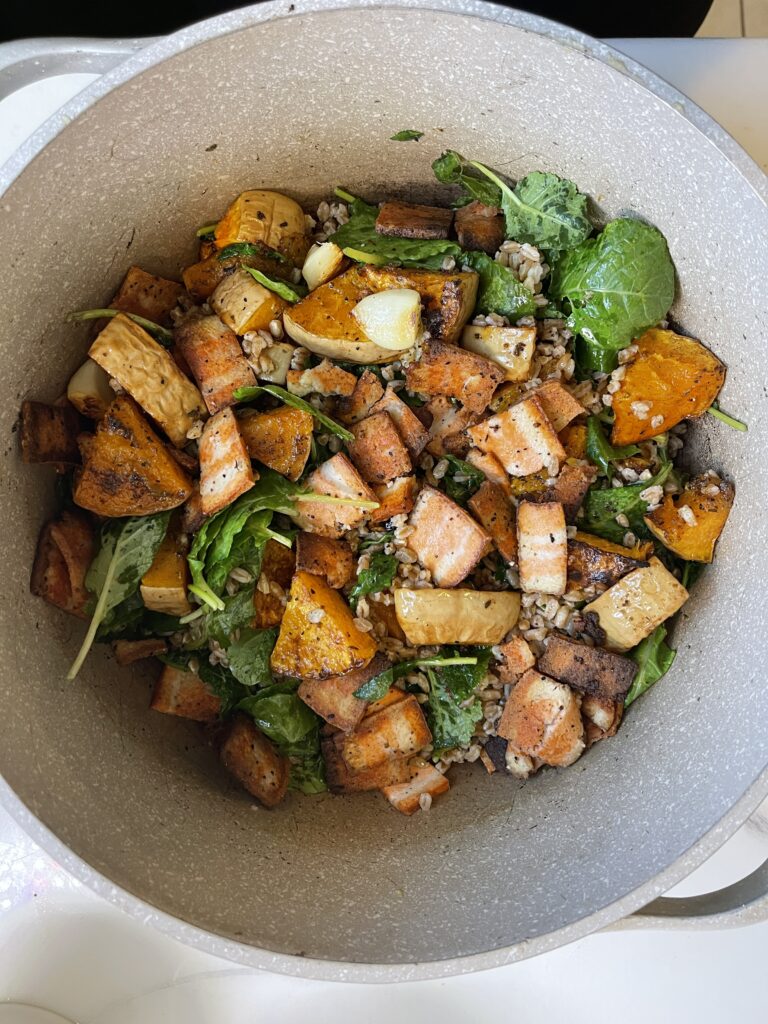 What you need
Farro
Kale
Squash
Garlic
Bakon Strips
Olive oil
Seasoning Blend
What you do
Boil Farro in a pot of water till tender. Strain and rinse with cold running water. Put back in pot and season with your blend of spices, olive oil and lemons too if you have any.
Cut up butternut squash, lay on sheet pan, drizzle with olive oil and bake at 450 F for 20 minutes turning halfway through cooking.
Sauté vegan bacon in a separate pan.
Put everything together in the pot of farro. Squash, bakon and kale. Mix well and season to taste.
Farro, Squah & Vegan Bacon
A hearty pot of ancient grain with roasted squash, kale and Vegan Bacon.
Ingredients
1

Pack

farro

I used Trader Joe's par boiled farro

1

Whole

butternut squash

1

Handful

kale

5

tablespoon

olive oil

5

tablespoon

seasoning blend

1

Bulb

garlic

1

Pack

vegan bacon

1

Pack

artichoke tapas (optional)
Video
Notes
GRAIN + GREENS + PRODUCE + VEGAN BACON is our formula for the day. Make it your own by using what you have on hand. Thanks for being here and happy cooking.