Thank you for reading this post, don't forget to subscribe!
What Inspired This?
This dish is inspired by the combination of Potatoes & Leeks. As you know, they are often paired as a soup. In Wales it has been claimed as their national dish. Even William Shakespeare referred to leeks as a symbol of Welsh pride in "Henry V." In France they have a cold soup version called Vichyssoise related to Vichy France during the Vichy regime.
I remember making Vichyssoise back in culinary school and it is just now that I'm appreciating this combination. Creamy, hearty and velvety is what chef Mrs to mind when thinking of this soup. For this dish, we deconstruct it's components and infuse a Japanese flavor enhancer called Miso.
Why It Works
Leeks bloom into sweetness when cooked which pairs well with the hearty texture of potatoes. Having worked in fusion restaurants, we celebrate new combinations to create vigorous experiences. In this recipe we made use of coconut milk instead of dairy cream and milk. We fortify umami by introducing miso to the story. All these flavors are only a background to fresh unadulterated produce and aromatics.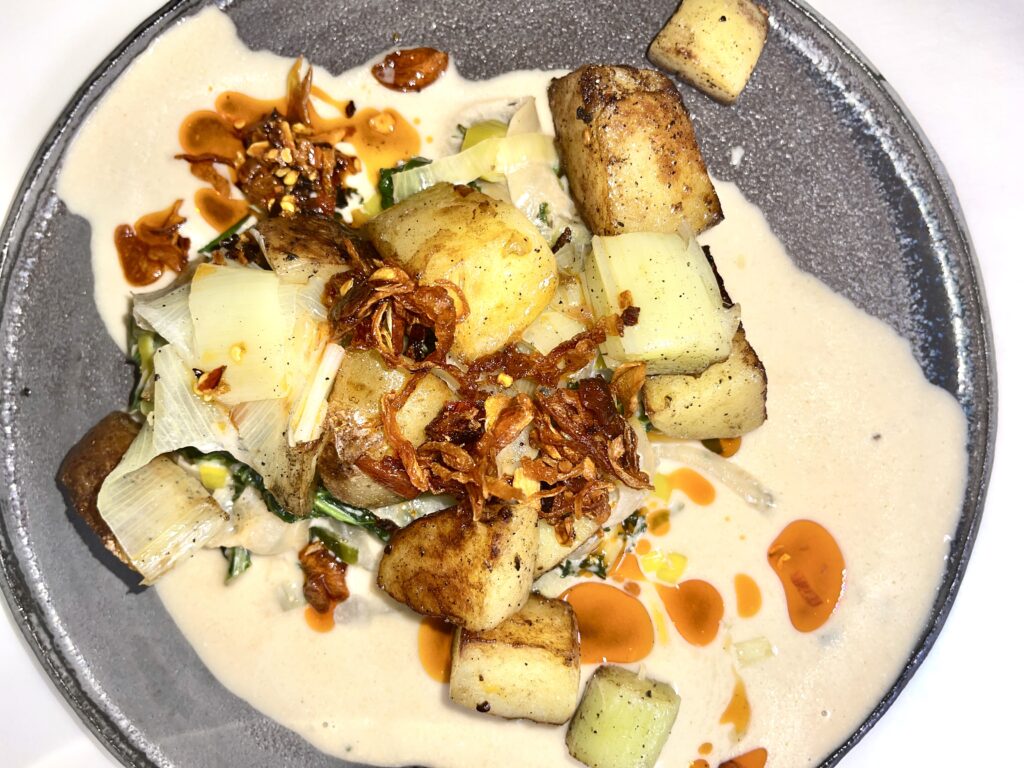 Ingredients 
Potatoes – have a go at all the potato types that you have access to. Study their attributes. Know your starchy, waxy and all purpose potatoes.

Leeks – are

 

alliums like onions but milder.

Kale – rich in vitamins and minerals, it is essential that you have this leaf in your weekly rotation

Onion

Garlic

Ginger

Coconut Milk

Miso

Olive oil
Steps
Cut up potatoes and leeks medium diced. Cook in a pot of salted boiling water. Cover and let cook till tender. Strain and set aside.
In a pan, drizzle olive oil and give potatoes and leeks a good sear seasoning as you go. I used mushroom seasoning and pink salt. Deglaze with vinegar or stock. Scrape out bits from the bottom of the pan and let liquid reduce. Set aside.
Make miso coconut kale by sautéing your aromatics. In a pan, drizzle some olive oil, bloom and sweat onion garlic and ginger, add kale, stir it some more till kale softens. Stir in miso and coconut milk. Season as you go, you may add some lemons to add a little brightness.
Lay your coconut kale miso on a plate and top with potato and kale. Garnish with chili oil or herbs. So much flavor in this dish that will surely satisfy your palate.
Variations 
Substitute any other semi hard greens such as collard greens, cabbage or spinach. Use Ssamjang or Gochujang instead of miso, if you have tomato paste feel free to use those too, just be mindful of what you are creating, maintaining balance and harmony on all the flavor notes.
Potato & Leek with Coconut Miso
Potatoes and Leeks come together in this delicious dish! Paired with umami rich broth made of Coconut & Miso.
Ingredients
3

medium sized potatoes

Potatoes

1

Stalk

Leeks

3

tablespoon

Miso

1

Cup

Kale

1

Can

Coconut Milk

1

Bulb

Onion

1

Bulb

Garlic

1

tablespoon

Ginger

3

tablespoon

Olive oil
Notes
This dish is really hard to mess up. We celebrate the traditional combination of potatoes and leeks with the non traditional coconut milk and miso. Feel free to make substitutions, maybe infuse wasabi? Some Gochujang? The dish is your canvas and you are the artist. As long as you have an end in mind keeping the balance and harmony of flavors and textures.