A sure fire crowd pleaser that will leave everyone craving for more!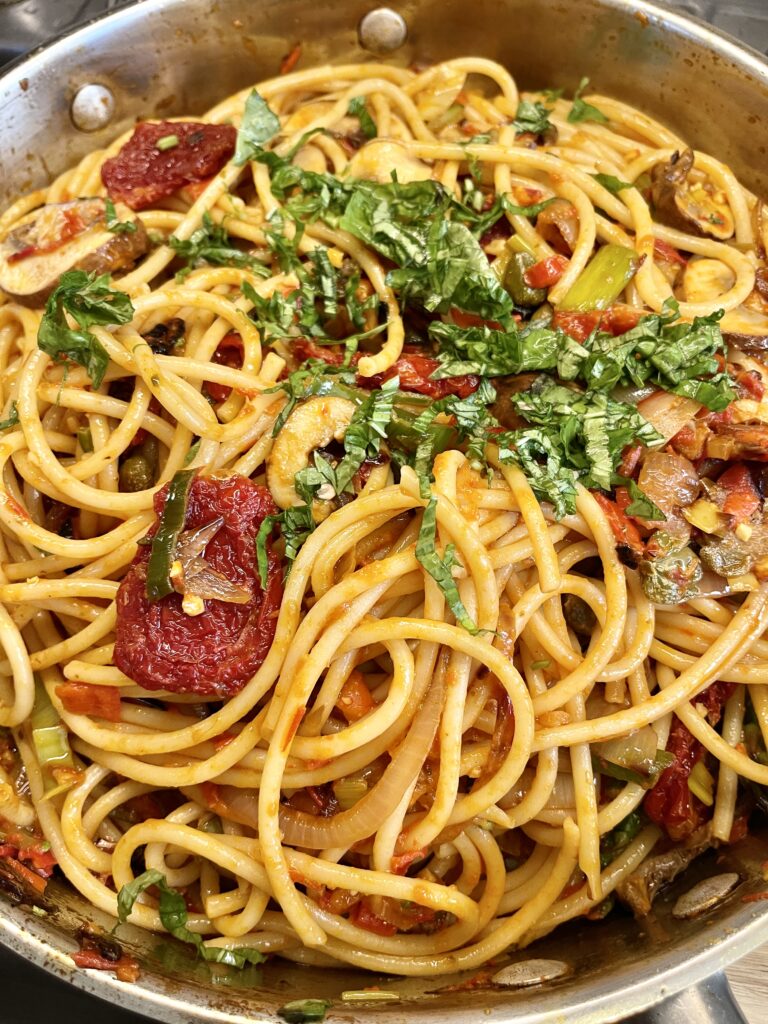 An Easy Plant-Based Dinner that Will Satisfy Everyone! Can be easily modified, be sure to give this one a try. Make it with what ever you have on hand.
Introduction: What is Vegan Bucatini alla Putanesca and Why it's a Delicious Plant-Based Option
Vegan bucatini putanesca is a delicious Italian dish that is made with vegan-friendly ingredients. This dish combines the flavors of tomatoes, olives, capers, garlic, and herbs to create a savory and flavorful sauce that coats the bucatini pasta. The vegan version of this dish eliminates the traditional anchovies and replaces them with vegan-friendly ingredients to make it suitable for those who follow a plant-based diet. This dish is packed full of flavor and can be enjoyed by vegans and non-vegans alike. It's an easy to make meal that is sure to please any crowd!
What is Putanesca
Putanesca is a vegan-friendly Italian dish that is known for its bold flavors. It consists of olives, capers, garlic, tomatoes, and other ingredients. It is usually served with spaghetti or linguine and has a rich and tangy taste. Putanesca is a great option for those looking for a delicious vegan meal that can be made quickly and easily. With its strong flavors and simple preparation process, it's sure to become a staple in your vegan kitchen!
What is Bucatini
Bucatini is a type of pasta that has the shape of a thick spaghetti noodle with a hole running through the center. While it can be enjoyed in many different dishes, it's especially popular among vegan eaters because it is easy to prepare and can be used as a substitute for other types of pasta. It's also great for adding texture to vegan dishes since its hollow center allows sauces to permeate throughout the noodle.
A Step-by-Step Guide to Making Vegan Bucatini All Putanesca
Making vegan bucatini all putanesca is a simple, delicious, and healthy dish that can be enjoyed by everyone. In this step-by-step guide, you will learn how to make this classic Italian dish with vegan ingredients. Follow the instructions carefully and you'll end up with a delicious meal that is sure to please your family and friends. So let's get started!
Cook Bucatini Noodles in a pot of boiling water for 10-12 minutes, run through cold water and toss in olive oil
Saute aromatics you have on hand, it maybe alliums, leeks, garlic, onions.
Cut up some produce that you may have, I did asparagus & mushrooms.
Poured in a bottle of capers, olives, roasted bell pepper sauce.
Mix it in with the cooked noodles, top with herbs and vegan cheese and you are good to go.
Bucatini alla Putanesca
An Easy Plant-Based Dinner that Will Satisfy Everyone!
Ingredients
¼

Cup

garlic

1

Stalk

leek

1

Pack

mushrooms

1

Pack

bucatini

1

Jar

red sauce or roasted bell pepper

1

Bunch

asparagus

1

Piece

onion

1

Handful

vegan parm

A lot

Drizzle

olive oil

1

Bunch

herbs
Instructions
Cook bucatini in a pot of salted boiling water for 10 - 12 minutes. Rinse through cold water and then toss in olive oil.

Saute aromatics, add chopped produce, feel free to use what you have on hand. For this one, we have asparagus & mushrooms. Add capers, olives and ted sauce. Season as you go.

Mix in, noodles, mix it real good. Garnish with vegan parmesan and cut up herbs.
Video
Notes
This dish is a sure fire crowd pleaser. Easily modifiable and perfect for beginners.