This easy hearty soup is perfect when it is cold outside. The texture truly warms up the soul and nourishes and calm your vibes.


Thank you for reading this post, don't forget to subscribe!
What is Chowder
Chowder is a thick soup prepared with cream, milk, roux and seafood. The most well known is New England Clam Chowder. The word chowder came from French chaudière"a pot". This dish was brought to the New Found Land, Nova Scotia, New Brunswick, and New England by Breton fishermen. I could imagine fishermen do their Cowder in a rustic way, I love how food used to be for the masses made really good and stood the test of time and made it to be passed on to the modern world, to the chowder we make today. There are 3 basic types, the New England clam chowder which contains milk, Manhattan chowder which uses tomato instead of milk and the Rhode Island which omits the use of both. Fun fact old writings show that they used to thicken it with crackers instead of roux.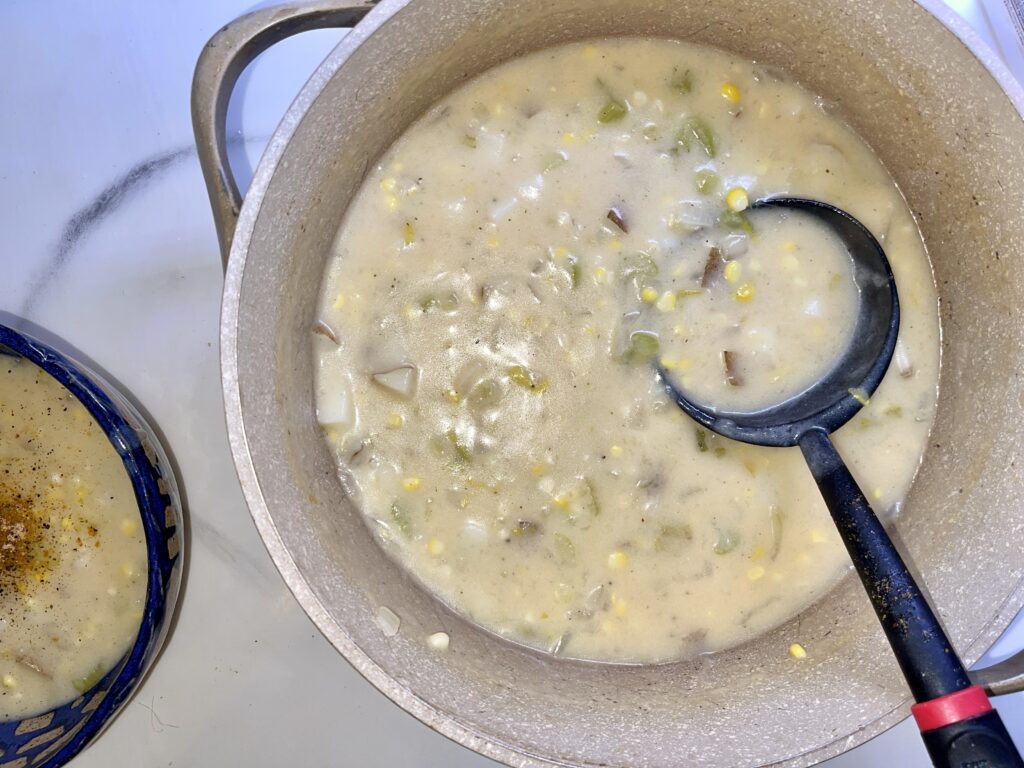 How to make Vegan Chowder
Use plant based milk instead of dairy milk
Use plant based seafood instead of clams
Corn milk will help thicken the soup
Season with Vegan old bay seasoning
You may thicken with a slurry of potato starch or cornstarch
Try making it with what you have
I just found some corn laying in the fridge, some celery, carrots and onions. Just what you need for a perfect Mirepoix, a good starting point of flavor building. But if you only have onions don't let that stop you. Making a delicious meal with minimal ingredients is an art and will get you to appreciate what you got. You will end up surprising yourself with what you can come up with. Now feel free to follow this recipe as a guide but feel free to make it your own!

Vegan Chowder
This vegan chowder is hearty, thick, warm and nourishing. Made creamy with coconut milk and flavored with a little smokiness using vegan bacon powder. Perfect for the season.
Equipment
1 Pot

1 laddle

1 Knife

1 wooden spoon

1 cutting board
Ingredients
3

Pcs

corn

2

Pcs

potatoes

2

Pcs

onions

3

Pcs

celery

1

Piece

carrot

4

tablespoon

olive oil

4

tablespoon

vegan butter

2

Cans

coconut milk

3

Cups

water or veg stock

2

tablespoon

seasoning of choice,

vegan old bay, mushroom powder, nutritional yeast. Up to you

2

Teaspoon

pink salt

1

tablespoon

potato starch for thickener (optional)
Instructions
Prep mirepoix, dice up the onions, celery, carrots, potatoes, scrape corn and with a back of the knife scrape again the cob to completely get the starchy flavorful that comes from the core of the cob. Set cob aside, we will be extracting flavors from those later. Put all the prepped ingredients in one pot.

Fire up the stove and drizzle a hefty amount of olive oil. Give your mixture of veggies a good sweat. Season with what you have then add your liquids, the coconut milk, plant milk or veg stock. There is no precise measurement here. Feel free to use what you have and make it good tasting and observing as you go.

Bring to boil then lower the heat to simmer. Let simmer for 20-30 mins stirring once in a while.

let cool for 10 mins, adjust consistency and taste by using your seasonings and thickener, (potato starch slurry is what I used) Serve and enjoy.
Video
Notes
Make use of what you have on hand 
Learn to thicken soups & sauces using slurry, it's a pretty nifty skill to have up your sleeve
The cob of the corn has amazing flavor, extract it by including it as you boil the soup. Or create a stock separately